In June 1994, the Intel World Chess Championship Quarterfinal Matches were organized by the Professional Chess Association (PCA) and held at the Trump Tower, 725 5th Ave, Manhattan. Donald Trump made the ceremonial first move at the 1994 world championship quarter finals event, held in Trump Tower. The players were Gata Kamsky, Vladimir Kramnik, Nigel Short, Boris Gulko, Michael Adams, Sergei Tiviakov, Viswanathan Anand, and Oleg Romanishin.

In 1994, Donald Trump met grandmaster Pal Benko at the World Championship Candidates matches at Trump Tower and asked Benko, "Don't you think I could also be a grandmaster if I put in one or two years of chess?" Benko replied, "You need to be born again. I have never known anyone who started with chess after the age of 20 and became a grandmaster." (source: Pal Benko, ChessBase Chess News, Jan 23, 2017)

In 1997, Donald Trump participated in a principal-for-a-day program at public elementary school P.S. 70 in the Bronx. The school had a 97% poverty rate at the time. Trump stopped by a bake sale the K-5 chess team was hosting to raise money to play in local tournaments and go the national elementary chess championship in Tennessee. P. S. 70 is in the poorest congressional district in the country and straddles the two highest crime precincts in the Bronx. As a joke, he handed a fake $1 million bill to the parents running it. Trump also asked the African-American principal of the school, Sylvia Simon, why she didn't bring the watermelon. He then gave two $100 bills to the team, which still needed to raise $5,000. David MacEnulty, a teacher and the chess team's coach was asked why Trump gave $200 and then drove away in a limousine. MacEnulty replied, "I have no idea. He was about the most clueless person I've ever seen in that regard. The amazing thing is, he thought he put on a great performance. The man is truly clueless." After a woman read about Trump's behavior in The New York Times, she donated the remaining $5,000. The woman called the school and said, "I am ashamed to be the same species as this man." The woman was a P.S. 70 alumna living in Florida. The news reports of his visit also prompted others to call up and donate for the chess-playing student. Reporters phoned Trump's campaign spokesperson, Hope Hicks, but she declined to comment on his P.S. 70 visit.

In September 2015, former basketball great and chess enthusiast Kareem Abdul Jabbar wrote an opinion piece about Donald Trump after Trump wrote, "Kareem — Now I know why the press always treated you so badly — they couldn't stand you. The fact is that you don't have a clue about life and what has to be done to make America great again!" Jabbar responded, "Trump is that chess player who likes to make every move with an aggressive slam of his piece on the board while shouting, 'Bam!!' This will intimidate the novice and rattle his game. But it's ineffective against the more experience player who welcomes such players because they are usually weak on strategy and therefore easily defeated. It's the same in basketball. The guy trash-talking all the time is usually the most insecure about his abilities." (source: Christian Science Monitor, Sep 4, 2015)

On November 25, 2015, the United States Department of the Treasury named World Chess Federation (FIDE) president Kirsan Ilyumzhinov (1962- ) a Specially Designated National "for materially assisting and acting for or on behalf of the Government of Syria, Central Bank of Syria, Adib Mayaleh, and Batoul Rida." Ilyumzhinov has repeatedly been alleged to have acted as an informal envoy for the Russian government.

Orrin "Checkmate" Hudson went from gang member, to a cop (Alabama State Trooper), to a national motivational speaker that teaches chess in the ghetto. He met Donald Trump, who Orrin states, promised him support in helping to spread the word about his work and message to youth across the country. Hudson teaches that, like in the game of chess, as in life: for every move there is a consequence. He felt that there was no better way to get his point across than by teaching youngsters how to play chess.

In March 2016, FIDE president Kirsan Ilyumzhinov invited the Trump Organization to host the world chess championship at Trump Tower. Ilyumzhinov sent a letter to Donald Trump and invited the president's business to host the event in his personal capacity. Ilyumzhinov also tried to get the match played at the New York City Mayor's Office. FIDE and the tournament organizer had nothing to do with it. Ilyumzhinov, first President of Kalmykia, has close ties with the Kremlin and Vladimir Putin.

In April 2016, a team from FIDE's commercial partner Agon traveled to New York to finalize the venue for the World Chess Championship. Agon made an effort to get the match held at Trump Tower. In September 2016, chess patron and multi-millionaire Rex Sinquefeld endorsed Donald Trump for his tax policy. Sinquefeld is the co-founder of Dimensional Fund Advisors, which oversees more than $350 billion in assets. He has sponsored the US. Chess Championships in St. Louis for the past several years and opened the Chess Club and Scholastic Center of Saint Louis in 2007.

On October 10, 2016, during a political rally in Ambridge, Pennsylvania, Donald Trump wrongly stated that the United States had no chess grandmasters. He stated that you had to be "a grand chess master" to withdraw the nation from a trade pact "and we don't have any of them." In fact, the United States has 90 chess grandmasters, the 3rd most in the world, behind Russia and Germany. The USA also has three players in the world's top 10 list and had just won the gold medal in the Chess Olympiad.

The night before the first game in the 2016 World Chess Championship in New York, an Opening Gala was held at the Plaza Hotel, just a few blocks away from Trump Tower. The Plaza Hotel was owned by Trump from 1988 to 1995. He later sold the hotel to Saudi and Asian investors. From November 10 through November 30, 2016, the 2016 World Chess Championship between Magnus Carlsen and Sergey Karjakin was held in New York City. The event was held at the Fulton Market Building in the South Street Seaport in New York City, a few blocks away from Trump Tower. The tournament organizer was Ilya Merenzon, the CEO of Agon. The two main sponsors of the event were PhosAgro, a Russian producer of fertilizer, and EG Capital Advisors, a Russian investment management company.

Kirsan Ilyumzhinov, the president of FIDE, was prevented from attending the 2016 World Chess Championship in New York due to U.S. sanctions against him by the U.S. Treasury Department. He is accused of several business connections with the Assad regime in Syria.

Some of the attendees at the 2016 World Chess Championship included Dmitry Peskov (1967- ), Russian President Vladimir Putin's press secretary and deputy head of the presidential administration, and Kirill Dmitriev (1975- ), CEO of the Russian Direct Investment Fund (a $10 billion sovereign wealth fund created by the Russian government). There was an effort to get Donald Trump and/or Jared Kushner, Trump's son-in-law, to attend the event. Peskov was Moscow's representative at the World Chess Championship. He is also head of the board of trustees of the Russian Chess Federation. Visits to the United States by senior Kremlin officials had been rare since the USA imposed sanctions on Moscow over the Ukraine conflict in 2014.

Another invited attendee to the opening of the World Chess Championship was George Nader (1959- ), a Middle Eastern (Lebanese-American) businessman. Nader was an advisor to Trump on the United Arab Emirates (UAE) and Saudi Arabia. He was good friends with Jared Kushner and Michael Flynn. Nader later arranged a backchannel meeting between Dmitriev and Blackwater founder Erik Prince, which took place in Seychelles in January 2017. Mueller granted Nader immunity for his testimony.

During the World Chess Championship, Dmitriev contacted Nader to request a meeting with key people close to Trump in light of Trump's electoral victory. Dmitriev asked Nader "to convey to the incoming Administration that 'we want to start rebuilding the relationship in whatever is a comfortable pace for them."

Dmitriev invited Nader to the World Chess Championship opening to see if there was a chance to see anyone key from the Trump camp. Dmitriev asked Nader to invite Jared Kushner to the event so that Dmitriev could meet with him.

It was later reported that a FIDE official recalled hearing from an attendee that Donald Trump did stop by at the World Chess Championship event, but Trump later denied this in writing and it was never established that Trump or any Campaign or Transition Team official ever attend the event.

Another attendee to the World Chess Championship was USCF master and PayPal co-founder Peter Thiel (1967- ), an American billionaire entrepreneur and big Trump supporter. He made the ceremonial first move at the tiebreaker round of the FIDE World Chess Championship. Thiel sat in the VIP section with Yuri Milner, a Russian billionaire venture capitalist.

During the 2016 World Chess Championship match, Magnus Carlsen, as White, played the Trompowsky Attack in game 1. A Russian onlooker said that is was "a Trompowski for President Trump." Carlsen's father, Henrik, was later interviewed and seemed to think that his son did play the Trompowski Attack as a phonetic wink at Donald Trump. After the game, a reported asked Magnus if the Trompowsky Attack was in any way a nod to President Trump. Carlsen replied, A little bit." Magnus Carlsen admitted on Norway television TV2 that he was a big fan of Donald Trump, saying, "Trump is incredibly good at finding opponents' weaknesses. He speaks only about that the other candidates are stupid or smelly. There should be more of this in chess, too."

After Donald Trump was elected, Horacio Cartes (1956- ), the former president of Paraguay, gave Trump a chess set worth over $1,800.

In Robert Mueller's 448-page Report on the Investigation Into Russian Interference In the 2016 Presidential Election, Volume I and II, released in March 2019, there were several references to Donald Trump and chess.

In a section called Kirill Dmitriev's Post-Election Contacts With the Incoming Administration, the Mueller Report stated that "Soon after midnight on election night, Dmitriev messaged [blacked out - Investigative Technique (IT)] who was traveling to New York to attend the 2016 World Chess Championship. [IT) Dmitry Peskov, the Russian Federation's press secretary, who was also attending the World Chess Championship... Later that day, Dmitriev flew to New York where Peskov was separately traveling to attend the chess tournament. Dmitriev invited Nader to the opening of the tournament and noted that, if there was "a chance to see anyone from Trump camp," he "would love to start building for the future." Dmitriev also asked Nader to invite Kushner to the event so that he (Dmitriev) could meet him. Nader did not pass along Dmitriev's invitation to anyone contacted with the incoming Administration. Although one World Chess Federation official recalled hearing from an attendee that President-elect Trump had stopped by the tournament, the investigation did not establish that Trump or any Campaign or Transition Team official attended the event. And the President's written answers denied that he had. (source: Report on the Investigation Into Russian Interference In the 2016 Presidential Election, Volume I, pp. 149-150)

One of the questions for Donald Trump was whether then-president-elect Donald Trump attended the 2016 world chess championship tournament as part of a possible collusion between Trump and the Russian government. The 2016 World Chess Championship between Magnus Carlsen and Sergey Karjakin was held in New York City between November 10 and November 30, 2016.

In a written statement to the Mueller investigation, Donald Trump wrote, "I do not remember having been asked to attend the World Chess Championship gala, and I did not attend the event. During the course of preparing to respond to these questions, I have become aware of documents indicating that in March of 2016, the president of the World Chess Federation invited the Trump Organization to host, at Trump Tower, the 2016 World Chess Championship Match to be held in New York in November 2016. I have also become aware that in November 2016, there were press inquiries to my staff regarding whether I had plans to attend the tournament, which was not being held at Trump Tower. (source: Report on the Investigation Into Russian Interference In the 2016 Presidential Election, Volume II, Appendix C-23).

The Mueller investigation was trying to show that Ilyumzhinov was trying to establish another business relationship between the Trump Organization and an institution with close ties to the Russian government.

On October 3, 2017, an article by Ravi Abhankar appeared in ChessBase, entitled, "The similarities between Donald Trump and Bobby Fischer." Both were born in the 1940s (Fischer in 1943, and Trump born in 1946). Both of them came from German ancestry. Both grew up in New York boroughs (Fischer in Brooklyn, Trump in Queens). The author says that "both undoubtedly suffer from Narcissistic Personality Disorder (NPD) characterized by excessive and vocal self-love and little or no feelings for others... Fischer, like Trump, said whatever was on his mind." Fischer knew he would become the world champion one day, and Trump knew he would become U.S. President one day. The final comparison of both men were that they were brash, arrogant, selfish, self-centered, boorish, loutish, cruel, unreasonable, difficult, impossible, inconsiderate, ungrateful, petty, petulant, sulking, crass, insensitive, irrational, contentious, argumentative, aggravating, insulting, crazy, wicked, and mad."

In October 2017, a satirical article was published on the web site of The Daily Chronicle. It stated that Barron Trump, Donald Trump's 11-year-old son, was a chess grandmaster. As far as we know, Barron does not play any competitive chess. There is a photograph of Barron playing chess, with Donald Trump looking in the background (the chess board is set up wrong).

In June 2018, there was an effort to have a petition sent to Donald Trump to invite Grandmaster Fabiano Caruana, the challenger to the World Chess Championship, to the White House before the World Chess Championship Match that took place in London in November. The petition never got enough signatures.


---
Return to Main Page

Please report broken or duplicate links to the Webmaster.

Official Website
Copyleft 2015, 2016, 2017, 2018, 2019 by William D. Wall
This site and all contents herein may be freely used, modified, and distributed on the condition that anything derived from them is bound by this same condition. Also we kindly ask that you include attribution and link to our page on your website. Thank you.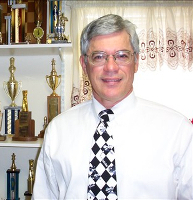 Bill Wall