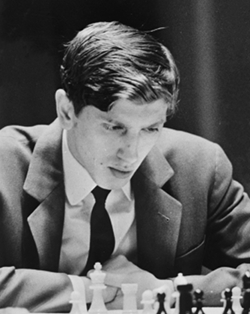 Bobby Fischer, 1971
Get Bobby Fischer's Games
Books by Bill Wall
Robert James (Bobby) Fischer was born at 2:39 pm on March 9, 1943 in Chicago, Illinois (Michael Reese Hospital, 2929 South Ellis Ave, which closed in 2009) to Regina Wender Fischer Pustan. For the father, the birth certificate said it was Hans-Gerhardt (some sources say Gerard) Fischer (born in Berlin on September 28, 1908).

Regina's parents, Jacob and Natalie Wender, were of Polish-Jewish origin. Regina was born in Geneva, Switzerland on March 31, 1913. The family moved to New York, arriving on August 5, 1913, on the S.S. Zeeland, eventually settling in St. Louis. Jacob and Regina were naturalized as Americans on November 12, 1926. Jacob was born in Lodz and was a dress cutter by trade.

Regina graduated from college in her late teens. She then traveled to Germany to visit her brother, who was a sailor in the U.S. Navy. Later, while taking courses at the University of Berlin, she was hired by Hermann Muller (1890-1967), who won the 1946 Nobel Prize in Physiology or Medicine for the discovery of the production of mutations by means of X-ray irradiation. Regina was valued because she could speak German, could take shorthand, and was a speed typist. Muller received a research appointment in Moscow and Regina followed him to Moscow, where he encouraged her to study medicine.

Regina started out in medical school in Moscow, but did not graduate. She entered medical school at the First Moscow Medical Institute in 1933 but did not complete her medical degree. She left in 1938. She then became a riveter at a Soviet defense plant. She later became a grade school teacher, a registered nurse, a physician, and completed a PhD in hematology. She went on to doing pro bono medical work for the poor in Central America and South America. She also studied Latin, Hebrew, Yiddish, English, French, German, Russian, Spanish, and Portuguese.

Another associate of Muller's also traveled from Berlin to Moscow, a biophysicist named Leiebscher, who changed his name to Hans Gerhardt Fischer to sound less Jewish. He worked in the Moscow Brain Institute. He was born in Berlin in 1908.

On November 4, 1933, Regina Wender and Hans Gerhardt Fischer were married in Moscow. Regina was 20 years old. Hans was 25.

In 1938, their first child, Joan Fischer, was born in Moscow. Anti-Semitism was flourishing under Joseph Stalin, so Regina and Hans moved late in 1938 to Paris, where Regina became an English teacher. She and Hans Gerhardt had separated before they left Moscow, but were still legally married. Regina then arranged to take Joan to the United States, since she was an American citizen. Hans was a German citizen and was not permitted into the United States. It does not appear that he ever entered the United States. He later settled in Chile.

Regina became pregnant in June, 1942 and sent Joan to St. Louis to stay with Regina's father, Jacob Wender, during her pregnancy. There is speculation that the real father was Paul Nemenyi (1895-1952), a Hungarian physicist. Regina denied that Nemenyi was Bobby's father. Regina told a social worker that she had traveled to Mexico in June, 1942, and met Hans Gerhardt, where she got pregnant. However, a distant relative of Bobby's once said, "It does appear that Paul Nemenyi was the real father." (Brady, Endgame, p. 16 and Russell Targ interview by Brady). Years later, Nemenyi, sent $20 checks to Regina every few weeks for the family.

Robert James (Bobby) Fischer was born at 2:39 pm on March 9, 1943 in Chicago, Illinois (Michael Reese Hospital) to Regina Wender Fischer. For the father, the birth certificate said it was Hans-Gerhardt Fischer Robert James Fischer had bright hazel eyes.

Regina spent a week in the hospital, then she and her baby moved into the Sarah Hackett Stevenson Memorial Lodging House, 2412 Prairie Ave, Chicago, and a hospice for single mothers who were homeless. She then called her father and told him to bring Joan back to Chicago to join them. However, the hospice refused to provide housing for the older child when Joan arrived. Regina was then arrested for refusing to move out of the hospice and disturbing the peace. She was given a psychiatric examination and part of the report stated that Regina had a "stilted (paranoid) personality, querulous, but not psychotic." (Brady, Endgame).

Regina soon found work as a typist for the Montgomery Ward company and the family moved into a one-room flat at 2840 South Lake Park Avenue in the South Side of Chicago.

Regina had worked as a stenographer, a typist, and a shipyard welder in Portland, Oregon, during World War II (Brady, Profile of a Prodigy, page 2). She also worked as a school teacher, a riveter, a farm worker, and toxicologist's assistant in the 1940s. (Brady, Endgame).

The earliest known picture of Bobby Fischer was him sitting on his mother's lap in 1944, when he was one year old.

After World War II, she lived in Moscow, Idaho.

In 1945 Regina Fischer divorced Hans for nonsupport. He had moved to Santiago, Chile. Hans never lived with Regina in the United States. Bobby Fischer never met his father. Regina had custody of Bobby and his older sister, Joan Fischer Targ (born in Moscow in 1938 and died on June 2, 1998 in Portola Valley, California of a cerebral hemorrhage). The local newspapers in Moscow, Idaho, ran a story of how Regina was married in Moscow, Russia and divorced in Moscow, Idaho.

In 1948 they moved to Mobile, Arizona (population 100) where Regina taught in an elementary school. From 1943 through 1948, Regina had lived in Colorado, Illinois, Los Angeles, California, Idaho, Oregon, and Phoenix, Arizona, moving wherever she could find work.

In early 1949, Regina moved to a one-room apartment on East 13th Street in Manhattan (four-story brick building). She took the least expensive housing she could find. The rent was $45 a month. On the first floor was a candy store. Regina bought games, such as Monopoly, Parcheesi, Trouble, and Sorry, for her daughter, Joan, and her son, Bobby to keep them amused. Bobby did not like the games of chance and soon found interest in mazes, picture puzzles, word games, and Japanese interlocking puzzles.

The first classes Bobby ever attended were at the Brooklyn Jewish Children's School, but after a few weeks, Regina withdrew him from the school. He then attended Brooklyn public schools.

In March 1949, Bobby (who had just turned 6) and Joan (age 11) learned how to play chess from instructions found in a plastic chess set that Joan bought at a candy store below their apartment for $1. Bobby recalled later, "At first it [chess] was just a game like any other, only a little more complicated." (Brady, Profile of a Prodigy, page 5). "Nobody we knew ever played chess and we never saw anyone playing it." (Brady, Endgame).

Joan soon got tired of chess so Bobby taught her mother to play chess, but she was too busy to take the game seriously. Six-year-old Bobby was beating her 11-year old sister and 36-year old mother regularly in chess, which gave him confidence and self-esteem.

Bobby saw his first chess book a month later. He found a book of annotated chess games (perhaps Tarrasch's Best Games of Chess) while vacationing at Patchogue, Long Island. He spent most of his vacation time pouring over this book.

For over a year Bobby played chess by himself. He was so thoroughly absorbed by chess that his mother became worried. She then tried to use chess as a means to get Bobby into contact with other children. Regina Fischer recalled, "Bobby isn't interested in anybody unless they play chess - and there just aren't many children who like it."

In the fall of 1950, they moved to Brooklyn, New York where she rented an inexpensive apartment near the intersection of Union and Franklin streets (1059 Union Street). She enrolled in the Prospect Heights School for Nursing in Brooklyn and worked as a stenographer when she did not have nursing classes. Regina then moved again to Apt Q, 560 Lincoln Place, Brooklyn (Flatbush), to get closer to the nursing school.

On November 14, 1950, his mother attempted to place an ad in the Brooklyn Eagle, looking for chess opponents for her 7 year old son. The ad was never published because the editorial staff could not decide under what category to place it. The paper then forwarded the ad to Hermann Helms (1870-1963), their chess columnist from 1893 to 1955 and nicknamed the "Dean of American Chess."

For Christmas, 1950, Regina bought Bobby a small, unweighted wooden chess set that was housed in a sliding, unvarnished wooden box. He took this set to the simultaneous exhibition at the Grand Army Plaza Library a few weeks later.

Hermann Helms replied on January 13, 1951, and suggested that Bobby go to a chess exhibition at the Grand Army Plaza Brooklyn Public Library at 8 pm on January 17, 1951, to find someone his own age that plays chess. He could also take a board and play Max Pavey (1918-1957), who was giving a simultaneous exhibition. Helms also suggested that Bobby come by the Brooklyn Chess Club and talk to Henry Spinner, secretary of the Brooklyn Chess Club. It met at the old Brooklyn Academy of Music (then the Brooklyn YMCA) every Tuesday, Friday, and Saturday evening. The exhibition was also advertised in the January 11, 1951 issue of the Brooklyn Eagle (Pavey Dares 'Em All in Boro Chess Play by Hermann Helms).

The letter was as follows:
Jan 13, 1951

Mrs. R. Fischer
1059 Union Street
Brooklyn, N.Y.

Dear Madam:
Your postcard of Nov. 14, mislaid in The Eagle Office, has just reached me.

If you can bring your little chess-playing boy to the Brooklyn Public Library, Grand Army Plaza, next Wednesday evening at eight o'clock, he might find someone there about his own age. If he should care to take a board and play against Mr. Pavey, who is to give an exhibition of simultaneous play at that time, just have him bring along his own set of chessmen with which to play. The boards, I understand, are to be provided.

I will also bring your request to the attention of Mr. Henry Spinner, secretary of the Brooklyn Chess Club, which meets Tuesday, Friday and Saturday evenings on the third floor of the Brooklyn Academy of Music. It is quite possible that Mr. Spinner may know of a boy or two of that age.

Yours respectfully,

Hermann Helms
Chess Editor
On January 17, 1951 Bobby, age 7, played a game against Senior Master and U.S. Speed Chess Champion Dr. Max Pavey, who was giving a simultaneous exhibition at the Grand Army Plaza Library in Brooklyn. Bobby lost in 15 minutes (he lost a Queen) and burst into tears when he lost the game. Another player, Edmar Mednis (1937-2002), age 14, also participated in this simul and drew. Pavey took on 13 players that evening. Fischer later admitted that his loss to Pavey had a great effect in motivating him to get better at chess. However, Fischer also said that he did not take chess seriously until he was 10 (Brady, 1965, p. 7)

The January 18, 1951 issue of the Brooklyn Eagle said this about the exhibition. "In his exhibition at the library, Pavey played 13 games with different opponents without losing one. He drew two games against Edmar Mednis, a junior member of the Marshall Chess Club, and Sylvan Katske. The other 11, including eight-year-old (sic) Bobby Fischer, were defeated."

Max Pavey's 1950 USCF rating was 2442 (#15 in the US and about #90 in the world). Five years later, Fischer would draw his game against Pavey in the 3rd Lessing J. Rosenwald tournament and lose to him in the 1956 Manhattan Chess Club semi-finals. Pavey was a medical doctor. In 1939, he won the Scottish championship. In 1947, he was the U.S. Lightning Champion. In 1949, he was the New York State champion. He died of leukemia (radiation poisoning) at the age of 39.

Watching in the crowd was Carmine Domenico Nigro (1910-2001), President of the Brooklyn Chess and Checkers Club, located in the old Brooklyn Academy of Music. After the game, Carmine (rated 2028) went up to Regina and Bobby and invited Bobby to join his club. He told Regina that Bobby would not have to pay any membership dues. Carmine Nigro (pronounced NIGH-grow) had been an accomplished band leader in the 1940s and was a stockbroker before becoming a teaching golf pro.

At the time, Nigro was teaching chess to his son, William (some sources, such as Brady 1965, say Tommy), and offered to tutor Bobby Fischer as well. William was uninterested in chess, and Carmine increased William's allowance if William agreed to take a lesson in chess. Bobby couldn't wait to have a lesson every Saturday and became absorbed in the game. William was slightly younger that Bobby.

The very next evening, Regina took Bobby to the Brooklyn Chess Club, headed by Carmine Nigro. Bobby, age 7 (but looked 5), was the first child permitted to join the Brooklyn Chess Club (there were also no women chess members). On that first night, Bobby lost every game at the club. Despite his losses, Bobby continued to show up at the Brooklyn Chess Club.

For the next few years, Bobby showed up and played chess at the Brooklyn Chess Club almost every Friday night. Bobby later started playing chess at Nigro's house on Saturdays and often went with him to play chess at Washington Square Park in Manhattan (Greenwich Village), usually on Sundays. Carmine Nigro was Bobby Fischer's only chess instructor. Fischer later said, "Mr. Nigro was possibly not the best player in the world but he was a very good teacher. Meeting him was probably a decisive factor in my going ahead in chess." (Brady, Endgame, p. 21).

During the summer of 1951, Regina sent Bobby to the Venderveer Nursery School, a day camp in Brooklyn. It was here that he learned to swim. He later became a good swimmer and took various Red Cross swimming tests, becoming an "Advanced" swimmer.

Carmine Nigro formed an unofficial chess team with Bobby Fischer, Bill Nigro, and two other boys. They played a match against another team of kids coached by Dr. Harold Sussman (1911-2004), a dentist, amateur photographer, and chess master in Brooklyn. The teams played two matches. Nigro's team won the first match with a 5-3 score. (Brady, page 7-8)

In February, 1952, Bobby played in his first chess match at the Nigro home, winning his match against 10-year-old Raymond Sussman, the son of a Dr. Harold Sussman. Bobby won the first game and drew the second game. Dr. Harold Sussman later became Bobby's dentist.

When Dr. Harold Sussman started teaching chess to his own son, he collected a group of youngsters for livelier interest in learning competitively. The best player of the group was Bobby Fischer. (Chess Life, Jan 1956, 6)

Fischer's mother wrote to Paul Nemenyi (1895-1952) that the family was too poor to even afford to patch Bobby's torn shoes. Paul Nemenyi may have been Bobby Fischer's real father. He died on March 1, 1952, of a heart attack in Washington, DC at the age of 56. He had been paying child support to Regina Fischer until his death. Nemenyi would sometimes show up at the Fischer apartment and take Bobby on outings.

By the time he reached 4th grade, Bobby had been through six different schools.

By 1952, Fischer was a fairly good player and was starting to beat his coach, Carmine Nigro. One chess master said of him: "I was impressed with his intuitive sense of the game and his swift thinking. His enthusiasm never flagged and he showed unusual concentration and willpower. He had chess fever early! His main tactic was to challenge me, which showed his strong will and ego view even then (I was rated among the top twenty players in the U.S. at the time). Although amused by the boy's tenacity, I did play him from time to time and while his talent was obvious, I did not realize that I was playing against a future world champion." (Brady, page 8)

So who was this unidentified master? As of December 31, 1950, the top twenty players were Fine, Reshevsky, Dake, Horowitz, Kashdan, Evans, Seidman, Pavey, Shainswit, Denker, Pinkus, Bisguier, Kramer, D. Byrne, Adams, Steiner, R. Byrne, Hesse, DiCamillio, and Hearst.

As of December 31, 1951, the top 20 players were Reshevsky, Dake, Denker, Evans, Fine, Horowitz, Pavey, Bisguer, D. Byrne, R. Byrne, Kashdan, Kevitz, Kramer, Seidman, Shainswit, Steiner, Pinkus, Adams, Hesse, and DiCamillio.

During the summer and fall of 1952, Bobby spent time playing against his grandfather's cousin, Jacob Schonberg, who also lived in Brooklyn. When Jacob's health was failing, Regina Fischer took care of him almost every day. She brought along Bobby to play chess with the older gentleman. Another person who played chess in the family was Bobby's great uncle, Jack Wender's brother, who was a strong tournament player in Switzerland (Brady, Profile of a Prodigy, page 8).

Carmine Nigro was also a professional musician and gave Bobby music lessons. Negro lent him an accordion and gave him accordion lessons. Bobby soon was playing the accordion at school assemblies. About a year later, Bobby gave up on the accordion. "I did fairly well on it for a while, but chess had more attraction and the accordion was pushed aside." (Brady, Endgame, p. 22).

In 1952, Bobby spent most of his hours after school at the Grand Army Plaza library reading most of the chess books there and enjoying playing over miniature chess games. A photograph showing him studying appeared in the Brooklyn Public Library News Bulletin in July, 1952. It was the first time that his photograph appeared in print. He once told Shelby Lyman (1936- ) that he'd read thousands of chess books and retained the best from each (Brady, Endgame).

In the fall of 1952, when Bobby was nine, his talent in chess probably helped him obtain a scholarship at Brooklyn Community Woodward School, a private school, when he was in the fourth grade. (Brady, Profile of a Prodigy, page 7). This was a progressive grade school of about 150 children. Bobby was accepted in the school with the understanding that he would teach the other students how to play chess. It was here that his IQ test score was measured at 180 (Brady, Endgame). At the school, Bobby also became interested in baseball and tennis. (In Profile of a Prodigy, Brady sources the 180 IQ from an advisor at Erasmus High School).

Regina was worried about her son's obsession with chess and took him to the Children's Psychiatric Division of the Brooklyn Jewish Hospital. Bobby was seen by Dr. Harold Kline who told Regina that there were worse preoccupations, and not to worry about it.

Not fully comforted by what Dr. Kline said, Regina sought a second opinion. She called Dr. Ariel Mengarini (1919-1998), a chess master and psychiatrist, and asked him what he could suggest to curb's Bobby obsession with chess. He recalled later, "I told her I could think of a lot worse things than chess that a person could devote himself to and that she should let him find his own way." (Brady, Profile of a Prodigy, page 8) In 1957, Mengarini played and drew Bobby Fischer in the New Jersey Open.

In 1953 Bobby was playing regularly at the Brooklyn Central YMCA.

In February 1953, Bobby played in his first organized tournament, the Brooklyn Chess Club championship, and took 5th place. If this was the Napier Memorial tournament, then it was won by Henry Spinner with an 11-0 score.

By the end of 1953, Bobby was winning a majority of his games at the Brooklyn Chess Club.

In 1954 Bobby, age 11, was playing most of his chess at the Brooklyn Chess Club and Brooklyn YMCA.

Bobby was exposed to international chess when Nigro took Fischer to watch the USA-USSR chess match every day at the Hotel Roosevelt in Manhattan. It was held June 16-24, 1954. It was the first time the Soviet chess team played on United States soil. The match drew 1,100 spectators, more than any other previous chess event in U.S. history. The match was refereed by Hans Kmoch (1894-1973). Bobby attended all four rounds and kept score of the wins, draws, and losses. The USSR team won 20-12.

In December, 1954 he took 3rd-5th place at the Brooklyn Chess Club championship. It was during this period that Fischer later said "When I was eleven, I just got good" when describing when his chess improved. (Brady 1965, p. 8)

Fischer played a lot of skittles games at the Marshall Chess Club. A man once asked Fischer why he made a certain move and Fischer responded, "Please, this is a chess game. This is brain surgery. Don't ask me that."

Bobby played about a 1,000 chess games a year between the ages of 9 and 11.

In early 1955 Fischer was playing in a Chess Review correspondence tournament (section 55-P-32). He was mentioned as a new postalite in the May, 1955 issue of Chess Review in the Class B at 1200 section. He had an 1198 postal rating in the August, 1955 list of Chess Review and a 1082 postal rating in the March, 1956 issue of Chess Review. He remained at 1082 in the August, 1956 issue if Chess Review. He lost his only known postal game in 12 moves to A. Wayne Conger (1418 postal). Donald Reithel recalls that he played Fischer in a correspondence game in 1955. Fischer wrote to Reithel that he was a Brooklyn Dodger fan. Fischer did not finish the correspondence game with Reithel because he was starting to play in over-the-board tournaments.

Donald Reithel said, "In 1955 I played Bobby in postal chess - a prize tourney in Chess Review. I remember him as a typical American kid: Brooklyn Dodger fan, somewhat opinionated about school and somewhat desirous to exchange ideas and thoughts. He also liked listening to the radio and religiously was reading and studying the Bible." (Donaldson, A Legend on the Road, page 12).

The July 1955 issue of Chess Review, page, 249 has section 55-P-32 stating "Fischer licks Maxwell, loses to Conger."

On May 21-22, 1955, Fischer played in his first U.S. Chess Federation (USCF) tournament. He scored 2.5 points (out of 6) in the U.S. Amateur Championship in Lake Mohegan, New York (played at the Mohegan Country Club). Carmine Nigro took him to the event. Fischer, age 12, only wanted to watch, but was persuaded to play by Nigro. Nigro paid the $5 entry fee for Bobby and his USCF membership. The only known Fischer game from this event was Humphrey-Fischer in round 6. Fischer drew that game. Fischer won 2, drew 1, and lost 3 (2.5-3.5). He tied for 33rd place. The event was won by Clinton L. Parmalee of New Jersey and organized by Kenneth Harkness (1896-1972). There were 75 entrants. The event was open to anyone except rated masters (masters were anyone rated 2300 or over). The event was covered in the June 5, 1955 issue of Chess Life and in Chess Review, June, 1955, page 164. Fischer's post-tournament provisional USCF rating was 1826. There were 75 entrants. The event was open to anyone except rated masters (masters were anyone rated 2300 or over).

Albert Humphrey (1780) — Bobby Fischer (Unr), Lake Mohegan, NY, Rd 6, May 22, 1955
1.d4 Nf6 2.c4 g6 3.Nc3 Bg7 4.Nf3 O-O 5.e4 d6 6.h3 Nbd7 7.Be3 e5 8.d5 a5 9.Be2 b6 10.O-O Ne8 11.Qc2 Nc5 12.Nh2 f5 13.f3 f4 14.Bf2 Qg5 15.Kh1 Bd7 16.Rg1 Nf6 17.g4 fxg3 18.Rxg3 Qh6 19.Nd1 Nh5 20.Rg1 Bxh3 21.Be3 Nf4 22.Nf2 Bf6 23.Rg3 Bd7 24.Nfg4 Bxg4 25.Rxg4 Qg7 26.Rag1 Be7 27.Qd2 Rf7 28.R1g3 Raf8 29.Bxf4 Rxf4 30.Rh3 Qf7 31.R4g3 Bh4 32.Rg4 Bf2 33.Bd1 1/2-1/2

In June, 1955 Bobby scored 4.5-3.5 in a Washington Square Park (Greenwich Village) 8 round Swiss tournament with 32 players. He tied for 15th place. The tournament director was Jose Calderon. The entry fee was 10 cents. The entry fee money was sent to the American Red Cross as a donation.

In late June, 1955, Bobby Fischer entered the Manhattan Chess Club for the first time with Carmine Nigro. He was met by Walter Shipman (1929- ), one of the club's directors. Shipman immediately matched Bobby with a player, and Bobby won the game. Another opponent was found and Bobby won again. Shipman then played Fischer a series of blitz games, and Bobby won a third of the games. Shipman recalled, "I was so impressed by his play that I introduced the 12-year old to Maurice Kasper (1900-1972), the president of the club and a millionaire garment maker, whose beneficent offer of a free junior membership was immediately accepted by Bobby." (Brady, Endgame)

He joined the Manhattan Chess Club on West 64th Street and became the youngest member in the club's history. A few weeks after joining the club, he won a "C" group tournament. He then won a "B" group tournament. He was later promoted to the A-Reserves group. In less than a year after joining the Manhattan Chess Club, he finished 1st in one of the A-Reserves group.

Often it would reach midnight and Bobby Fischer was still playing chess at the Manhattan Chess Club. His mother would have to take the subway or use the old, unreliable car to drive from Brooklyn to Manhattan to get Bobby. She once said, "For four years I tried everything I knew to discourage him, but it was hopeless." She was certain he would be world chess champion one day. She said, "The sooner the better. Then he can get down to some real work." (Brady, page 9). Mrs. Fischer also said that the Manhattan Chess Club was his favorite hangout. She was interviewed by the New Yorker magazine and said, "Sometimes I have to go over there at midnight and haul him out of the place."

Sometimes Fischer would read chess books 12 to 14 hours a day and would memorize numerous chess games. He would also play as many as 100 speed games a day with opponents at the Manhattan Chess Club or other places. He was soon dominating weekly speed tournaments at the Manhattan Chess Club.

In early July, Nigro persuaded Fischer to play in the U.S. Junior championship. On July 3, 1955, Regina Fischer sent a postcard to Alexander Liepnieks (1910-1973) and asked if he could make any arrangements for Bobby Fischer to play in the US Junior Championship in Lincoln, Nebraska. Lipenicks was the Nebraska State Champion at the time and organizer for the US Junior Championship.

Regina took Bobby to the Pennsylvania Railroad Station in New York to buy him a train ticket to Nebraska via Philadelphia. The ticket agent refused to sell her a ticket for a 12-year old boy that was going to travel 1,400 miles alone. Regina replied, "But you don't understand. He must go! It's for his chess." The agent replied, "Why didn't you tell me the boy was going for medical care?" The agent had thought there was something wrong with the boy's chest. (Brady, Endgame)

In July of 1955, Fischer (age 12) and Charles Kalme (1939-2002) took a train from Philadelphia to Lincoln, Nebraska to play in the 10th annual US Junior Championship, organized by Alexander Liepnieks. The event was held July 15-24, 1955. Fischer won 2 games, drew 6 games, and lost 2 games (5-5) at the U.S. Junior Championship in Lincoln, Nebraska (held at the local YMCA). Fischer (rated 1830 from the U.S. Amateur tournament) took 20th place out of 25. Kalme (rated 2186) won the event at age 15. Fischer stayed with the Liepnieks family. Fischer's USCF rating was 1625 after this event.

In round 1 of the US Junior Championship, Fischer lost to Kenneth Warner (1550) of Bakersfield, California. In round 2 he drew with William Whisler (unrated) of Concord, California. In round 3 he beat Jimmy Thomason (1600) of Fort Worth, Texas. In round 4 he drew with David Ames (unrated) of Quincy, Massachusetts. In round 5 he drew with Kenneth Stone (1600) of Los Angeles. In round 6 he drew with John Briska (unrated) of Albany, New York. In round 7 he lost to Viktors Pupols (2027) of Tacoma, Washington on time. In round 8, he drew with Robert Blair (1650) of Midwest City, Oklahoma. In round 9 he drew with John Winkelman (1650) of Lincoln, Nebraska. In round 10 he beat Franklin Saksena (1600) of Ft. Worth, Texas. His total score was 5-5.

During the event, Fischer wore a large military-style dog tag around his neck. His mother had given it to him that had his name, address, and phone number on it. When Fischer was losing, he would twist the dog tag nervously. His mother called him every day to see if he was all right. Later that month, her phone bill was $50, more than her rent.

Fischer won a trophy for best player 12 or under (he was the only 12 year old in it and the youngest player in the event). His name first appeared in Chess Life, Aug 5, 1955 in an article about the US Junior Championship. The event was also covered in Chess Review, September 1955, page 260, but only mentioning that Charles Kalme, age 15, won the tournament. Bobby returned to New York alone by bus, carrying his trophy with him.

On July 17, 1955, he took 3rd place in the U.S. Junior Rapid Transit Championship preliminaries, behind Robert Cross and Ronald Gross. Every move was 10 seconds a move with a warning buzzer at 8 seconds and a bell at 10 seconds.

On October 2, 1955, Bobby placed 15th among 60 players who entered the Washington Square Park tournament in Greenwich Village. Harry Fajans (1905-1986), a chess master, said that when he beat Fischer in that tournament, Bobby walked away in tears (Brady, p. 10). Many who knew Fischer during this period confirm that Fischer often cried on being defeated. In 1963, when Frank Brady asked Fischer if this was true, Fischer replied, "Of course not!"

He played in the final open-air tournament of the season in Washington Square Park in New York City. He was the youngest player in the event, who held his own against many of his older and more experienced opponents (Chess Review, Nov 1955, p. 326). The winner was Charles Eastman, who won a $100 savings bond. Fischer had to weather the month-long contest and 32 eliminations before being beaten. (New York Times, Oct 3, 1955). Bobby was awarded a $10 ballpoint pen for his efforts. As a result of his participation, Bobby's name appeared for the first time in a major newspaper. The New York Times ran a small story about the results of the tournament, with the headlines, EASTMAN WINS AT WASHINGTON SQUARE—BOY 12, NEAR TOP. The reporter wrote, "Many in the crowd of 400 onlookers seemed to think the best show was given by Bobby Fischer. Despite competition from his more mature and experienced adversaries, he was unbeaten until yesterday, when he came within 15 players of the championship." Fischer won 2 games, drew 5 games, and lost 1 game.

On November 26, 1955, Fischer, age 12, gave his first simultaneous exhibition He played 12 members of the Youth Group (age 7 to 12) of the Yorktown, Chess Club (Yorktown Heights, New York) youth at the Manhattan Chess Club. He won all 12 games, eliminating the first player in 50 minutes and the last player in 2 hours and 20 minutes. Fischer had White in all his games. Most of the games went 1.e4 e5 2.Nf3 Nc6 3.Bc4 Nf6 4.Ng5. He received a watch from the Manhattan Chess Club and a check from the Yorktown Chess Club. Fischer was mentioned in the December 20, 1955 issue of Chess Life ("Chess Life in New York" by Allen Kaufman) for his simul exhibition. The January 1956 issue of Chess Review had him on the cover ("Small Time Big time) with another picture of him playing chess in the article. His opponents were Stuart Siepser, Peter Foley, Walter Nitz, Billy David, Henry Brooks, Jimmy Rice, Marc Budwig, Leonard Bergstein, Evanna Nelson, Linda Villator, Eric Mynttinen, and Michael Foley. His exhibition was also covered by the December 11, 1955 issue of the New York Times. (Chess Review, 1/1956, p. 6)

At the end of the year, Fischer's two USCF ratings, 1826 and 1625, were averaged. So at the end of 1955, Bobby Fischer's USCF rating was published at 1726.

It was around this period, when Fischer started to get real good. He is quoted as saying, "When I was eleven, I just got good." (Brady, Profile of a Prodigy, page 1).

The January 1956 issue of Chess Review had Fischer on the cover giving a simul at the Manhattan Chess Club against the Yorktown Chess Club youth group.

In January 1956, Bobby, age 12, won the class B prize of the first Greater New York City Open (January 21-26, 1956). It was held at the Churchill Chess and Bridge Club in Manhattan. The event was won by Bill Lombardy, 6-1, on tie-breaks over Dr. Ariel Mengarini. Fischer won 5 games and lost 2 games (5-2). There were 52 players in this event. Fischer tied for 5th-7th (shared with Anthony Saidy and E.S. Jackson). In the final round, he was playing Rhys Hays. In a particularly difficult position, Bobby thought for a long time, then decided on a move. Bobby moved a piece then punched the clock on the next table! His USCF rating for the event was 2157. (Chess Review, 2/1956, 36 and Chess Life, Feb 5, 1956, 2)

Frank Brady first saw Fischer at the Greater New York City Open. He was dressed in corduroy pants, plaid woolen shirt buttoned at the collar, and black and white tennis shoes. Fischer was playing blitz chess between rounds with a boy slightly older than himself. An older gentleman in his 60s was continually interrupting with advice and comments. Fischer finally spun around and said, "Please! This is a chess game!" (Brady 1965, p. 9)

Fischer was a member of the West Orange, New Jersey Log Cabin Chess Club. The club was founded and run by the eccentric E. Forry Laucks (1897-1965). The club was in his basement, decorated to look like a log cabin.

Laucks, a wealthy man and perhaps a neo-Nazi (he sometimes wore a lapel pin bearing a Nazi swastika and had Nazi flags and a painting of Adolf Hitler in his home), assisted Bobby for tournament fees and other expenses. In 1956, Laucks gathered a group of chess players for a 3,500 mile trip throughout the southern U.S. and Cuba. Regina allowed Bobby to withdraw from Community Woodward School for three weeks to participate in this trip, and she also insisted on going along on the trip to chaperone Bobby.

In February 1956, Bobby traveled with six other members of the Log Cabin Chess Club to Cuba and even gave a 12-board simultaneous exhibition at Havana's Capablanca Chess Club (winning 10 and drawing 2). The players included Cuban players, as well as E. Forry Laucks and Robert Houghton. His mother accompanied him and served as photographer for Chess Review. The Log Cabin Chess Club and Fischer also visited Philadelphia; St. Petersburg, Florida; Hollywood, Florida; Miami, Florida; Tampa, Florida; and Clinton, NC for simultaneous exhibitions. Norman T. Whitaker (1890-1975), age 66, played board 1 for the Log Cabin Chess Club and Fischer played board 2. Fischer won 5, lost 1, and drew 1 during this exhibition match as board 2. The event was covered in the April, 1956 issue of Chess Review. It included a picture of Fischer playing Mr. Weeks, a retired engraver for the U.S. Treasury, in St. Petersburg. The photo was taken by Regina Fischer. Another photo shows Fischer playing at the Capablanca Chess Club in Havana. A third photo shows Fischer playing in Hollywood, Florida.

Whitaker was a disbarred lawyer and con artist who had served time in Alcatraz and Leavenworth for several crimes (auto theft, rape, scams). He tried to extort $100,000 from Charles Lindbergh by claiming he knew where Lindbergh's kidnapped baby was. Regina Fischer wanted to accompany Bobby because she was worried that Whitaker may have had pedophiliac tendencies.

After the tour, The New York Times wrote an article on the chess tour with the headline: CHESS TEAM ENDS TOUR. The Log Cabin Chess Club won 23.5 games and lost 26.5 games. However, Whitaker and Fischer both had a score of 5.5-1.5.

March 9, 1956, was Bobby's 13th birthday. Years later, he gave Pal Benko one of his old chess clocks and a chess set. He told Benko that they had been gifts which Bobby received for his Bar Mitzvah. The clock and set are now in the hands of chess collector David DeLucia.

In March 1956, he gave a simul at the Jersey City YMCA and won 19, lost one, and drew one out of the 21 opponents. There were about a 100 spectators. Bobby made $19 for his efforts.

He had turned 13 and, at the time, was short for his age, standing at 5 feet, 4 inches. His hair was brown and he wore a crew cut. Fischer was also interested in baseball and he wanted to be Duke Snider (1926- ), the Duke of Flatbush, Brooklyn (and Los Angeles after 1958) Dodgers baseball player.

In April he won the class A championship at the Manhattan Chess Club. He won 7, drew 1, and lost 2.

He also was the top scorer in the 1956 New York Metropolitan League A team with 4 wins and 1 draw. An award was to be given to him at Highland Park in Brooklyn for his efforts, but he never showed up. Carmine Nigro accepted the award for him. Nigro told Brady that Fischer was master strength.

Around this time, Bobby's first chess teacher, Carmine Nigro, moved to Florida and lost regular contact with Fischer. After five years, Fischer would never see Nigro again.

At the end of April, his USCF rating was 2168. However, his published rating in the May 20, 1956 issue of Chess Life was 1726. One year later, it would be 2231.

On May 25-27, 1956, he played in the U.S. Amateur Championship in Asbury Park, New Jersey, winning 3 games, drawing 2, and losing 1 game (4-2). At 13, he was the youngest player in the 88-player event (won by John Hudson on tiebreaks over Harry Lyman and J.N. Cotter). He tied for 11th-23rd place. Before the event, he was rated 1726. His USCF rating after this event was 2003.

In round 1 of the 1956 US Amateur Championship, Fischer drew with Michael Tilles (2040). In round 2 he beat Dr. J. F. Bacardi (1770). In round 3 he drew with Norman Hurttlen (1985). In round 4 he beat Samuel Sklaroff (1911). In round 5 he lost to Edmund Nash (1989). In round 6 he beat R. Riggler (1844).

A picture appears in the July 20, 1956 issue of Chess Life, page 1, of Fischer playing Samuel Sklaroff.

While at the U.S. Amateur Championship in Asbury Park, Bobby Fischer ran into Jack Collins and Collins invited Bobby to come to his apartment for chess.

In mid-June 1956, Fischer joined the "Hawthorne Chess Club," which was actually the home of John (Jack) W. Collins (1912-2001), 1952 New York State champion, twice a week in Flatbush. Fischer's chess instructor, Carmine Nigro, moved to Miami to become a professional golf instructor. Fischer took advantage of Collins' extensive chess library and read almost every chess book and magazine he had. Collins also coached Bill Lombardy and the Byrne brothers around the same time.

Jack Collins had stunted legs and was unable to walk. He used a wheelchair to get around, usually guided by a black man named Odell. Collins was usually accompanied by his younger sister, Ethel, a registered nurse. Jack, age 44, and Ethel were parental substitutes for the young Bobby Fischer.

On June 13, 1956, Bobby Fischer appeared with Arlene Francis on the "Home Show" on NBC.

In June 1956, Fischer graduated from the 8th grade at Woodward Community School. He attended the school for 4 years. Bobby did not go to the graduation ceremony because he did not want to give up an afternoon of chess and he disliked any type of formality and ceremony.

In July 1956, he took first place at the 11th Annual U.S. Junior Championship (July 1-7) in Philadelphia with 8 wins, 1 draw, and 1 loss (8.5-1.5). He became the youngest-ever junior chess champion at age 13, a record that still stands (he placed 20th with 5-5 at Lincoln, Nebraska in 1955). The event was held at the Franklin Mercantile Chess Club with Bill Ruth as tournament director, assisted by D. A. Gianguilio. Fischer's USCF rating after this event was 2321, making him a master at age 13 years, 3 months, 29 days and ranked #33 in the nation. He had become the youngest master in history. The rating was not published until August of 1956. There were 28 participants from 12 states and Canada.

His opponents were Arthur Feuerstein (2150), Carl Grossguth (2022), William Whisler (1882), Sydney Geller (2150), George Baylor (2014), Charles Henin (2265), Charles Weldon (1927), Steven Friedman, Kenneth Blake (1877), and David Kerman (1927). Fischer drew with Feurestein, lost to Henin, and won the rest. Fischer won his last game versus David Kerman on an adjudication which took more than two hours of analysis by a panel of three referees. (Chess Review, August, 1956, page 227). Feurestein and Henin took 2nd-3rd. Geller took 4th. Baylor and Levine took 5th-6th. The crosstable of the event appeared in the July 20 issue of Chess Life, page 3.

At 13 years and 4 months, Fischer was the youngest player to win the U.S. Junior Championship. He won a portable typewriter for his efforts. Fischer took 2nd place in the blitz championship with a 4-1 score (won by Arthur Feuerstein with 4.5-0.5 score). William Lombardy took 3rd.

After the U.S. Junior Championship, Regina persuaded Maurice Kasper to give her $125 towards Bobby expenses for the U.S. Open in Oklahoma. She also arranged to have someone take in Bobby for the duration to save on hotel costs.

A few weeks later (July 17-28, 1956) Bobby played in the 57th annual U.S. Open in Oklahoma City (102 players from 20 states) at the Biltmore Hotel. The event was directed by George Koltanowski, assisted by Kenneth Harkness, and organized by Jerry Spann. Play began at 7 pm. There was no play on Saturday, July 21, which was reserved for the Speed Tournament. The final round began at 12 noon. Time control was 50 moves in 2.5 hours. Entry fee was $15.

Fischer won 5 games, drawing 7 games, losing none, (8.5-3.5), and tied for 4th-8th place (won by Arthur Bisguier on tiebreaks over Jimmy Sherwin). Fischer set some kind of record by going undefeated through all 12 rounds of a USCF Open at the age of 13 (Chess Review, September, 1956, page 260). His USCF rating was 2375 after this event, #25 in the nation. His game with Dr. Peter Lapiken was the first to appear in a chess magazine. It appeared in the August 5, 1956 issue of Chess Life and the September issue of Chess Review. During this event, he was interviewed on television for the first time. He appeared twice on local television and was profiled by the Oklahoman magazine. A picture of Fischer posing for the cameraman of the Oklahoman appeared in the August 20, 1956 issue of Chess Life, page 7. At 13, he was the youngest player at the U.S. Open.

In the US Open, he defeated A. M. Swank (1687) in the first round (the oldest player at 78 vs. the youngest player at 13), drew with Henry Gross (2181), drew with Fred Tears (2123), beat Dr. Peter Lapiken (2209), drew Brian Owens (2222), drew Anthony Santasiere (2333), drew Ken Smith (2216), drew Wilmer E. Stevens (1872), beat Dale Ruth (1971), beat Dr. Orest Popovych (2176), drew Dr. Stephen Popel (2328), and beat Jerry Donovan (2180).

A.M. Swank — Fischer, US Open, Oklahoma City, Rd 1, July 16, 1956
1.e4 c5 2.Ne2 Nc6 3.b3 Nf6 4.Nbc3 e6 5.Bb2 d5 6.Ng3 Bd6 7.Bb5 O-O 8.Bd3 Ne5 9.Be2 Ng6 10.Nb5 Nxe4 11.Nxe4 dxe4 12.Nxd6 Qxd6 13.g3 e5 14.c4 Bh3 15.Bf1 Bxf116.Rxf1 f5 17.Qc2 Ne7 18.O-O-O Nc6 19.Bc3 Nd4 20.Bxd4 exd4 21.Kb1 Rae8 22.Rfe1 Re5 23.d3 Rfe8 24.Qd2 exd3 25.Rxe5 Qxe5 26.Qxd3 Qe2 27.Rd2 Qxd3+ 28.Rxd3 Re1+ 29.Kc2 Re2+ 30.Rd2 Rxd2+ 31.Kxd2 f4 32.Kd3 Kf7 33.a3 Kf6 34.b4 b6 35.Ke4 Kg5 36.gxf4+ Kg4 37.f3+ Kh3 38.f5 Kxh2 39.f4 Kg3 40.bxc5 bxc5 41.a4 a5 42.Kd5 d3 43.Kxc5 d2 0-1

Fischer — H. Gross, US Open, Oklahoma City, Rd 2, July 17, 1956
1.Nf3 Nf6 2.g3 d5 3.Bg2 Bf5 4.O-O e6 5.d3 Bc5 6.Nbd2 Nc6 7.a3 a5 8.Qe1 Bg6 9.e4 dxe4 10.Nxe4 Nxe4 11.dxe4 O-O 12.Be3 Qe7 13.Qc3 Bxe3 14.Qxe3 Rad8 15.Rad1 Rxd1 16.Rxd1 Rd8 17.Rxd8+ 1/2-1/2

C.F. Tears — Fischer, US Open, Oklahoma City, Rd 3, July 18, 1956
1.e4 c5 2.Nc3 Nc6 3.d3 g6 4.g3 Bg7 5.Bg2 d6 6.f4 e6 7.Nf3 Nge7 8.O-O O-O 9.Rb1 Rb8 10.Ne2 f5 11.Be3 b5 12.e5 Nd5 13.Bf2 dxe5 14.Bxc5 Re8 15.fxe5 Nxe5 16.Nxe5 Bxe5 17.c4 Qc7 18.cxd5 Qxc5+ 19.Kh1 Qd6 20.d4 Bg7 21.dxe6 Bxe6 22.d5 Bf7 23.b3 Rbd8 24.Nf4 Be5 25.Ne6 Bxe6 26.dxe6 Qxe6 27.Qe2 a6 28.Rfe1 Qf7 29.Rbd1 Bc3 30.Rxd8 Rxd8 31.Rd1 Rxd1+ 32.Qxd1 Kg7 33.Qf3 Qf6 34.Qb7+ Kh6 35.Qb8 Qd4 36.Qf8+ Qg7 37.Qxg7+ Kxg7 38.a4 Kf6 39.Bb7 bxa4 40.bxa4 a5 41.Kg2 Ke5 42.h4 f4 43.Bc6 Be1 44.gxf4+ Kxf4 45.Kh3 1/2-1/2

Fischer — P. Lapikan, US Open, Oklahoma City, Rd 4, July 19, 1956
1.Nf3 Nf6 2.g3 d5 3.Bg2 Bf5 4.O-O e6 5.d3 c6 6.Nbd2 Na6 7.a3 Nc5 8.c4 b5 9.Nd4 Qd7 10.Nxf5 exf5 11.Nb3 h6 12.Be3 Ne6 13.Nd4 g6 14.Qb3 Rb8 15.Nxc6 Qxc6 16.cxd5 Nc5 17.Qc3 Qd6 18.Bxc5 Qxc5 19.Qxf6 1-0

Brian Owens — Fischer, US Open, Oklahoma City, Rd 5, July 20, 1956
1.d4 Nf6 2.c4 g6 3.Nc3 Bg7 4.g3 O-O 5.Bg2 d6 6.Nf3 Nbd7 7.O-O e5 8.e4 exd4 9.Nxd4 Nc5 10.Re1 a5 11.h3 Re8 12.Bg5 h6 13.Bf4 Nfd7 14.Be3 c6 15.Qd2 Ne5 16.Qe2 a4 17.Rad1 Qa5 18.f4 Ned7 19.Kh2 a3 20.Qc2 axb2 21.Qxb2 Nb6 22.Bf1 Nba4 23.Nxa4 Qxa4 24.Qg2 Rxe4 25.Nb3 Re8 26.Nxc5 dxc5 27.Bxc5 Be6 28.Rb1 Bxc4 29.Rxe8+ Rxe8 30.Rb4 Bxf1 31.Rxa4 Bxg2 32.Kxg2 Re2+ 33.Kf3 Rc2 34.Ra8+ Kh7 35.Be3 b5 36.Ra7 Kg8 37.Ra8+ Bf8 38.f5 g5 39.f6 Rc3 40.Ke4 Rc4+ 41.Kf5 Rc3 42.Ke4 Rc4+ 43.Kd3 1/2-1/2

Fischer — A. Santasiere, US Open, Oklahoma City, Rd 6, July 22, 1956
1.Nf3 d5 2.g3 Nc6 3.d4 Bg4 4.Bg2 Qd7 5.O-O g6 6.c4 Bg7 7.cxd5 Bxf3 8.Bxf3 Nxd4 9.Bg2 e5 10.dxe6 Nxe6 11.Bxb7 Rb8 12.Bg2 Qxd1 13.Rxd1 Bxb2 14.Bxb2 Rxb2 15.Nc3 Ne7 16.Rab1 Rb6 17.Nb5 O-O 18.Nxa7 Rfb8 19.Rxb6 Rxb6 1/2-1/2

Ken Smith — Fischer, US Open, Oklahoma City, Rd 7, July 23, 1956
1.e4 c5 2.Nf3 d6 3.d4 cxd4 4.Nxd4 Nf6 5.Nc3 a6 6.Bg5 e6 7.Qd2 h6 8.Be3 Ng4 9.Be2 Nxe3 10.Qxe3 Be7 11.f4 Qc7 12.f5 O-O 13.Bg4 Nc6 14.Nxc6 bxc6 15.O-O Bg5 16.Qf2 Rb8 17.Rab1 d5 18.fxe6 Bxe6 19.Bf3 Qe5 20.Qc5 Bf4 21.g3 d4 22.Qxe5 Bxe5 23.Na4 Bxa2 24.Rbe1 Rb4 25.Nc5 Rxb2 26.Nd3 Rb5 27.Ra1 Be6 28.Rxa6 Rc8 29.Be2 g6 30.Re1 Bh3 31.Rd1 Be6 32.Nf4 Rc5 33.Nxe6 fxe6 34.Bd3 Kf7 35.Ra7+ Rc7 36.Rxc7+ Bxc7 37.Ra1 Ke7 38.Ra4 e5 39.Kg2 Kd6 40.Kf3 Ra5 41.Rxa5 Bxa5 42.Ke2 Kc5 43.Ba6 Kb4 44.Kd3 Ka3 45.g4 g5 46.Bb7 c5 47.Bc6 Kb2 48.Ba4 Kc1 49.Kc4 Kd2 50.Kxc5 Ke3 51.Kd5 Bc7 1/2-1/2

Fischer — W. Stevens, US Open, Oklahoma City, Rd 8, July 24, 1956
1.e4 e5 2.Nf3 Nc6 3.Bb5 a6 4.Ba4 Nf6 5.O-O Nxe4 6.d4 b5 7.Bb3 d5 8.dxe5 Be6 9.c3 Bc5 10.Nbd2 O-O 11.Bc2 Nxf2 12.Rxf2 Bxf2+ 13.Kxf2 f6 14.exf6 Qxf6 15.Kg1 Rae8 16.Nf1 Ne5 17.Ne3 Nxf3+ 18.Qxf3 Qxf3 19.gxf3 Rxf3 20.Bd1 Rf7 1/2-1/2

Dale Ruth — Fischer, US Open, Oklahoma City, Rd 9, July 25, 1956
1.e4 c5 2.Nf3 d6 3.d4 cxd4 4.Nxd4 Nf6 5.Nc3 a6 6.Be2 e5 7.Nf3 Be7 8.O-O O-O 9.h3 Nbd7 10.Re1 b5 11.a4 b4 12.Nd5 Nxd5 13.Qxd5 Qc7 14.Qb3 Nc5 15.Qxb4 d5 16.exd5 e4 17.Nd2 Nd3 18.Qxe4 Nxe1 19.d6 Bxd6 20.Qxa8 Bb7 21.Qxf8+ Kxf8 22.Kf1 Nxc2 23.Rb1 Nd4 24.Bd3 Bb4 0-1

Fischer — O. Popovych, US Open, Oklahoma City, Rd 10, July 25, 1956
1.Nf3 Nf6 2.g3 g6 3.Bg2 Bg7 4.O-O O-O 5.d3 d6 6.Nbd2 e5 7.e4 Ne8 8.c3 f5 9.d4 f4 10.dxe5 dxe5 11.Nc4 Qxd1 12.Rxd1 Nc6 13.gxf4 exf4 14.Nd4 Nxd4 15.cxd4 f3 16.Bf1 Nf6 17.Ne5 Be6 18.d5 Ng4 19.Nd3 Bc8 20.Bf4 Rxf4 21.Nxf4 Be5 22.Nd3 Bxh2+ 23.Kh1 Bd6 24.Bh3 Ne5 25.Nxe5 Bxe5 26.Be6+ Kg7 27.Rd3 Bxe6 28.dxe6 Kf6 29.Rad1 Re8 30.Rxf3+ Kxe6 31.Kg2 a5 32.a4 b6 33.Rd2 h5 34.Rfd3 Rf8 35.Rf3 Bf4 36.Rc2 c5 37.Rb3 Bc7 38.Rd2 Rf4 39.Rg3 Rf6 40.Rf3 Bf4 41.Rd8 g5 42.Rfd3 Rf7 43.Rh8 Ke5 44.f3 h4 45.Rh6 Rf6 46.Rxf6 Kxf6 47.Rd7 Ke5 48.Rb7 Kd4 49.Rxb6 c4 50.Rb5 Bc7 51.Rd5+ Ke3 52.Rxg5 1-0

Fischer — S. Popel, US Open, Oklahoma City, Rd 11, July 27, 1956
1.Nf3 Nf6 2.g3 g6 3.Bg2 Bg7 4.O-O O-O 5.d3 d6 6.e4 c5 7.Nbd2 Nc6 8.a4 a6 9.Nc4 Rb8 10.a5 Be6 11.Nfd2 d5 12.exd5 Bxd5 13.Nb3 Bxg2 14.Kxg2 Nd4 15.Nxd4 cxd4 16.Bf4 Rc8 17.Be5 Qd5+ 18.Qf3 Qxf3+ 19.Kxf3 Nd5 20.Bxg7 Kxg7 21.Rfe1 e6 22.Ra3 Rfd8 23.Rb3 Rc7 24.Ke2 Ne7 25.Kd2 Nc6 26.Rb6 Rd5 27.Ra1 Kf8 28.Ra3 Ke7 29.Rab3 Nd8 30.f4 g5 31.fxg5 Rxg5 32.Nd6 Rgc5 33.c4 dxc3+ 34.bxc3 Rxa5 35.Nxb7 Ra2+ 36.Ke3 Rxh2 37.Nxd8 Kxd8 38.Rxa6 Ke7 1/2-1/2

J. Donovan — Fischer, US Open, Oklahoma City, Rd 12, July 28, 1956
1.d4 Nf6 2.c4 g6 3.Nc3 Bg7 4.e4 d6 5.Nf3 O-O 6.Be2 Nbd7 7.O-O e5 8.h3 c6 9.Be3 Qe7 10.Qc2 a6 11.a4 Re8 12.dxe5 dxe5 13.a5 Nh5 14.Rfd1 Nf4 15.Bf1 Nf8 16.c5 N8e6 17.Na4 Ng5 18.Nxg5 Qxg5 19.Kh2 Be6 20.g3 Bh6 21.gxf4 exf4 22.Bc1 Qh4 23.Ra3 Rad8 24.Rad3 Rxd3 25.Rxd3 Bg7 26.b3 f5 27.Rf3 fxe4 28.Qxe4 Bf7 29.Qc2 Re1 30.Bc4 Qg5 31.Bxf7+ Kf8 32.Rg3 fxg3+ 33.fxg3 Qxc1 34.Qxc1 Rxc1 35.Be6 Re1 36.Bc8 Re2+ 37.Kh1 Re7 38.Kg2 Ke8 39.h4 Kd8 40.Bg4 Re3 0-1

Fischer's USCF rating in August 1956 was 2349. He was 13 years, 5 months old, the youngest US master ever. The record stood until July, 1977, when Joel Benjamin became a master at 13 years, 3 months.

By August, 1956, Fischer was regularly playing Jack Collins blindfold chess whenever they traveled together, such as when they would make the 20-minute walk together to the Silver Moon Chinese restaurant in Brooklyn.

In September, 1956, he tied for 8th-12th place at the first Canadian Open (August 25-September 2) in Montreal (88 players). It was played at Redpath Hall of McGill University (entry fee was $10). The event was won by Larry Evans and Bill Lombardy. Bobby's score was 7-3. Fischer stayed at the home of William Hornung, one of the tournament's organizers. Between rounds, Fischer played 10 blitz games with Jimmy Sherwin, who tied for 1st at the U.S. Open, and Fischer won every game.

White in Montreal, he gave a 19-board simul at the local YMCA, winning 18 and drawing one game.

In the 4th round, Fischer played Hans Matthai, and the game ended in a draw in 108 moves. It turned out to be the longest game in Fischer's career (Fischer had a Queen against two Rooks and a Pawn). Frank Ross Anderson, Canadian champion, called it the most interesting game of the tournament.

After the Canadian Open, he asked for a ride home from Larry Evans, who had a car. Evans said, "He asked if I would drive him back to New York. I had no inkling that my passenger would become the most famous and phenomenal player in the history of chess. On that long drive home he barely glanced at the scenery. All he wanted to do was talk about chess, chess, and more chess. While my eyes were glued to the road he plied me with technical questions and we discussed complicated variations blindfold, calling out the moves without the sight of the board. His total dedication and relentless quest for excellence were apparent even then." (Brady, Profile of a Prodigy, p. 16)

In September, 1956, at age 13, he entered 9th grade and started school at Erasmus Hall High School in Brooklyn (Flatbush and Church) with Barbara (later changed to Barbra) Streisand and they were good friends. Bobby later dropped out of school to become a professional chess player. Fischer's academic records indicated an I.Q. of 180 with an incredibly retentive memory. Erasmus High School is the second oldest secondary school in the United States, established in 1787. Walter Browne also attended Erasmus High.

Fischer felt comfortable at Erasmus High with it more than 5,000 students. As for his classmates, Bobby said, "I didn't bother them and they didn't bother me." He was unaware that Barbra Streisand had a secret schoolgirl crush on him. She remembered, "Bobby was always alone and very peculiar. But I found him very sexy." (Brady, Endgame, p. 59).

In October, 1956, he was invited to play in the third Lessing J. Rosenwald tournament, limited to the 12 best players in the country. Fischer was invited as a result of him winning the U.S. Junior Championship three months earlier.

In October he took 8th-9th place (with Abe Turner) in the 3rd Lessing J. Rosenwald Trophy Tournament in New York. His score was 4.5-6.5. The event was won by Reshevsky. His win involving a queen sacrifice against International Master Donald Byrne in round 8 won the first brilliancy prize (and $50) and has been called "The Game of the Century" (named by Hans Kmoch, Manhattan Chess Club Director). The tournament was held at both the Manhattan Chess Club on Central Park South and the Marshall Chess Club, located on Tenth Street. His USCF rating after the event was 2321.

A few weeks later, Fischer gave a simul at the Jamaica Chess Club in Long Island. He won 11 and drew one.

Fischer usually played blitz or skittles chess for twenty cents a game. One day, at the Marshall Chess Club, he was playing for 20 cents a game when Hans Kmoch had an appointment with the cellist Gregor Piatagorsky. Kmoch wanted Fischer to show Piatagorsky his brilliant win over Donald Byrne. Fischer was interrupted and lost the skittle game to Ron Gross. Fischer angrily flipped two dimes to Gross while Kmoch tried to get Fischer to show his famous "Game of the Century." Fischer got mad and replied, "I don't care. I don't have to show anybody my games just because he is a big shot!" Fischer then stormed out of the club.

In November (Thanksgiving Day weekend), 1956, he tied for 2nd-5th place in the Eastern States Open in Washington, D.C. The winner was Hans Berliner. His rating after the event was 2298.

In December 1956, Bobby won the rapid transit play at the Manhattan Chess Club and took 4th place in the Manhattan Chess Club Championship. Fischer tied for 1st place with Aben Rudy in the 1956 Manhattan Championship Consolation Tourney. (Chess Life, April 5, 1957, p. 3)

At the end of 1956, Fischer's USCF ratings were averaged for the year and were published at 2231. He appeared on the cover of the December, 1956 issue of Chess Review, titled Game of the Century.

Bobby played about 12,000 games a year from the ages of 11 to 13.

In 1957 Regina wrote directly to Nikita Khrushchev, requesting an invitation for Bobby to participate in the World Youth and Student Festival. Khrushchev replied that he could play in the event, but the invitation came too late.

While waiting for a reply, Bobby applied for a passport and then submitted an application for a visa to enter Russia. A year later the visa request was granted. (Endgame, p. 88)

Regina also wrote to Soviet Grandmaster Alexander Kotov (1913-1981), "I would like you to publish a collection of my son's games. Bobby would like to have an account in a Russian bank." (Brady, p.23)

Later, FBI agents would show up at her apartment and try to meet with her and ask her some questions. She refused to speak to the FBI agents without a lawyer. Since 1942, Regina had been suspected of being a Soviet espionage agent. Her telephone was tapped and FBI agents went through all her records and questioned many of her neighbors and fellow nurses. Eventually, the FBI had about 750 pages of reports in her file. The FBI eventually considered Regina Fischer harmless to the security of the U.S.

In February, 1957, he took 6th-14th in the Log Cabin Open. His USCF rating after the event was 2222.

On March 9-10, 1957, Bobby played two games against former world champion Max Euwe (1901-1981) at the Manhattan Chess Club in New York, drawing one and losing one. Euwe was paid $65 for his winning effort and Fischer was paid $35.

In April he won the New York Metropolitan Chess League.

In the May 5, 1957, issue of Chess Life, he was rated 2231 on the 11th USCF national rating list. He had gained over 500 rating points in one year. This made him at that time America's youngest master ever.

In July he tied for 6th place at the New Western Open in Milwaukee, Wisconsin. His USCF rating at the end of the tournament was 2103.

In July, 1957, the U.S. Chess Federation received an official invitation for Bobby Fischer to visit the Soviet Union.

A few days later, on July 8-14, 1957, he played in the U.S. Junior Championship in San Francisco and took first place (8.5 out of 9) and another typewriter. The event was held at the Spreckels Dairy Company. He also won the U.S. Junior Speed Championship. His prize for that was a copy of the 1956 Candidates Tournament book by Euwe and Muhring. His USCF rating at the end of the US Junior Championship was 2298.

Fischer left San Francisco and headed for Long Beach, California with some friends. While in Los Angeles, he stayed at the home of Lina Grumette. Bill Addison, age 24, drove Fischer, Gilbert Ramirez, and William Rebold to Cleveland for the U.S. Open in Guthrie McClain's old car. McClain was editor of the California Chess Reporter. Along the way, Fischer and Ramirez got in a fight with each other. Ramirez was left with bite marks, which can be seen to this day. The car broke down before getting to Cleveland, and the group took a bus to Cleveland, arriving the evening before the first round of the U.S. Open.

In August 1957, he tied for 1st-2nd (scoring 10/12) with Arthur Bisguier at the 58th U.S. Open in Cleveland and won $750. He won the event on tie-break, making him the youngest U.S. Open Champion ever at the age of 14. His rating after the event was 2264. There were 176 players in the event. Bisguier said, "Who could have seen in the early stages, by not winning against Fischer, I created a Frankenstein!" (Brady, p. 19) At the conclusion of the U.S. Open, it was assumed that Bisguier won the tournament. He took the trophy and prize money home. When he got home, the tournament director called Bisguier to say he was not the winner. After recalculating the tie-break points, it was determined that Fischer was the winner on tie-breaks. Bisguier later gave the trophy to Fischer. (Chess Review, October 1957, pg. 297-298).

In August-September he won the New Jersey Open championship with 8 wins and 1 draw, no losses. His USCF rating after the event was 2605.

In September, 1957, he was a student at Erasmus Hall High School in Brooklyn. Barry Munitz, President of the Erasmus High School Chess Club, tried to get Bobby to join the club. Bobby wasn't interested. One of his teachers said, "He never seems to be listening in class. He must always be thinking about chess." (Brady, p. 21)

Janice Wolfson Epstein was Fischer's geometry teacher and remembered him as a poor student who was also antisocial. Fischer was good in Spanish class. Bobby made sketches of monsters, elaborate doodles, and wrote lyrics. In one interview, Fischer said he had an interest in astronomy, prehistoric animals, and hypnotism. He was also an avid reader of comic books, especially horror types. Frank Brady talked to someone in the Grade Advisor's Office at Erasmus Hall while Bobby was a student there. This person said, "His I.Q. was in the 180s, give or take a point or two. He was definitely a high genius, but with no interest or capacity for schoolwork. (Brady, p.22)

In September, 1957, the Pepsi-Cola Company sponsored a match with 19 year-old Philippine Junior Champion, Rodolfo Tan Cardoso (1937- ) and Fischer. Fischer won 6-2 and $325. Cardoso was awarded the International Master (IM) title in 1957, making him the first Asian IM.

In late September, 1957, Bobby Fischer was invited to participate in the Lessing J. Rosenwald Tournament for the United States Championship and Zonal tournament. The event would be held at the Manhattan Chess Club from December 15, 1957 to January 6, 1958. The tournament overlapped the great Hastings Christmas Congress in England, which he also had been invited to. He decided to play in the U.S. Championship.

In November-December he took 6th in the North Central Open in Milwaukee. His USCF rating after the event was 2552.

Fischer then played a match with Dr. Daniel J. Beninson (1931-2003), a strong Argentine player. He was a scientist with the Committee on the effects of Atomic Radiation for the United Nations. The match was played at the Marshall Chess Club, and Fischer won. Beninson later became head of Argentina's Atomic Energy Commission.

Just before the Centennial U.S. championship in 1957/58, Bisguier said: "Bobby Fischer should finish slightly over the center mark in this tournament. He is quite possibly the most gifted of all players in the tournament; still he has had no experience in tournaments of such consistently even strength." (Brady, p. 20)

On January 8, 1958 Bobby Fischer at age 14 years and 9 months won the 1957/58 U.S. Championship and Zonal with 8 wins, 5 draws and no losses. He drew his last round with Abe Turner. His score of 10.5/13 was a point more than 4-time champion Sammy Reshevsky, who lost in the final round. The event was played at the Manhattan Chess Club and Marshall Chess Club. At 14, he became the youngest US champion in history, a record that still stands. His USCF rating after the event was 2722. His USCF rating average for 1957 was 2626, and #2 in the USCF (behind Samuel Reshevsky at 2713). Players over 2600 were considered American Grandmasters, so Reshevsky and Fischer were the only grandmasters with the USCF. He now qualified for the 1958 Interzonal in Portoroz. Since this was a Zonal event, he qualified for the Interzonal and was given the International Master (IM) title by FIDE at the age of 14 years, 10 months. Except for Santa Monica 1966, Bobby Fischer would win every U.S. tournament he played in.

A reporter asked Bobby whether he now considered himself the best chess player in the United States. Fischer responded, "No. One tournament doesn't mean that much. Maybe Reshevsky is better!" (Brady, p. 21).

After winning the US Championship, the famed resort Grossinger's in the Catskill Mountains invited Fischer for a 10-day all-expenses-paid stay at the resort. It was here that he learned to ski.

The American Chess Foundation mailed a check for $250 to Fischer in recognition for his chess achievements. Dr. Albrecht Buschke, who dealt in rare or antique chess books, gave Fischer a $100 gift certificate after winning the U.S. Chess Championship. Fischer took months to select his gift books, trying to find the best books for himself.

The New York Times wrote an essay on Fischer, claiming that all Fischer does and all Fischer knows is chess, and that he kept a chess set by his bedside. An article by Aben Rudy in the Dec 5, 1957 issue of Chess Life said the Fischer was proficient at tennis and table-tennis. Fischer was also an avid hockey fan and sees as many "Ranger" games as his crowded schedule will allow. The article also mentioned that Fischer was a quite promising ventriloquist.

Around this time, Bobby spent his time preparing a book of his games. He dictated his annotations into a tape recorder and his mother transcribed them. When the book was finished, he first took it to the World Publishing Company to see if they would publish it. The company eventually declined the manuscript, but Joan Fischer, who accompanied Bobby when he went there, met Russell Targ, the son of the chief editor of the company (William Targ, 1907-1999). Russell and Joan later married. In 1963, the company was sold to Times Mirror. William Targ later published Mario Puzo's novel The Godfather.

In February 1958, he played a 30 board simul at the Marshall Chess Club, winning 29 and drawing one. He was seeded in the Manhattan Chess Club Championship, but withdrew the day before it was to start.

In early 1958, Mrs. Fischer wrote to the Yugoslav Chess Federation as asked them to find room and board for Bobby. She wrote that Bobby would not give any simultaneous exhibitions or interviews, and did not like journalists who asked non-chess questions. She also said that Bobby did not smoke, drink, or date girls. She said that Bobby did not know how to dance but liked to swim, play tennis, ski, and skate.

On March 26, 1958 he was interviewed by Garry Moore (1915-1993) for a special television broadcast geared for teenagers ("I've Got a Teenage Secret"). He talked about his winning the US championship and being awarded the IM title.

In April, 1958, he gave interviews to Time, New York Post, New York Times and the Voice of America.

In May, 1958 Bobby, age 15, appeared on the television show I've Got a Secret and stumped the panel, which included Dick Clark (his secret was that he was U.S. chess champion). The made-up newspaper headline for Bobby was "Teen-Ager's Strategy Defeats all Newcomers." Dick Clark asked if what he did made people happy. Fischer responded, "It made me happy." Garry Moore asked him how long he had been playing chess. Fischer responded that he had been playing since he was six, but that he had not been playing seriously until age 9.

For stumping the panel on I've Got a Secret, Sabena Airlines provided two complimentary round trip airline tickets for Bobby and his sister, Joan, already a registered nurse at age 20, to travel to Russia, with a stopover in Belgium, Sabena's home country. At the end of the show, Fischer almost tripped over the microphone wire and fell as he was leaving the stage.

Someone at the Manhattan Chess Club asked Bobby what he'd do if he were invited to a state dinner while in Moscow. Where he would have to wear a tie. Bobby responded, "If I have to wear a tie, I won't go." (Endgame, p. 90)

On May 11, 1958, Fischer gave a simul on Channel 13 Television, scoring 12 wins and 1 draw. Ken Harkness was the announcer.

In mid-1958, with the help of John W. Collins, Bobby wrote Bobby Fischer's Games of Chess. It was later published by Simon and Schuster in 1959. It included 34 of his games, including the "game of the century" D. Byrne vs. Fischer. It originally contained 13 games for his U.S. championship tournament. Later, the games from the Portoroz Interzonal were added.

Bobby and Joan had a three-day stopover in Brussels and visited Expo 58. Before checking in at the hotel, Bobby had rudely voiced objections to the hotel staff over the accommodations that they were to have. He did not want to share a room with his sister. Fischer brought with him about 50 pounds of chess books and magazines in his suitcase.

Bobby was able to sneak a few bottles of Belgian beer and drink it. The next day he experienced his first hangover. He then played some blitz chess against GM Count Alberic O'Kelly de Galway, and won all his games.

As Bobby checked out of the Belgium hotel, he was severely criticized by the management for his rudeness about the complimentary room.

In June, 1958, he landed in Moscow and was met by Lev Abramov, the head of the chess section of the USSR, and by a guide from Intourist. Bobby and Joan stayed at Moscow's finest hotel, the National. Bobby was also given a car, a driver, and an interpreter. Bobby's visa was good for 20 days.

Bobby spent almost all his time at the Moscow Central Chess Club (Tsentralny Shakhmatny Klub) on Gogolsky Boulevard. He played a few speed games of chess with two young Soviet masters, Evgeni Vasiukov and Alexander Nikitin. Fischer won every game. He later played some speed games with Tigran Petrosian and Petrosian won the majority.

Bobby sent a postcard to Jack Collins, writing, "I don't like Russian hospitality and the people themselves. It seems they don't like me either." (Endgame, p. 94)

While Bobby and Joan were in Russia, Fischer's father, Gerhardt (Gerardo) Fischer wrote in German to Regina from Chile voicing his worries that the children might be kidnapped or had been kidnapped in Russia.

At about this time, Regina received a cable from the Yugoslavian chess officials stating that they would receive Bobby and Joan as early guests before the Interzonal. They would also set up training matches for Bobby with top players.

Joan accompanied Bobby to Belgrade, but left after two days to spend the rest of the summer with friends in England.

On July 20-26, 1958, he played a match with and Milan Matulovic at the Slavia chess club in Belgrade. Bobby lost the first game, then won the second game, drew the third game, and won the fourth game. He then played a match with Dragoljub Janosevic. Fischer drew both games. In 1967, Janosevic beat Fischer at the Skopje Interzonal, becoming one of the few players to have a plus record against Fischer.

Before the Interzonal, Fischer analyzed the known games of the 20 players he would face at Portoroz. Of the 20 players he was to meet, he had only played three of them — Benko, Sherwin, and Petrosian. So he studied the games of Tal, Gligoric, Olafsson, Bronstein, Averbakh, Matanovic, Szabo, Pachman, Panno, Filip, Sanguinetti, Neikirch, Larsen, Rossetto, Cardoso, De Greiff, and Fuster.

Fischer's second in the Interzonal was Bill Lombardy.

From August 5 through September 12, 1958, he took 5th-6th at the Portoroz Interzonal (won by Tal, playing in his first international tournament) in Yugoslavia and gained the Grandmaster title after winning 6 games, drawing 12, and losing 2 games. At the same time he became the world's youngest World Championship Candidate and Grandmaster for the world championship at age 15 years, 6 months. Pal Benko was in the Interzonal as a result of his 1957 victory at the Dublin Zonal. Sherwin was in the Interzonal after taking 3rd place in the U.S. championship. Reshevsky had qualified for taking 2nd place, but he refused to play in the Interzonal. Cardoso of the Philippines was in the Interzonal. He wanted revenge after he lost to Fischer during the Pepsi-Cola sponsored match. Cardoso told everyone that he was going to beat Fischer. When they sat down at the board, Cardoso said, "Would you like to resign now and save time?" Fischer laughed and beat him. (Brady, p. 24)

During the Portoroz Interzonal, Fischer would analyze in his hotel room until late at night, and then sleep until noon. He rarely left his room except to play chess.

In one game, Fischer took an early draw with Yuri Averbakh. When Larry Evans asked why Bobby agreed to a premature draw, Fischer said, "I was afraid of losing to a Russian grandmaster and he was afraid of losing to a kid." (Evans On Chess, July 22, 1994)

Fischer defeated Sanguinetti, Larsen, Sherwin, Cardoso, De Greiff, and Fuster. He only lost to Benko and Olafsson. He drew the rest.

By qualifying for the Candidates (Challengers) matches, Fischer, Benko, and Olafsson automatically became Grandmasters.

In 1958, at age 15 years and 6 months, he became the youngest Grandmaster in the world. The record stood until 1991 when it was broken by Judit Polgar.

After the tournament, Fischer said, "one thing is certain — I am not going to be a professional chess player." (Endgame, p. 105). For taking 5th-6th place, Fischer received only $400 for six weeks of effort at the interzonal.

When Fischer returned to the USA, he was met at Idlewood Airport (later JFK International Airport) by his mother, sister, and Norman Monath, an editor at Simon & Schuster, who was putting the final touches on Fischer's first chess book, Bobby Fischer's Games of Chess. They decided to include the 20 games from the Portoroz Interzonal.

Bobby entered his junior year at Erasmus High School several days late. The school awarded him a gold medal for becoming the youngest grandmaster in history. He was profiled in his school newspaper, the Dutchman.

A week after Bobby's arrival back in the USA, the Marshall Chess Club held a reception for him. Over 100 members were in attendance. Bobby spent the time playing speed chess.

Fischer played in the Marshall Chess Club weekly speed tournament, the "Tuesday Night Rapid Transit." Bobby tied for 1st with Edmar Mednis, scoring 13-2. The one game that Fisher lost was to Jack Collins.

In late 1958, Fischer refused to play in the 1958 Munich Chess Olympiad unless he, rather than Sam Reshevsky, plays first board for the USA. At the time, Fischer was the reigning U.S. champion.

Around this time, Fischer changed his dress habits from sweaters and sneakers to suit and tie. He told Ralph Ginzburg, "I used to dress badly until I was about 16. But people just didn't seem to have enough respect for me, you know. And I didn't like that, so I decided I'd have to show them they weren't any better than me, you know? They were sort of priding themselves. They would say he beat us at chess, but he's still just an uncouth kid. So I decided to dress up."

Joan Fischer married Russell Targ in 1958. Targ was an engineer at Sperry Cytoscope Company.

A Soviet journalist interviewed Fischer in 1958. He reported that Fischer's chess library had 80 books, with over half of them in Russian. Fischer spent 5 hours a day reading chess books, and more if preparing for a tournament. (Brady 1965, p. 8)

In January 1959, Bobby Fischer again won the U.S. Championship with 6 wins and 5 draws. His USCF rating was 2665. First place was $1,000.

Around this time, Jacob Wender, Bobby's maternal grandfather, passed away, leaving $14,000 of his estate to Regina Fischer. Jacob arrived in New York on August 5, 1913 from Zurich, Switzerland. He was listed as Russian and Hebrew.

After Fischer's U.S. Championship win, the student council at Erasmus Hall had voted him a gold medal for his accomplishments. Fischer may have dropped out of school when he turned 16 on March 9, 1959. He said he hated school except for Spanish and geometry.

In a 1961 interview with Ralph Ginzburg, he said, "My two and a half years in Erasmus High I wasted. I didn't like the whole thing. You have to mix with all those stupid kids. The teachers are even stupider than the kids. They talk down to the kids. Half of them are crazy. If they'd have let me, I would have quit before I was 16."

Barbra (Barbara) Streisand, who attended Erasmus Hall at the same time as Fischer, had a crush on Bobby. Every day they had lunch together. Barbra said that Fischer was "always alone and very peculiar. But I found him very sexy." (Christopher Andersen, Barbra The Way She Is, page 41)

Around this time, Mrs. Fischer and Bobby visited Frank Brady, who was working with the U.S. Chess Federation. She was looking for any financial aid that the USCF could give. Down the hall from the USCF office was the office of Dr. Albrecht Buschke, who specialized in chess literature. He offered Bobby to choose a number of chess books free of charge. It took Bobby over a year to make his selection. (Brady, p. 27)

In Yugoslavia, a chess club was named after Fischer.

In April 1959 he took 3rd-4th at the annual international tournament in Mar del Plata, Argentina. The expenses of this trip were handled by the sponsoring organization. It was Bobby's first trip to South America.

From there, he went to Santiago, Chile where he placed 4th-7th. Fischer withdrew from the tournament for a short while, stating that he had gone there with the understanding that there was $2,000 in cash prizes. It turned out that there was $1,000 in cash prizes and $1,000 in trophies. He was eventually persuaded to re-enter.

In May, 1959 he took 3rd-4th at Zurich, Switzerland behind Tal and Gligoric, with 8 wins, 5 draws, and 2 losses. Max Euwe, in an interview in Swiss Schachzeitung, said of Fischer, "His chess technique is nearly a miracle. In their youth, only a few players could handle the endgame so precisely. Only two such players are known to me, Smyslov and Capablanca." (Brady, p. 29)

During the summer of 1959, Mrs. Fischer was trying to sell Bobby Fischer chess wallets. She had them made in Argentina and was advertising them in The New York Times. It had Bobby's profile and signature stamped in gold. She wanted to sell them at the U.S. Open in Omaha that summer, but Bobby was against it.

Mrs. Fischer also wrote a letter to the New York Herald Tribune appealing to people for funds to help finance U.S. participation in overseas tournaments. She asked for contributions to be sent to the USCF. About $3,000 was received, including a $2,000 check from Sports Illustrated. Bobby Fischer refused any of this money.

Around this time, Fischer's mother moved out of their apartment at 560 Lincoln Place to pursue her medical training. Fischer remained in the Brooklyn apartment on the edge of the Bedford-Stuyvesant neighborhood, which had one of the highest crime rates in New York. Fischer's only companion was his dog, Hoppy. The rent was paid by a trust fund from the Jacob Wender inheritance.

The manufacturers of Fischer pianos offered Bobby $500 to pose for one photo of him standing next to one of their pianos with a chess set on top. Fischer turned this offer down. He said, "It was just a cheap gimmick." (Brady, p. 32).

While in Yugoslavia for the Candidates tournament, Bobby received a letter from Grace Corey, assistant principal of Erasmus High, telling him how well he had done on the New York State Regents examinations. He got a 90% in Spanish and a 97% in geometry.

In September-October, 1959, he took 5th-6th at the Bled/Zagreb/Belgrade Candidates tournament, won by Mikhail Tal, age 22. Tal received $1,000 for 1st place. Fischer received $200 for two months work and 28 rounds. Tal beat Fischer in all 4 games that they played. 2nd-4th were Paul Keres, Tigran Petrosian, and Vasily Smyslov. Fischer tied with Gligoric. Fridrik Olafsson took 7th and Pal Benko took 8th.

Fischer's second at the Yugoslavia Candidates tournament was Bent Larsen. Larsen received $700 as Fischer's second (equivalent to $5,000 today). Fischer lost 10 pounds during the tournament.

At the end of 1959, Fischer's USCF rating was 2636, behind Reshevsky's 2693 rating. He had barely made $1,000 that year in chess.

On December 16, 1959, just before the 1959-60 US Championship (the Rosenwald tournament), Fischer decided not to play at the last minute. He had demanded a public drawing of the pairings. Anthony Saidy was substituted for Fischer. On December 19, after it was agreed that the drawing would be made public in the future, Fischer decided to defend his title.

Fischer, for the first time, showed up in a suit. He wore a white shirt and a white tie. He had been encouraged by Pal Benko to dress well. Benko had introduced Bobby to his tailor in the Little Hungary section of Manhattan.

In December-January 1960, Fischer again won the U.S. Championship with 7 wins, 4 draws, and no losses. For the third year in a row, he won the US championship without a loss. His rating was 2636. The event was held at the Empire Hotel. Fischer won $1,000 for first place.

In mid-March, 1960, Bobby Fischer and Frank Brady had dinner at the Cedar Tavern in Greenwich Village. He had just turned 17 and had just received in the mail the invitation and pairings chart for the 23rd international tournament in Mar del Plata, Argentina, which was held March 29th to April 15. Brady asked him, "Bobby, how are you going to prepare for this tournament? I've always wanted to know how you did it." And Bobby pulled out his pocket chess set and went over many opening variations and complete games. Fischer responded, "I'll look at the games that I can find of all the players, but I'm only going to really prepare for Bronstein, Spassky, and Olafsson." (Endgame, p. 128)

In March, 1960, Fischer flew to Mar del Plata, Argentina for an international chess tournament.

In April, 1960 he tied for 1st-2nd with Boris Spassky at Mar del Plata, Argentina. He lost to Spassky, drew with Bronstein, and won all his other games. It was Fischer's greatest triumph in an international tournament to date.

In August, 1960, he did poorly in Buenos Aires. He scored 8.5-10.5. He only won 3 games in 19 rounds. It was the worst result of his career. When asked to explain his results, he said the lighting was poor. Miguel Najdorf probably introduced Fischer to too much of the Buenos Aires night life.

In September, 1960, a national group called the People-to-People Committee was attempting to raise funds for the USA team to play in the chess Olympiad in October in Leipzig, East Germany. Fischer gave a simul to publicize the team's plight. He played 20 inmates at the Rikers Island jail complex, winning all 20 games.

He took first place at Reykjavik, Iceland in October.

In October-November, 1960, he played board 1 for the United States at the Chess Olympiad in Leipzig, East Germany, winning 10 games, drawing 6, and losing 2. The USA took 2nd, behind the Soviet Union. He won the silver medal for individual result. The USA won a silver medal for team result. His rating was 2641. Fischer drew his game with current world champion Mikhail Tal.

In an interview in Leipzig, Fischer was asked when he would be the world champion. Fischer replied, "Perhaps in 1963. Why not." (Brady, p. 40)

During the Leipzig Olympiad, Fischer played Tal a blitz match and lost 1-4. He also met Botvinnik, but they never played.

Against his game with Najdorf, Bobby had an easily won game, but made a mistake and Najdorf was able to draw. Bobby then swept the pieces off the table in disgust. Najdorf then told Fischer, "You'll never play in South America again." This account appeared in the Soviet chess press by Yugoslav journalist Dmitrije Bjelica.

In January 1961, Bobby again won the U.S. Championship for the 4th time with 7 wins, 4 draws, and no losses. His prize was $1,000 and he qualified for the next Interzonal. His rating was 2660.

In 1961, he wrote his famous "Bust to the King's Gambit," which appeared in the first issue of The American Chess Quarterly.

On March 9, 1961, Fischer turned 18. He was living alone in a Brooklyn flat. His rent, food, and clothing bills (he was now dressing up in suit and tie) were being paid by his mother. He lived in an area of Brooklyn (Bedford-Stuyvesant district) where the homicide and general crime rate was among the highest in the city of New York. He lived in a four-room apartment with over 200 chess books, thousands of chess magazines, and an inlaid chess table he had made for him in Switzerland. Fischer reached his height at 6 feet, 2 inches.

In early 1961 he told journalist Robert Cantwell (1908-1978), "I am going to win the World Championship. Anyway, Tal hasn't been playing so good and he may not even be World Champion by the time the next match is held." To a reporter for Newsweek, he said, "Give me two years. I will win it." (Brady, p. 41)

In June, 1961, the American Chess Foundation announced plans for a match between Fischer and Reshevsky. It was to consist of 16 games. The prize fund was $8,000.

In July he started a match with Sam Reshevsky and tied it with 2 wins, 7 draws, and 2 losses before negotiations broke down to continue the match over the playing schedule and time of the start of each game. The games were played in New York and Los Angeles.

Bobby forfeited the match because the 12th game of the series was set at 11 a.m., and Bobby was not told of this time change. The game had been scheduled for play at the Beverly Hilton Hotel in Los Angeles on Sunday, August 13 at 1:30 pm. At 10 am that morning, he received a call that the playing time had been moved up to 11 am to accommodate the wishes of the principal patron, Mrs. Jacqueline Piatigorsky. She wanted the game to be over in time for her to attend a concert to be given that night by her husband, Gregor Piatigorsky. Bobby refused to play at 11 a.m. and cited a clause in his playing contract which stated that playing time had to be acceptable to both parties.

On August 25, 1961, Bobby gave a controversial 5 hour interview with Ralph Ginzburg for Harpers magazine. It appeared in January, 1962.

In that interview, he said, "They're all weak, all women. They're stupid compared to men. They shouldn't play chess, you know. They're like beginners. They lose every single game against a man. There isn't a woman player in the world I can't give knight-odds to all and still beat."

He was asked if he considered himself the greatest player that ever lived, even better than Capablanca, Steinitz, or Morphy. He replied, "Well, I don't like to put things like that in print, it sounds so egotistical. But to answer your question, Yes."

Ginzburg noted that quite a few number of Jews were in the upper echelons of chess. Fischer replied, "Yeah, there are too many Jews in chess. They seem to have taken away the class of the game. They don't seem to dress so nicely, you know. That's what I don't like." Fischer admitted he was part Jewish, that his mother was Jewish. In reality, both his mother and his father (either Hans-Gerhadt Fischer or Paul Nemenyi) were Jewish.

In the interview, Fischer said he wanted to learn judo, but the judo schools in New York were too low class for him. He said he used to do weightlifting to keep himself in shape, but gave it up as too boring. He was also interested in palmistry but not astrology. He said his favorite actor was Marlon Brando but didn't watch television because he feared it was giving off radiation. He said he liked Tennessee Williams' pictures.

When asked about religion, Fischer said, "I read a book lately by Nietzsche and he says religion is just to dull the senses of the people. I agree."

Finally, Ginzburg asked him what he was going to do when he becomes world chess champion. Fischer said, "I'll make a tour of the whole world, giving exhibitions. I'll set new standards. I'll write a couple of chess books and start to reorganize the whole game. I'll have my own club. It'll be class. I'll hold big international tournaments in my club with big cash prizes. Then I'll build me a house. I'm going to hire the best architect and have him build it in the shape of a rook. I want to live the rest of my life in a house built exactly like a rook."

In September, 1961, Fischer checked into a Brooklyn YMCA and studied chess more than 16 hours a day in preparation for the Alekhine Memorial, a 20-player international event.

In October, 1961, he took 2nd at the Alekhine Memorial in Bled, Yugoslavia, behind Tal. He defeated Tal in the 2nd round. Fischer's rating was 2675.

Of Fischer's performance at Bled, Larry Evans said, "He has shown beyond the shadow of a doubt that he is a contender for the world title. Fischer has single-handedly broken the Russian iron grip on chess supremacy." Svetozar Gligoric said, "Bobby is going to be world champion." (Brady, p. 49)

After Bled, Fischer was confined for a few days at a hospital in Banja Luka, Bosnia, due to an appendicitis attack. However, he did not have any surgery and waited out the pain.

In December, 1961, Fischer was in London. He appeared in the BBC's Chess Treasure of the Air. Fischer and Leonard Barden played a game against Jonathan Penrose and P. H. Clarke. The game was adjudicated as a draw by Max Euwe. Bobby spent about 10 days in London. He spent Christmas in London with his mother and her new husband, Cyril Pustan.

Bobby Fischer chose not to play in the 1961-62 U.S. Chess Championship. That event was won by Larry Evans. He decided to spend two months in Sweden to prepare for the Interzonal.

In 1962, Bobby became involved in the Worldwide Church of God and reading the Plain Truth, put out by the church. He read every issue cover to cover.

In early March, 1962, he won the Interzonal in Stockholm with 13 wins, 9 draws, and no losses. This was the first interzonal that a Soviet player did not take first place. Fischer earned $750 for his 1st place finish at the Interzonal. Fischer's rating was 2713.

On March 9, 1962, Bobby Fischer turned 19.

After Stockholm, Gideon Stahlberg and Jostein Westberg issued the first book about him, called Bobby Fischer. It contained a short biographical sketch and 50 selected games. It was published in Stockholm in 1962.

In May 1962, he took 4th place at the Curacao, Dutch West Indies, Candidates tournament, won by Tigran Petrosian. Fischer later accused the Russians of cheating in this event and that interview was published in the August 20, 1962 edition of Sports Illustrated under the title "The Russians Have Fixed World Chess." Viktor Korchnoi confirmed Bobby's accusations in his book, Chess is My Life.

During this tournament, Arthur Bisguier was there as a second to Pal Benko and Fischer. On May 9, Benko came looking for Bisguier in Fischer's room to get some help in analyzing his adjourned game with Petrosian. Fischer told Benko to leave and they both got in a fist fight. This was the first fistfight ever recorded by two chess grandmasters.

The next day Fischer wrote a letter to the organizing committee to fine and/or expel Benko from the tournament. The letter was ignored. After the event, Fischer's USCF rating was 2687.

Bisguier wrote, "Apparently he [Benko] developed this feeling of righteousness after he got off to such a good start [he defeated Tal and Fischer in rounds 1 and 2]. I was willing to give my services to both but Fischer wanted a second all to himself and it was so agreed in advance." (Brady, p. 57)

During the Candidates tournament, Tal was hospitalized. His only visitor was Bobby Fischer. None of the Soviets or any other participant visited Tal while he was in the hospital.

While in Curacao, Bobby visited a brothel. When asked later how he enjoyed it, he said, "Chess is better." (Endgame, p. 147)

In September, 1962, Fischer took a nine day voyage from New York to Rotterdam on the New Amsterdam ocean liner. He had been given a $5,000 appearance fee to play in the Chess Olympiad in Bulgaria.

In October 1962, he played Board 1 for the United States at the 15th Chess Olympiad in Varna, Bulgaria and scored 8 wins, 6 draws (one draw against Botvinnik), and 3 losses. The USA took 4th place, behind the Soviet Union, Yugoslavia, and Argentina. His USCF rating was 2659 after the event.

After the Olympiad was over, Bobby wrote a letter to Eliot Hearst, USA team captain, apologizing for his poor performance. Fischer said he had been under great stress that had nothing to do with chess. It would be another two years before Bobby accepted another international invitation.

In January 1963, Bobby won the U.S. Championship with 6 wins, 4 draws, and 1 loss (to Edmar Mednis). His rating was 2664.

He announced he was boycotting FIDE tournaments until the Russians stopped fixing chess.

In July, 1963 he won the Western Open in Bay City, Michigan, winning $750. His USCF rating was 2674.

In the summer of 1963, Fischer took judo lessons, but quit after 20 lessons, still a beginner, wearing a white belt.

In September he won the New York State Open, held in Poughkeepsie, with a perfect score of 7 wins, no draws, and no losses. His USCF rating was 2685. This was the last Swiss system event that Bobby would play in.

On November 27, 1963, Fischer was to play over 400 opponents at once in an exhibition, but was postponed because of President Kennedy's assassination (Nov 22, 1963) and a fire at the Astor hotel where the event was to have taken place. He was attempting to break Gideon Stahlberg's record of 400 opponents. Stahlberg played 400 opponents in Buenos Aires in 1941, winning 364, 14 draws, and 22 losses. It was only $3 to play and $1 to watch.

On January 2, 1964, Bobby Fischer won the 1963-64 U.S. Championship with a perfect score of 11 wins. First prize was $2,000. Frank Brady was the arbiter for the event. The event was held at the Henry Hudson Hotel.

In 1964, he began a nationwide simultaneous exhibition for the rest of the year. His fee was $250 for a 50-board simul and a lecture. Harry Evans, father of Larry Evans, was in charge of putting it together. From February to May, he played in 40 cities. He played 1,882 games, winning 1,719, drawing 102, and losing 61 games.

During the exhibition months, Fischer carried a Bible with him during his travels and read it regularly. (The Chess Correspondent, July, 1964)

On March 9, 1964, he turned 21. His mother sent him a number of chess books from the Soviet Union. He had just completed a 65 board simultaneous exhibition in Washington, DC the day before.

Bobby was classified as "1-A" for the draft and was scheduled to take his physical examination at the U.S. Army Recruiting Station on Whitehall Street in New York. He went to the recruiting station by himself. Afterward, he was classified 4F and was rejected from the military.

In the first issue of Chessworld, he wrote an article called, "The Ten Greatest Masters in History." The players he included were Paul Morphy, Howard Staunton, William Steinitz, Siegbert Tarrasch, Mikhail Chigorin, Alexander Alekhine, Jose Capablanca, Boris Spassky, Mikhail Tal, and Samuel Reshevsky.

The first international rating list was published by Arpad Elo in 1964. The top two players were Fischer and Petrosian at 2690. His USCF rating was 2734. He chose not to play in the 1964 Amsterdam Interzonal, missing the world championship cycle. He was still protesting the Soviets and their cheating in events like the Interzonals.

Fischer refused to play in the 1965 Interzonal in Amsterdam. He told Holiday editor Peter Lyons that "FIDE is a crooked organization, run by the Communists from Moscow. (Brady, p. 81)

From October through December, 1964, Fischer gave chess lectures at the Marshall Chess Club.

In 1964, Bobby Fischer was included in the Who's Who in America at the age of 21, perhaps the youngest person in that year's Who's Who.

In 1965 Frank Brady published Profile of a Prodigy: the Life and games of Bobby Fischer, a biography of Bobby Fischer. The book was published by David McKay Company in New York, It was reprinted in June, 1969. Brady finished the manuscript in December, 1964.

In May, 1965, he gave a simultaneous exhibition at the United Nations.

In August 1965, Bobby participated in the 4th Capablanca Memorial in Cuba by playing through a teletype machine at the Marshall Chess Club in New York. He tied for 2nd-4th with 12 wins, 6 draws, and 3 losses. The United States did not have diplomatic relations with Cuba, and the State Department would not authorize him to travel to Havana. Fischer thus had to play by teletype and the Cuban government paid for the services, over $10,000. Fischer's USCF rating was 2706. Fischer was given a $3,000 appearance fee to play in the event.

In late 1965, Fischer spent his time writing Bobby Fischer Teaches Chess.

In December 1965, he won the U.S. Chess Championship with 8 wins, 1 draw, and 2 losses. His 1st place prize was $2,000. Fischer's USCF rating after the event was 2708. He also qualified for the 1967 Interzonal in Sousse, Tunisia.

In April, 1966, Bobby Fischer was the official adjudicator at the Greater New York Open Championship.

In July 1966, Bobby took 2nd place at the Piatigorsky Cup, played at the Miramar Hotel in Santa Monica, behind Spassky. Over 1,000 people watched his game with Boris Spassky, the largest audience for a chess game in U.S. history. His USCF rating was 2713.

In November 1966, he played Board 1 for the U.S. at the 17th Chess Olympiad in Havana, scoring 14 wins, 2 draws, and 1 loss (to Florin Gheorghiu). He took the silver medal, just behind World Champion Tigran Petrosian. He gave Fidel Castro an autographed copy of his book, Bobby Fischer Teaches Chess. His USCF rating was 2748.

In December 1966, he won the 1966-67 U.S. Championship with 8 wins, 3 draws, and no losses. This was his 8th U.S. Championship title (winning in 1957/58, 1958/59, 1959/60, 1960/61, 1962/63, 1963/64, 1965/66 and 1966/67). Fischer did not play in the 1961-62 championship and there was no 1964/65 championship. In 8 US championships, he only lost 3 games (to Edmar Mednis, Samuel Reshevsky, and Robert Byrne). His USCF rating was 2758.

In 1966, Bobby's mother started her medical school degree in the Friedrich Schiller University in Jena, East Germany. She completed her medical degree two years later, at the age of 55.

At this time, Bobby was living in a suite at the Tudor Hotel on East 42nd Street, near the United Nations building.

In December, 1966, Fischer started writing a chess column for Boys' Life, the official publication of the Boy Scouts of America. He wrote a column until December, 1969. During that period, Fischer became the single most popular guy in the magazine.

In April 1967, Fischer took 1st place at Monaco. His USCF rating was 2762. He received an appearance fee of $2,000 and a 5,000 franc first prize. The trophy was presented to him by Prince Rainier and Princess Grace. Fischer refused to pose for a photograph with the prince or princess.

In the summer of 1967, he went to the Philippines for a series of simultaneous and clock exhibitions.

In August 1967, he won at Skopje, Yugoslavia. His USCF rating was 2741.

In October he participated in the Sousse Interzonal, but withdrew after leading the event with 7 wins and 3 draws. He forfeited his game with the Soviet international master Gipslis because of too many games he had to play in succession as a result of the tournament organizers re-scheduling his games around his religious holidays and Sabbath. Since the organizers would not let him replay the forfeited game, Fischer withdrew. His USCF rating was 2754 after this event.

In the spring of 1968 Bobby moved to Ambrose Avenue in Los Angeles and followed the Worldwide Church of God.

In July, 1968, he took 1st place at Nathanya, Israel. His USCF rating was 2739.

In July, 1968, he gave a 5 board clock simul in Athens, winning 4 and drawing one game.

In September, 1968, he took 1st place at Vinkovci, Yugoslavia. His USCF rating was 2745.

Fischer had planned to play for the USA at the 1968 Lugano Olympiad, but backed out when he say that the playing conditions and lighting was poor.

In 1969 Bobby finished his book, My 60 Memorable Games. It included 9 draws and 3 losses.

He played Board 1 in a New York Metropolitan League and defeated Anthony Saidy.

On March 26, 1970, he flew to Belgrade to play in the "USSR vs. the Rest of the World" match. Larry Evans was his second. The match was held at the theater inside the Dom Sindikata on Marx-Engels Square.

In April 1970, he played Board 2 in the USSR vs. REST OF THE WORLD match in Belgrade, beating Petrosian with 2 wins and 2 draws. Fischer asked for and received a $2,500 appearance fee. All the other players were given a $500 honorarium. The prize for the winner of board 1 was an Italian-built Fiat. The prize for the winner of board 2 was a Russian-built Moskvich. The Soviets won 20.5 to 19.5. His USCF rating was 2755.

Fischer wanted to win the car to sell it, not keep the car. He sold it immediately. He said, "Last year in the United States, we had 56,000 deaths as a result of car accidents, and I decided I'd rather use buses." (Endgame, p. 165)

He then went on to Herceg Novi, Yugoslavia and won the unofficial world 5-minute championship with 17 wins, 4 draws, and 1 loss (to Korchnoi). He score 4.5 points more than 2nd place finisher Mikhail Tal. Fischer spent no more than 2 minutes on any game. After the tournament he called off from memory all of the moves from his 22 games, involving over 1,000 moves. In May, 1970, he took 1st at Rovinj/Zagreb. His USCF rating was 2748.

In June, 1970, Fischer flew to Sarajevo to be the guest of Dimitrije Bjelica. They produced a series of 10 television shows, each devoted to a famous chess master.

In August 1970, he took 1st place at Buenos Aires. His USCF rating was 2762.

In September he played Board 1 for the U.S. at the 19th Olympiad in Siegen, West Germany. He scored 10 out of 13 and took the Silver Medal for Board 1. The US team placed fourth. His USCF rating was 2755. This was Fischer's last chess Olympiad. He won 40, drew 18, and lost 7 for 49/65 or 75.4%.

In November, Pal Benko gave up his spot at the Palma de Mallorca Interzonal for $2,000 so that Fischer could play. Bobby won the event with 15 wins, 7 draws, and 1 loss. His USCF rating was 2771. His December 1970 FIDE rating was 2740.

Fischer won the chess Oscar for 1970, 1971, and 1972.

In 1971, Fischer proposed that the world championship match be decided on the first player winning 10 games.

In May-June 1971, Bobby Fischer (age 28) defeated Mark Taimanov (age 45) with 6 wins, no draws, no losses in the Candidates quarterfinals at the campus of the University of British Columbia in Vancouver, Canada. It was the first shutout of a grandmaster in history.

Fischer wanted Larry Evans to be his second, but Evans refused when Fischer demanded that Evans abstain from any journalism and for him to leave his wife, Ingred, back home in Nevada. Fischer's USCF rating was 2801. His FIDE rating was 2760.

From July 6-20, 1971, he defeated Bent Larsen also with a perfect 6-0 score in the Candidates semi-final in Denver, Colorado. His performance rating was 3060. His USCF rating peaked at 2825. Fischer had won 19 straight games in international play against the strongest players in the world.

In August Bobby won the Manhattan Chess Club 5-minute blitz with 21 wins and 1 draw.

Fischer then flew to Buenos Aires with Larry Evans, his second, and Ed Edmondson, Bobby's manager-representative. Petrosian had two seconds, a manager, his wife, and two bodyguards.

In September, 1971, Bobby defeated Tigran Petrosian with 5 wins, 3 draws, and 1 loss in Buenos Aires for the Candidates finals. He now became challenger for the world championship. His USCF rating was 2824. His FIDE rating was 2785.During the match with Petrosian, someone threw a stink bomb in the playing hall and the lights went out during two games. Fischer was awarded $7,500 and a $3,000 honorarium from the USCF. The New York Times reported the event on its front page. The last time chess had made the front page was in 1954, when the Soviet chess team visited New York for a chess match.

In January 1972 Bobby appeared on the Dick Cavett show and talked about chess.

In early 1972, the Henry Hudson Hotel provided Fischer with a free room.

The May 19, 1972 edition of Life magazine had an article on Fischer, written by Brad Darrach. It described Fischer training for the world championship match at Grossinger's, the Catskill resort. Darrach wrote that Fischer does not get up until 4 pm, spending the night studying chess. Fischer said "I really love the dark of the night. It helps me concentrate." Once Fischer is up, he begins with a tennis lesson from a pro for an hour. Tennis is followed by a workout in the hotel gym with weights, skipping rope, doing sit-ups, and boxing with a 300- pound bag. Then he swims a few laps in the pool underwater to build up his wind and build up his lungs. Fischer was age 29, stood 6 foot and 2 inches, and weighed 190 pounds.

Just before the match with Boris Spassky, he told the Washington Post "I don't believe in psychology. I believe in good moves."

The original total prize fund for the world championship match was $138,000, the highest amount ever for a chess match. The winner was to receive $78,125 and the loser $46,875.

To prepare for the match against Boris Spassky, Fischer studied Spassky's games for the Weltgeschichte des Schach series, a collection of 355 of Spassky's games. Fischer could recite any of Spassky's games move by move. He had memorized over 14,000 moves. (Endgame, p. 176)

Fischer cancelled his airline flight to Iceland at the last minute on June 25, 1972. Fischer wanted 30% of the gate receipts to the 3,000 seat Laugardalsholl Hall in Reykjavik, but the organizers needed that income to cover the stakes and arrangements of the match. Fischer was holding out for more money. The London Daily Mail stated: "Bobby Fischer is quite certainly the most ill-mannered, temperamental and neurotic brat ever to be reared in Brooklyn." (Endgame, p. 181)

July 1, 1972, was the opening ceremony of the world championship match. Fischer was not there. He was staying in the home of Dr. Anthony Saidy in New York.

On July 2, 1972, British financier David Slater donated $125,000 to the prize fund if Fischer would play. Also on that day, national security advisor Henry Kissinger called Fischer to encourage him to play. Kissinger started the conversation by saying, "This is the worst chess player in the world calling the best chess player in the world." Kissinger told Bobby that he should go to Iceland and beat the Soviets at their own game.

Fischer was smuggled onto a Loftleidir (Icelandic Airlines) and made the 4 hour trip with Bill Lombardy, his second. He was given an Icelandic bodyguard, Saemi Palsson.

For the drawing of colors on July 5, Fischer sent Lombardy to represent him as Fischer wanted to sleep. Spassky did not like this, walked out, and filed a protest. That night, Fischer composed an apology to Spassky. On July 6, Fischer was driven to the Saga Hotel where Spassky was residing. He had a bellboy slip the apology under Spassky's door.

On July 11, 1972 he began his match with Boris Spassky in Reykjavik (Smoky Bay), Iceland for the world championship.

Fischer lost the first game against Spassky after a blunder of capturing a pawn with his bishop, then getting his bishop trapped (he got two pawns for the bishop). Fischer resigned on the 55th move. Fischer had now lost four games in his career to Spassky, drew two, and never won.

On July 13, Fischer said he would not play the next game unless all cameras were removed from the playing hall. In game 2, his clock was started, but Fischer was at his hotel. When they agreed to remove the cameras for one game, a half hour already expired on his clock. Fischer then demanded that the clock be set back to the original time. He said, "If I ask for one thing and they don't give it to me, I don't play." (Endgame, p. 193)

After an hour, at exactly 6:00 p.m., the tournament director, Lothar Schmid, stopped the chess clock and announced the first forfeiture of any game in World Championship history. After the announcement, someone in the audience yelled: "Send him back to the United States!"

After game 2, Henry Kissinger called Fischer once more, this time from California, to urge him on and play out of patriotism. President Nixon also relayed an invitation to Fischer to visit the White House after the match was over, win or lose. Nixon said he liked Bobby Fischer "because he was a fighter."

Fischer agreed to play game 3 if he had complete privacy and no cameras. Fischer decided to play on. Even if he lost the match, he would receive $91,875 in prize money and over $30,000 in television and movie rights. Fischer won game 3 after playing the game in a backroom and not on stage. Spassky resigned the adjourned position. It was Fischer's first win against Spassky.

During the chess match, Shelby Lyman conducted a five-hour program for PBS. The show had over a million viewers, the highest ranked program PBS has ever had. Chess sets were out of stock in almost every department store. The Marshall Chess Club membership doubled from 300 to 600 during the match.

During the match, Bobby Fischer's mother disguised herself and flew in from England. She visited Bobby at his hotel and wished him good luck.

In the final weeks of the match, the Russians wanted the chairs x-rayed for some sort of device that was affecting Spassky. Nothing was found. They then wanted the lighting fixture above the stage to be taken apart to see if there were any hidden devices. As someone unscrewed the globe to the light, he yelled that there was something in there. The Russians ran to the base of the ladder to examine the globe. It was two dead flies.

On August 31, 1972, the 21st game began with Fischer having the black pieces. The game adjourned. The next day, Spassky told a reporter, "There's a new champion. I'm not sad. It's a sporting event and I lost. Bobby's the new champion. Now I must take a walk and get some fresh air." (Endgame, p. 200)

On September 1, 1972 Bobby became the 11th world chess champion after winning 7 games, drawing 11 games, and losing 3 games (one on forfeit). Fischer received $153,240 for his efforts and another $40,000 in royalties. Fischer donated $61,200 of his winnings to the Worldwide Church of God. Ultimately, his tithe to the church was around $100,000. His USCF rating after the event was 2810. This would be his last USCF rating. His FIDE rating was 2780. This would be his last FIDE rating.

Of interest is that Bobby Fischer once wanted to be a singer. He did sing for Saemi Palsson, the Icelandic policeman assigned to guard him in Reykjavik. When Palsson was asked how Fischer sounded, he said, "Not very beautiful because Bobby was not a very musical voice." (by Harold Schoenberg. New York Times, 1972)

The Icelandic Chess Federation was said to have lost $50,000 on the match because there was no money from television or film rights.

Just before Spassky left Iceland, Fischer gave him a gift-wrapped camera as a token of friendship. Spassky's last comment about Fischer was "Fischer is a man of art, but he is a rare human being in the everyday life of this century. I like Fischer and I think I understand him." (Endgame, p. 203)

President Nixon sent Fischer a telegram congratulating him for his fine efforts. Fischer was most proud of that telegram from the hundreds of telegrams and congratulatory letters that he had received.

On September 22, 1972, the mayor of New York, John Lindsey, declared that day as "Bobby Fischer Day." The mayor had offered Fischer a ticker-tape parade in Manhattan, but Fischer did not like the idea. The mayor gave Bobby a gold medal, but not the key to the city. In his speech, Fischer said, "I want to deny a vicious rumor that's been going around...It is not true that Henry Kissinger phoned me during the night to tell me the moves." (Endgame, p. 204) He then signed hundreds of autographs for those who were at City Hall.

In 1972 Frank Brady wrote a new edition of Profile of a Prodigy.

In 1972, Fischer showed up for 15 minutes at the Church's Fried Chicken tournament in San Antonio.

In December, 1972, Bobby Fischer met the press at a luncheon in his honor at the home of his attorney, Stanley Radar, in Beverly Hills. A few producers had already contacted him with a variety of film and television appearances. He had been discussing with Wolper Productions about doing a documentary based on his life. He told the press that he eats sensibly and sleeps 10 hours a night. For relaxation he said he plays racquetball and tennis and takes walks. (Lima News, Jan 2, 1973)

Bobby Fischer's last published USCF rating was 2810. His FIDE rating was 2785.

In 1973, Las Vegas offered Fischer $1 million to play a chess match in Las Vegas. Paul Marshall, Bobby's lawyer, said that Fischer had over $10 million in offers to play chess or advertise, but Fischer turned them all down. Fischer thought that lending his name to something was beneath his dignity.

In 1973 Bobby moved to Los Angeles. An apartment was provided for him for $200 a month by the Worldwide Church of God. Fischer said he wanted to continue his religious studies. His mother Regina later sent him her Social Security checks to survive on.

In August, 1973, Bobby Fischer gave a press conference in Beverly Hills with Stanley Rader, the chief counsel for the Worldwide Church of God by his side. Fischer was planning a series of simultaneous exhibitions and matches for 1974. He was also planning to play the Dutch Olympic team simultaneously and a tour of the Soviet Union and South America. When reporters asked Bobby what he had been doing for the past year, Fischer responded, "Well, uh, I've been reading, working out, playing over some games, that sort of thing." (Endgame, p. 207)

In 1973, Fischer traveled to Tokyo to meet with the Japan Chess Association and met Miss Miyoko Watai, who gave him a tour of Tokyo. They later became very good friends and lived together in 2000. She was president of the Japanese Chess Association.

In September, 1973, Fred Cramer, Vice President (Zone 5) of FIDE, proposed that the world championship match be decided on 10 wins, draws not counting. He also proposed that the champion retains his title if it were a 9-9 tie. This became known as the Cramer proposal, or Annex 43 by FIDE. In September, Bobby Fischer telegrammed the FIDE Congress being held in Helsinki that FIDE adopt the Cramer proposal. The FIDE Congress voted that the match should be based on 6 games, not 10 games.

In November, 1973, Bobby Fischer was the guest of Philippine President Ferdinand Marcos. Fischer fist flew to Bangkok, Thailand, then to Manila. He made an appearance at the First Philippines International Tournament, won by Bent Larsen. Fischer played an exhibition game with President Marcos, which was broadcast on television. It lasted 5 minutes after 8 moves and a draw agreed. Fischer then played Florencio Campomanes, President of the Philippines Chess Federation, in a blitz game on television. Fischer won on time. Fischer was paid $20,000 for appearance fee and all expenses paid. Fischer stayed at the Tropical Palace resort near Manila for a month.

In 1974, Fischer asked for $150,000 in appearance fee to play in the Nice Olympiad.

Fischer became a voracious reader after the world championship match. He read as much as he could at Pasadena bookstores and the downtown Los Angeles library. He did not like the Worldwide Church of God library, as it was limited to religious books, and Fischer wanted to expand his knowledge in other subjects.

In early 1974, FIDE's rules committee issued a 14-page document with 179 numbered paragraphs of regulations for the world championship match. Fischer agreed to all the regulations except one. He did not agree to a 36-game limit.

Fischer insisted that the championship be decided by 10 wins, draws not counting, and that the number of games be unlimited. Also, Fischer insisted that if the score reached 9 wins apiece, the champion should retain the title.

On June 21, 1974, Fischer telegrammed a message to the FIDE delegates at Nice on the match conditions he wanted for the world championship match.

In June, 1974, the FIDE Congress in Nice approved the 10-win regulation and the elimination of draws from the scoring, but imposed a 36-game limit and rejected the 9-9 proposal. Fred Cramer telephoned FIDE's decision to Fischer.

On June 27, 1974, Fischer sent a telegram from Pasadena, California to the FIDE Congress: "As I made clear in my telegram to the FIDE delegates, the match conditions I proposed were non-negotiable...FIDE has decided against my participation in the 1975 World Chess Championship. I therefore resign my FIDE World Championship title."

In 1974, Fischer wrote to Larry Evans about not counting draws in a match. Larry Evans wrote: "The whole idea of not counting draws is to eliminate a draw match." Fischer responded: "Nonsense! The whole idea is to make sure the players draw blood by winning games, and the spectators get their money's worth. And most importantly as an accurate test of who is the world's best player."

In late 1974, the Zaire government offered Fischer $5 million to play a match with Anatoly Karpov in their country.

Sometime in 1974, Fischer's father, Gerhardt Fischer, and his wife, were briefly imprisoned in Chile for their political protests. They then fled to France. Regina Fischer wanted Bobby to provide some financial assistance to his father, but Bobby refused. Collins later asked Bill Lombardy to write the introduction, which he did.

In 1974, Jack Collins wrote My Seven Chess Prodigies and asked Bobby Fischer if he would write an introduction to the book. Fischer refused.

In January, 1975, the Philippines were offering $5 million for Fischer to play Karpov in the Philippines. The winner would have received $3.5 million, and the loser would have received $1.5 million.

In March, 1975, an extraordinary FIDE Congress was held in Osterbek, Netherlands, and it was agreed to have an unlimited number of world championship games, but refused Fischer's 9-9 rule (32 votes for it, and 35 votes against it).

On April 3, 1975 Bobby Fischer forfeited his title as world chess champion to Anatoly Karpov without playing a single chess game since winning the world championship. Fischer had been living in an apartment on Mockingbird Lane in South Pasadena owned by the Worldwide Church of God since the world championship. Karpov was declared the 12th World Champion by FIDE president, Max Euwe.

To get away from it all, Fischer took a two-month cruise around the world, visiting Europe, the Philippines, Hong Kong, Bali, India, etc. He had grown a beard and most people did not recognize him.

New York City's mayor Edward Koch wrote to Fischer trying to convince him to come back to the chessboard. But to no avail.

In 1976, Karpov met secretly with Fischer three times, in Japan, in Washington, DC, and in Manila, to discuss an unofficial match.

In 1976, Fischer lost a lawsuit against Life magazine and one of its writers, Brad Darrach, for violation of a contract. After this loss, Fischer stopped paying any federal income taxes. He was getting about $6,000 a year in royalties for his chess books/

In 1977 Bobby played three games against the MIT Greenblatt computer program. He turned down $250,000 to play one chess game at Caesar's Palace in Las Vegas and $3 million to play in a tournament in the Philippines. At the end of 1977 he cut all ties with the Worldwide Church of God. He claimed that the church was taking orders from a satanical secret world government.

In 1978 Bobby Fischer filed a $3.2 million lawsuit against the publishers of a magazine critical of the Worldwide Church of God. He claimed the writers taped his conversations without his consent. He then accused the church of reneging on their promise to finance the lawsuit.

In 1981 Fischer stayed with grandmaster Peter Biyiasis. They played at least 17 blitz games and Fischer won every game.

On May 26, 1981, Fischer was arrested in Pasadena under suspicion of a bank robber. He was stopped by a police officer who said he fit the description of a bank robber. Fischer refused to answer some questions as he was arrested. He was then booked for vagrancy since the bank robber had already been caught.

In 1982 Fischer published, "I WAS TORTURED IN THE PASADENA JAILHOUSE." He used the pseudonym Robert D. James (the D stood for Dallas). The pamphlet was 14 pages on how he was treated in jail for 48 hours.

In 1984 Bobby Fischer wrote to the editors of the Encyclopedia Judaica requesting his name be removed from their encyclopedia. He claimed he was not a Jew, which he had never been circumcised, and received no training in Judaic customs or theology.

In 1987 the House of Representatives passed House Resolution Bill 545 recognizing Bobby Fischer as the world chess champion.

In 1988 Bobby patented the Fischer digital chess clock which adds 2 minutes per move (the patent expired in November, 2001).

In 1990, Boris Spassky contacted Fischer and informed him that Bessel Kok of Belgium was interested in organizing a Fischer-Spassky rematch with a prize fund of several million dollars. Fischer flew to Belgium to discuss the deal. All expenses were paid by Kok, president of the SWIFT banking company. There, he met Spassky and his wife Marina. Fischer could not agree on the prize money, so the deal was off. Spassky flew to Paris and Fischer took a train to Germany. Perhaps Bobby was trying to visit his 82-year old father Gerhardt, who was now living in Berlin. He lived there for almost a year.

In August 1990, Fischer started a relationship with 17-year old Zita Rajcsansyi of Hungary. He started corresponding with her and later paid for an airline ticket to visit him in Los Angeles. He met her at the airport and she remained in Los Angeles for 6 weeks.

She may have persuaded him to play a chess match with Boris Spassky. Plans were being made to have Spassky play a re-match with Fischer in Yugoslavia.

In early 1991 Bill Wall delivered to Bobby Fischer, via Joan Targ, a large number of chess magazines and chess books provided to him by International Master John Donaldson and some members of the Palo Alto Chess Club. Every issue of Inside Chess by Yasser Seirawan was included.

In July, 1992, Fischer met with officials from the Jugoskandic Bank to talk about a possible revenge match with Spassky. The president of the bank offered $5 million in prize money as long as it was played in Yugoslavia. Fischer received $500,000 in advance. Fischer was concerned that he might not be coming back, so he put all his belongings in storage, then flew to Belgrade. Fischer wanted a match where the winner would be the one who won 10 games, draws not counting. Spassky, age 55, agreed to the match and said, "Fischer pulls me out of oblivion. It is a miracle and I am grateful." (Endgame, p. 240)

On August 21, 1992 the Department of the Treasury ordered Bobby Fischer to stop his activities in the planning of a chess match in Yugoslavia. He was subject to the prohibitions under Executive Order 12810, signed by George Bush on June 5, 1992 (rescinded in 2003), imposing sanctions against Serbia and Montenegro.

Bobby played a secret 10-game training match with Gligoric before the Spassky match and won.

When Kasparov was asked if he was interested in an official match with Fischer, he said, "Absolutely not. I don't believe Fischer is strong enough now. Boris and Bobby are retirees, not threats to me." (Endgame, p. 242)

On September 1, 1992, Bobby Fischer, age 49, came out of his 20 year retirement and gave a press conference in Sveti Stefan, Yugoslavia. He pulled out an order from the U.S. Treasury Department warning him that he would be violating U.N. sanctions if he played chess in Yugoslavia. He spit on the order and now faces 10 years in prison and a $250,000 fine if he returns to the U.S. In addition, he must forfeit his $3.65 million to the U.S. Treasury and forfeit 10% of any match royalties earned.

Many did not like Fischer's anti-Americanism. Jack Collins called him a goof. But William Lombardy said of him, "Yes, Fischer betrayed chess and everybody. But he's still magic, and can do a lot for the game. Bobby and Boris are finally cashing in. I don't begrudge them that." (Endgame, p. 249)

On September 2, 1992, Bobby Fischer began his re-match with Boris Spassky (ranked 99 in the world) in Sveti Stefan (Montenegro), Yugoslavia. The match was organized by banker Jedzimir Vasiljevic. Fischer won the first game.

On November 11, Fischer won the match with 10 wins, 5 losses, and 15 draws. He received $3.65 million for his winnings and Spassky received $1.5 million. The match used the new Bobby Fischer chess clock. Fischer's 2nd during the match was Eugene Torre of the Philippines.

After the match, his sister, Joan, met Bobby at the Belgrade International Hotel. Bobby gave her most of the match money and traveled by train to Zurich, where she opened an account in Bobby's name at the Union Bank of Switzerland (UBS).

In 1992, Fischer bought some property in Florida from his mother and was paying taxes on them.

On December 15, 1992 the State Department indicted Bobby Fischer for violating Title 50, US Code 1701, 1702, and 1705 and Executive Order 12810 (Prohibiting Transaction with Yugoslavia), signed by President George Bush on June 2, 1992. The crime was performing a contract in support of a commercial project in a banned country (Federal Republic of Yugoslavia). He was ordered to be arrested by any U.S. Marshall or any authorized agent for violating the International Emergency Economic Powers Act.

On March 9, 1993, Fischer turned 50. He had a birthday party in Bulgaria. It was attended by Zita Rajcsansyi. He proposed marriage to her, even though she just had a child from her new boyfriend. She said it was out of the question. "Then what about your sister Lilla?" he asked. (Endgame, p. 265) Later, Fischer placed an ad in several Hungarian newspapers desiring to meet a beautiful young Hungarian girl for a serious relationship.

In late May, 1993, the Polgar family (Laszlo, Judit, and Sofia) of Hungary visited Bobby, who was living in Magyarkanizsa, Serbia. The third sister, Susan, was at a chess tournament in Peru. When she returned, the Polgar family once again visited Fischer. Fischer later moved to Budapest and lived there for 8 years. He often visited the Polgar family, the Benko family, and the Lilienthal family. Sometimes he dined with Lajos Portisch. He was visited by his mother once in Budapest. Fischer was not very fluent in Hungarian, but was fluent in Spanish, German, Russian and was able to communicate.

The President of FIDE, Kirsan Ilyumzhinov, met with Fischer and gave him $100,000 in redress for copyright violations by former Soviet publishers. He also offered Fischer a piece of land in the Kalmyk Republic, but Bobby was not interested. Fischer's new interest was Fischer Random chess.

In the summer of 1993 the movie, Searching for Bobby Fischer, was released. It was originally titled Innocent Moves. Bobby was indignant, saying that the film was an invasion of his privacy and he did not receive any compensation from it. He may have never seen the film.

In the mid 1990s, Fischer felt it was safe to travel. He traveled to Germany with Benko, to Austria to shop, to Switzerland to meet his bankers, to Argentina to promote Fischer Random chess, and to Italy, the Philippines, China, and Japan for social and business reasons.

In 1996 Bobby traveled to Argentina to promote his random chess (Fischerandomchess), where you set up the pieces in a random manner. This would take away the book knowledge of regular chess.

On January 24, 1997 Fischer was issued a U.S. Passport (#Z7792702) at the American Embassy at Bern, Switzerland. The passport should have been valid until 2007.

On July 27, 1997 Bobby Fischer's mother died in Palo Alto, California. She was 84.

On June 2, 1998, Bobby Fischer's only sister, Joan Fischer Targ, died of a cerebral hemorrhage at the age of 60. She lived in Portola Valley, California and was married to Stanford physicist Russell Targ.

In 1998 all of Bobby Fischer's valuables and belongings kept at the Bekins Moving and Storage Company in Pasadena, California were sold when the storage bill ($480) was not paid by Bob Ellsworth of Pasadena, who was supposed to pay his bills. Fischer had been paying for storage costs for about 10 years for about 100 boxes he was storing. Fischer had been giving Ellsworth, his agent, about $5,000 a year to pay the storage cost.

In the late 1990s, one of Bobby Fischer's friends called the State Department and asked if Bobby could return back to the United States. The spokesperson said "Of course he can. But as soon as he lands at JFK, we'll nail him." (Brady, Endgame).

On January 13, 1999 Fischer granted a live radio interview to a radio station in Budapest, Hungary. It was the first of 35 radio interviews he would make in the next 3 years. Much of his complaint was the loss of his personal belongings in storage in the USA.

On January 14, 1999 Fischer granted an interview to Baguio Radio in the Philippines. He accused the Jewish community of conspiring against him and denied the holocaust of the Nazis.

On May 24, 1999, in Baguio, Fischer said: "America is totally under control of the Jews... The Secretary of State and the Secretary of Defense are dirty Jews."

On January 28, 2000, Fischer arrived in Tokyo from Budapest. Before he left Budapest, he stored all his belongings in Benko's apartment. Fischer never returned.

In 2000 Fischer traveled to Baguio City in the Philippines and stayed with Philippine Grandmaster Eugene Torre. Fischer had a girlfriend, Justine Ong (later changed to Marilyn Young). She was 22 years-old and a Chinese-Filipino. She had one daughter, Jinky Ong Fischer, born in 2000 in Manila (which later, after Fischer's death and DNA testing, turned out not to be his). Bobby's name was recorded on the birth certificate as the father.

Later that year, Fischer traveled back to Japan and was living with Miyoko Watai, president of the Japanese Chess Association and former Japanese women's chess champion. She was two years younger than Fischer. In August, 2000, Fischer mentioned that he had been arrested in Japan on a trumped up drug charge and was in jail for 18 days. Fischer said it was absurd since he did not take any drugs, including aspirin.

In 2001, Fischer worked for awhile as a disc jockey for DZSR, an AM station in Manila. In exchange for exclusive interviews, Fischer was allowed to spin his favorite Rhythm & Blues records and discuss politics.

On September 11, 2001, Bobby Fischer spoke on Philippine radio (Radio Bomba in Baguio) while in Tokyo, applauding the New York terrorist and Pentagon attacks.

On October 28, 2001 the US Chess Federation put out a newsletter disassociating itself from the remarks of Fischer about the terrorist actions and threatening to revoke his USCF membership.

In 2001 Grandmaster Nigel Short was convinced that Bobby Fischer was playing chess on the Internet. An unknown player easily defeated Short, one of the world's strongest chess grandmasters, in an 8-game match. The unknown player answered all of Short's questions about chess in the 1960s and knew all the answers to several Bobby Fischer trivia questions (who did Fischer play in round 3 of the 1967 Sousse interzonal, how many moves, and what was the opening). Others speculate that the player was using a computer, but others have analyzed the moves and the time between moves to show that it was a human playing.

On January 27, 2002 Fischer did a radio interview from Reykjavik, Iceland. He encouraged the Icelandic government to close the local U.S. naval base. He then said, "If they refuse to go, send them some letters with anthrax. They'll get the message."

In 2002, it was reported that Bobby Fischer was living in Tokyo, Japan working on a new chess clock for Seiko that could also be used in other games like go and shogi. He had previously lived in Germany, Hungary, Hong Kong, Switzerland, and the Philippines.

In May, 2002 Frank Berry posted an Internet article in ChessCafe entitled, "Was Fischer's mother a Communist Spy?" He implied that Bobby Fisher's mother was a communist spy and that his father may have been a leading German spy.

In November, 2002, the Philadelphia Inquirer published a story that identifies the real father of Bobby Fischer. The article identifies the real father to be Paul Nemenyi, a Hungarian physicist. He died in 1952. He was at the University of Chicago in 1942 working on the Manhattan Project to develop the first nuclear bomb. Paul Nemenyi worked on the mechanism which triggered the atomic bomb. Bobby was born in Chicago on March 9, 1943. Russell Targ, Bobby's brother-in-law, disputes this suggestion that Nemenyi was Fischer's real father. Hans-Gerhardt Fischer is listed on Bobby's birth certificate.

From 2000 to 2003, Fischer made 15 trips from Tokyo to Manila and back again. He was told by a customs agent that he had to have additional pages added to his passport. In October 2003, he traveled to Bern Switzerland to have his passport renewed.

In November, 2003, he was given a new up-to-date passport with 24 extra pages added to his passport at the American embassy in Bern, Switzerland. The passport was good until 2007. He had spent 11 years traveling between Hungary, Czechoslovakia, Germany, the Philippines, Japan, Austria, and other countries. He had always cleared customs and was able to cross borders without incident. After getting his new passport he flew to Tokyo.

On December 11, 2003 the U.S. Embassy in Manila sent a letter by the U.S. Consul General (Thomas Allegra) to the Japanese authorities that Fischer's U.S. passport (#27792702) had been revoked pursuant to Section 51.70(a) (Denial of Passports) of Title 22 of the Code of Federal Regulations. Fischer was still being charged with violating the International Emergency Economic Powers Act, Title 50, US Code 1701, 1702, and 1705 and Executive Order 12810. The crime was performing a contract in support of a commercial project in a banned country (Federal Republic of Yugoslavia).

On March 9, 2004 Fischer turned 61.

On April 15, 2004 Bobby Fischer flew to Japan. He cleared Japanese immigration at the time.

On July 13, 2004 at about 5:30 pm, Bobby Fischer checked in at the ticket counter at Narita airport in Tokyo a few hours before his flight to Manila. His passport number, Z7792702, was checked and entered into the system by an immigration officer. A bell sounded and a red light began to flash. Fischer was told to take a seat while his passport was being checked out. Fischer was then asked to accompany the immigration official downstairs. He was then escorted by security guards and demanded to know what was going on. The official said they just wanted to talk to him. Fischer then stopped and refused to move. A translator was then called in and spoke to Fischer in English and Spanish. Soon, 15 other security guards arrived and surrounded Fischer. Soon, an official appeared and showed Bobby an arrest warrant because Fischer was traveling on an invalid passport (which was not true). Fischer responded that it was a legal passport and had two and a half years to go before it expired. Fischer was then told that he could call a representative of the U.S. embassy to assist him. Fischer responded, "The U.S. embassy is the problem, not the solution." (Brady, Endgame).

Fischer was arrested by the Japanese immigration authorities at Narita International Airport in Tokyo, Japan during a rough struggle. Fischer tried to walk away from the security guards, but was blocked. One guard tried to handcuff Fischer, but Fischer resisted. Several of the guards then began hitting him with batons and slugging him. Fischer fought back, kicking and screaming, and even bit one of the guards on the arm. He was finally wrestled to the ground and a black hood was placed over his head. He was then shackled in chains. One of his teeth was chipped during the struggle. He was taken to a cell and the guards removed his shoes, belt, wallet, and passport. He asked to make a phone call, but was refused. Fischer's claim that he was an American citizen and had a right to make a phone call was ignored.

Fischer was headed to Manila, Philippines at the time on a Japan Airlines flight (JL 745). He was then going to fly to Hong Kong. Fischer was told that he would be deported to the United States to face charges. Japan and the United States have an extradition treaty. Fischer could go to prison for 10 years and pay a $250,000 fine for violating the Trading with the Enemy Act and income tax evasion. Fischer was going to Baguio, Philippines to give another radio interview for Radio Bomba.

After 24 hours, an immigration official contacted Miyoko and told her that Bobby Fischer had been arrested. She then contacted an attorney and headed for the airport detention center to see Bobby.

After two weeks of incarceration, he agreed to hire a lawyer (Masako Suzuki and Takeshi O'Hashi) to appeal the Japanese government's decision to deport him. He has been telling Japanese authorities that he is a German citizen, invoking his lineage to a German-born father (Hans-Gerhardt Fischer, born in Berlin in 1908).

On August 10, 2003, Fischer was transferred from Narita airport (east of Tokyo) to the East Japan Immigration Detention Center in Ushiku, an hour north of Tokyo. He spent several days in solitary confinement after getting into scuffles with guards.

A committee called "Free Bobby Fischer" was formed to try and get the release of Fischer from prison.

On August 16, 2004, Bobby Fischer appealed to US Secretary of State Colin Powell to help him renounce US citizenship so as not to get deported to the United States. He also announced plans to marry Miyoko Watai, the Japan Chess Association President. She responded, "Bobby-san is my king and I will become his queen." (Endgame, p. 288). They were married in a private ceremony in the prison.

In September, 2004, a Japanese court granted an injunction preventing Fischer from being deported until it had ruled on his lawsuit seeking to have the deportation order thrown out.

In January, 2005, Fischer wrote a letter to the government of Iceland, asking for Icelandic citizenship. The Icelandic authorities granted him an alien's passport, but that was insufficient for the Japanese government to release him. So the Icelandic government unanimously granted Fischer full citizenship in March, 2005. The U.S. government filed charges of tax evasion against Fischer in an effort to prevent him from traveling to Iceland.

On March 9, 2005, Fischer turned 62. He had been in prison for 9 months.

On March 21, 2005, Fischer was granted permanent citizenship in Iceland.

The Japanese released Fischer on March 23, 2005. Fischer went to the Tokyo airport to fly to Keflavik Airport in Iceland. At the airport, he said, "This was nothing but a kidnapping, pure and simple! Bush and Koizumi (Japanese president) are criminals. They deserve to be hung." (Endgame, p. 294).

On April 7, 2005, Fischer received a letter from the USB bank in Switzerland that they were closing his account of $3 million. The money was transferred to a bank in Reykjavik. Fischer claimed a sizable amount was lost in the transaction.

In May, 2005, Boris Spassky visited Iceland with the intent of getting Fischer to return to chess, even if it was Fischer Random chess.

In December, 2005, eBay opened a bid on Bobby Fischer's belongings that had been stored in a Pasadena storage lot. The starting bid was $15,000.

On December 10, 2006, Fischer phoned in to an Icelandic television station and pointed out a winning combination which was missed in a chess game that was televised in Iceland.

In October, 2007, Fischer was admitted to Landspitali Hospital in Reykjavik for physical problems. He had troubles urinating and his lungs were bothering him. He had a blocked urinary tract and problems with his kidneys. Bobby refused to take any medicine. He needed dialysis treatment, which he refused. He remained in the hospital until November and returned to his apartment on Espergerdi in December.

On January 17, 2008, Bobby Fischer died from kidney failure in a Reykjavik hospital. He was 64.

Before he died, Bobby asked to be buried in the cemetery near the town of Salfoss. A Lutheran church is nearby.

On January 21, 2008, at 8 p.m., a hearse carrying Fischer's body left Reykjavik and headed for Salfoss. A Catholic priest oversaw the burial.

Russell Targ, Bobby's brother-in-law, flew in from California to attend the funeral, but he missed it by a few hours.

In April 2001, the film Me and Bobby Fischer was released.

In October 2009, the biographical film Bobby Fischer Live was released.

On July 5, 2010, Bobby Fischer's grave was opened to get a DNA sample. It was used to determine if Bobby was the father of 10-year-old Jinky Young. It turned out that Bobby was not the biological father.

Fischer never wrote a will. His money and estate went to Miyoko Watai, his wife.

In 2011, a documentary called Bobby Fischer Against the World was made.

On September 15, 2015, the movie Pawn Sacrifice was released. It tells the story of Fischer's attempts to defeat Boris Spassky in the 1972 world chess championship. The film was directed by Edward Zwick and written by Steven Knight. Bobby Fischer was played by Tobey Maguire, who also produced the film. Boris Spassky was played by Live Schrieber. Bill Lombardy was played by Peter Sarsgaard. Fischer's lawyer, Paul Marshall, was played by Michael Stuhlbarg.

Sources:
Agur, Bobby Fischer: a study of his approach to chess, 1992
Alexander, Fischer v. Spassky, 1972
Avchaloumov, Fischer's Endings, 1992
Bjelica, Bobby Fischer, 1992
Bohm, Bobby Fischer: The Wandering King, 2004
Brady, Endgame, 2011
Brady, Profile of a Prodigy, first edition, 1965 (reprinted 1969)
Brady, Profile of a Prodigy, second edition 1973
Brady, What We Can Learn from Bobby Fischer, 2011
Braga, Bobby Fischer, Legend, 2012
Burger, The Games of Bobby Fischer, 1975
Campomanes, Fischer-Spassky World Championship Match, 1972
Capece, Fischer, 1974
Chess Digest (Ken Smith), Bobby Fischer: His Games and Openings, 1971
Chun, "Bobby Fischer's Pathetic Endgame," The Atlantic, Dec 2002
Collins, My Seven Chess Prodigies, 1974
Darrach, Bobby Fischer vs. The Rest of the World, 1975
Dautov, Bobby Fischer, 1995
Davies, Pein, & Levitt, Bobby Fischer: The Five Million Dollar Comeback, 1992
DeLucia, Bobby Fischer Uncensored, 2009
Denker, The Bobby Fischer I Knew and Other Stories, 1995
Donaldson, A Legend On the Road, 1994, 2005
Donaldson & Tangborn, The Unknown Bobby Fischer, 1999
Edmonds & Eidinow, Bobby Fischer Goes to War, 2004
Emma, Fischer-Spassky 1972, 1972
Euwe, Bobby Fischer — the greatest?, 1979
Euwe & Timman, Fischer World Champion, 2002
Evans & Smith, Chess World Championship 1972, 1973
Fine, Bobby Fischer's Conquest of the World Championship, 1973
Fischer, "A Bust to the King's Gambit," American Chess Quarterly, 1961
Fischer, Bobby Fischer's Games ofChess, 1959
Fischer, Bobby Fischer Teaches Chess, 1972
Fischer, I Was Tortured in the Pasadena Jailhouse, 1982
Fischer, My 60 Memorable Games, 1969
Gatherfield, Bobby Fischer — The Knight Who Killed the Kings, 2011
Geuzendam, Finding Bobby Fischer, 1994
Ginzburg, "Portrait of a Genius as a Young Chess Master, Harper's, Jan 1962
Gligoric, Fischer vs. Spassky — The Match of the Century, 1972
Golubev & Gutsait, 744 Games of Bobby Fischer, 1993
Gufeld, Bobby Fischer: From Chess Genius to Legend, 2003
Hanke, "Finding Bobby Fischer," American Chess Journal, 1992
Hays, Bobby Fischer, Complete Games of the American World Chess Champion, 1992, 1995
Huebner, World Champion Fischer, CD, 2003
Joesten, Studies in Memoriam Bobby Fischer, 2009
Johnson, White King and Red Queen, 2007
Karpov, Chess Combinations, vol 2, Spassky, Fischer, 2011
Kasparov, On My Great Predecessors IV - Fischer, 2004
Keene, Fischer-Spassky II, The Return of the Legend, 1992
Kohlmeyer, Bobby Fischer, 1992
Kozhevin, Through the Endings with Fischer, 1992
Levy, How Fischer Plays Chess, 1975
Linder, Robert Fischer — Life and Games, 2005
Lizalde, Fischer-Spassky, 1974
Mansurov, Riddle of Fischer, 1992
Mednis, How to Beat Bobby Fischer, 1974
Monticelli, Fischer-Spassky, 1972
Mueller, Bobby Fischer: The Career and Complete Games of the American World Chess Champion, 2009
Olafsson, Bobby Fischer Comes Home, 2012
Pak, Fischer — Troublemaker of the Chess World, 2008
Pandolfini, Bobby Fischer's Outrageous Chess Moves, 1985
Parade Magazine, October 27, 1957
Plisetsky & Voronkov, Russians versus Fischer, 2005
Ponterotto, A Psychobiography of Bobby Fischer, 2012
Purdy, How Fischer Won the World Championship, 1972
Reshevsky, Reshevsky on the Fischer-Spassky Games, 1972
Roberts, Fischer-Spassky, 1972
Schiller, Learn From Bobby Fischer's Greatest Games, 2004
Seirawan, No Regrets, Fischer-Spassky 1992, 1992
Sokolov, Unknown Chess Heritage of Fischer, 2011
Soltis, Bobby Fischer Rediscovered, 2003
Sozin, El Match del Siglo Fischer Spassky, 1972
Steiner, Fields of Force: Fischer-Spassky 1972, 1974
Taimanov, I Was a Victim of Fischer, 1993
Totaro, Lawrence - provided newspaper articles on Fischer
Totaro, Fisching for Forgeries, 2007
Wade & O'Connell, The Games of Robert J. Fischer, 1972 and 1993
Waitzkin, Searching for Bobby Fischer, 1988
Wall, Bobby Fischer's Chess Tournaments
Wall, Bobby Fischer's Chess Tournament and Match Record
Wall, Bobby Fischer Early Years
Wall, Bobby Fischer Quotes
Wall, Fischer-Sherwin, 1957
Wall, Fischer and Iceland and Last Years in Iceland
Wall, Fischer and Morphy
Wall, Fischer's Early Chess Games
Wall, Fischer's First Memorable Game
Wall, Fischer's First Published Game
Wall, Fischer's First Rated Tournament
Wall, Fischer's losses
Wall, Fischer's losses (games)
Wall, Fischer Offers a Rook and a Queen
Wall, Fischer's Opponents
Wall, Fischer Photos — Adult Years
Wall, Fischer Photos — Early Adult Years
Wall, Fischer Photos — Early Years
Wall, Fischer Photos — The Early Years
Wall, Fischer Photos 2
Wall, Fischer Photos 3
Wall, Fischer References on the Web
Wall, Happy Birthday Bobby Fischer, Mar 9, 2011
Wall, Searching for Bobby Fischer (the movie) Trivia
Wall, Searching for Bobby Fischer's Dad
Wall, Spassky-Fischer, Game 1, 1972
Wall, Spassky Misses the Draw, Spassky-Fischer, Game 13, 1972
Wall, Who Was Fischer's Father
Wall, Fischer biography, White Knight Review Chess Magazine, 2010


---
Return to Main Page
Official Website — BILLWALLCHESS.COM

Please report broken or duplicate links to the Webmaster

All Contents Copyleft 2015— by William D. Wall

This site and all contents herein may be freely used, modified, and distributed on the condition that proper attribution is given and anything derived from any content on this site is bound by this same condition.

Also we kindly ask that you include link to our page on your website.

Thank you.
Bill Wall