In 2005, Reykjavik, Iceland had 8 grandmasters living in that city of 114,000 people.

In 2005, Wang Yue (1987- ) won the Chinese chess championship.

In 2005, a team of computers (Hydra, Deep Junior, and Fritz) beat Vesilin Topalov, Ruslan Ponomariov, and Sergey Karjakin (average rating 2681) in a match by the score of 8.5 to 3.5.

In 2005, Riley Lane won the All Service Postal Chess Club Armed Forces championship.

In 2005, Grandmaster Mato Damjanovic was banned from tournament play for one year for pretending to play in a chess tournament (Kali Cup) which did not exist.

In 2005, Walter Browne won the US Senior Open.

In 2005, Walter Browne was the first inductee into the Cal (California) Chess Hall of Fame.

In 2005, Narcisco Victoria, Samuel Eshaure, Dan Ranario, Froilan Magpantay, Robert Keogh, and Mustapha Kahlouch tied for 1st at the 2005 Interservice championship, held in Arlington, Virginia.

On January 1, 2005, the top rated FIDE players were: Kasparov-2804; Anand-2786; Topalov-2757; Kramnik-2754.

On January 2, 2005, Honorary Emeritus GM (1981) Arnold Denker (1914-2005) died of brain cancer in Fort Lauderdale, Florida at the age of 90.

On Jan 3, 2005, GM (1976) Laszlo Vadasz (1948-2005) died in Hungary at the age of 56.

On January 8, 2005, IM (1978) Jaime Emma of Argentina died.

On January 9, 2005, Vladimir Belov won the Hastings Christmas Congress.

On January 16, 2005, IM Victor Frias (1956-2005) of Chile died.

On January 21, 2005, an episode (Season 4, Episode 11) called "Observer Effect" appeared on Star Trek: Enterprise (TV series from 2001 to 2005). The episode begins with a discussion of the triviality of chess while Travis Mayweather and Malcom Reed play a game of blitz chess. They happen to be under the control of two noncorporeal aliens.

On January 30, 2005, Peter Leko won the Corus tournament in Wijk aan Zee (cateogry 19-2721).

On February 15, 2005, Joop van Oosterom won the 18th World Correspondence Championship (+8=6-0).

On March 5, 2005, Cambridge beat Oxford in the 123rd varsity match. Cambridge has won 55, lost 50, and drawn 18.

On March 14, 2005, IM (1977) Simon Webb (1949-2005) was stabbed to death by his son, Dennis, in Sweden after returning home from a chess tournament. His son was arrested after he tried to commit suicide by driving his car into a building.

On March 17, 2005, Garry Kasparov and Vaselin Topalov won Linares 2005 (category 20- 2743). Kasparov announced his retirement from professional chess.

On March 24, 2005, Bobby Fischer arrived in Iceland. He was detained for 253 days in Japan.

On March 31, 2005, Vishy Anand won the 14th Amber Blindfold and Rapid Chess Tournament in Monte Carlo.

On March 31, 2005, GM (1976) Milorad Knezevic (1936-2005) died in Serbia at the age of 68.

On April 5, 2005, GM (1991) Dragoljub Minic (1937-2005) died of a heart attack on his 69th birthday in Novi Sad, Serbia.

On April 9, 2005, Teimour Radjabov won the 13th Dos Hermanas International.

On April 22, 2005, GM (1965) Leonid Shamkovich (1923-2005) died of complications from Parkinson's disease and cancer in his Brooklyn home at the age of 81.

In May 2005, Nigel Short was in a car crash while driving from Messinia to Athens. His car was struck by an oncoming vehicle which had skidded uncontrollably off a wet bend. His passenger was Sergey Karjakin, who was the youngest grandmaster in the world.

On May 22, 2005, Vaselin Topalov won the Mtel Masters in Sofia, Bulgaria.

On May 22, 2005, Zviad Izoria won the HB Global Chess Challenge in Minneapolis, winning $50,000. During the tournament, a player was caught receiving chess moves over his cell phone during his game. The rules were published that cell phones were prohibited. The tournament director suspected that he was receiving moves over the phone from some accomplice. His results were expunged from the tournament and an ethics complaint was lodged. The tournament was the richest open chess tournament in history, with a $500,000 prize fund.

On June 1, 2005, GM (1973) Vladimir Savon (1940-2005) died in Kharkiv, Ukraine at the age of 64.

On June 12, 2005, Dmitry Gurevich won the National Open in Las Vegas.

On June 27, 2005, HYDRA computer beat Michael Adams (2737) with 5 wins and 1 draw in London.

In July 2005, Judit Polgar was ranked 8th in the world in chess, with a peak rating of 2735. It is the highest rating of any female.

On July 4, 2005, Egod Ditt died. Born in 1931. FIDE VP from 1990 to 1994.

On July 4, 2005, Kamil Milton won the World Open in Philadelphia. He beat Magesh Panchanathan in a play-off. Canadian grandmaster Pascal Charbonneau and his chess-playing friends were mugged at gunpoint at the World Open.

On July 17, 2005, Arkadij Naiditsch won at Dortmund.

On July 29, 2005, Ildar Khairullin won the World Youth Chess Championship in Belfort, France.

On July 29, 2005, Andrei Volokitin and Boris Gelfand tied for 1st at the Biel GM tournament.

On August 1-2, 2005, Susan Polgar played 326 simultaneous games at the Gardens Mall in Palm Beach Gardens, Florida. She played 1,131 consecutive games. She won 1,112 games, drew 16 games, and lost 3 games in 16.5 hours. Her winning record was 99.03%.

In August 2005, the 16th NATO championship was held in Kolobrzeg, Poland. Germany took 1st place, followed by Poland and the UK. The USA tied for 4th-5th. Top scorer was Andreas Schenk of Germany. Narciso Victoria was the top USA player.

On August 13, 2005, Jonathan Rowson won the British Chess Championship at the Isle of Man.

On August 14, 2005, Vadim Milov and Joel Benjamin won the US Open in Phoenix. 455 players.

On August 14, 2005, Anand beat Grischuk at the Chess Classic Mainz.

On August 16, 2005, Lazaro Bruzon won the American Continental Championship in Buenos Aires.

On August 21, 2005, Zappa (programmed by Anthony Cozzie) won the 13th World Computer Chess Championship in Reykjavik (10 wins, 1 draw), followed by Fruit. Shredder won the speed championship, followed by Zappa.

On Aug 28, 2005, GM (1999) Ruben Gunawan (1968-2005) died of heart failure and pneumonia in Manado, Indonesia at the age of 38.

In September 2005, chess master Robert Snyder was arrested in Fort Collins, Colorado on charges of molesting three chess students of his. Two boys were age 13 and one boy was age 12. He later escaped and was featured on America's Most Wanted in 2009. He was later captured in Belize after someone recognized him from the TV show. He was released from jail in 2008 and was supposed to register as a sex offender, but he never did. He was featured on America's Most Wanted in November, 2009. A girl had recognized him as a chess teacher in her school in Belize and notified the authorities. US Marshals tracked him down in Belize and arrested him.

On September 5, 2005, GM Gata Kamsky won the 127th New York State Championship.

On October 1, 2005, Roman Toran, age 73, died in Madrid; President of the Spanish chess Federation; FIDE VP from 1982-1990.

On October 10, 2005, GM Liuben Spassov won the 15th World Seniors Championship in Italy.

On October 10, 2005, West Point Cadet David Jacobs won the 46th US Armed Forces Championship; Army won the service competition.

On October 16, 2005, GM Veselin Topalov won the 8-player FIDE World Championship in San Luis, Argentina; Svilder and Anand took 2nd-3rd. Kasparov was invited, but retired. Kramnik was invited, but refused to play.

On October 19, 2005, an episode (Season 2, Episode 4) called "Corporate Warriors" appeared on CSI:NY. A game of chess helps solve a case.

On November 11, 2005, Russia won the World Team Championship in Beer-Sheva, Israel; China took 2nd.

On November 12, 2005, GM (1978) Dragutin Sahovic (1940-2005) died in Belgrade, Serbia at the age of 65.

On Nov 17, 2005, GM (2005) Igor Ivanov (1947-2005) died of cancer in St. George, Utah at the age of 58. Three weeks before his death, he took 1st place in the Utah Open.

On November 22, 2005, Shakhriyar Mamedyarov won the World Jr Championship in Istanbu; Elisabeth Paehtz won the girls title.

On November 27, 2005, IM Vladimir Mezentsev won the 41st American Open in Los Angeles.

On December 15, 2005, Honorary Emeritus GM (1996) Enrico Paoli (1908-2005) died in Italy at the age of 97. He was Italian champion in 1951, 1957, and 1968.

On December 18, 2005, Levon Aronian won the FIDE World Chess Cup in Khanty Mansyisk, Russia; Ponomariov took 2nd.

On December 18, 2005. Leonid Yudasin won the Marshall Chess Club Championship.

On December 30, 2005, Sergey Rublevsky won the Russian Championship.




---
Return to Main Page

Please report broken or duplicate links to the Webmaster.

Official Website
Copyright 2016 by William D. Wall
All Rights Reserved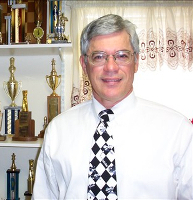 Bill Wall