In 2004, supermodel Carmen Kass was elected president of the Estonian Chess Federation. She was president from 2004 to 2011.

In 2004, an episode (Season 5, Episode 5) called "Chess Champ to Football Manager" appeared on the UK reality-TV show called Faking It (TV series from 2000 to 2006). Maximillian Devereaux is already a chess champion, but can he fake it as a football (soccer) manager in 4 weeks?

In 2004, Hydra defeated GM Evgeny Vladimirov with 3 wins and 1 draw. It then defeated former FIDE world champion Ruslan Ponomariov (rated 2710) in a 2-game match, winning both games.

In 2004, Jaan Ehlvist won the Marshall Chess Club championship.

In 2004, Grandmaster Arkadi Naiditsch admitted cheating by using a computer in an Internet tournament, claiming that everyone else was doing it.

In 2004, top seed Christine Castellano was playing in the Philippine Women's National Chess Championship when her cell phone rang. She was disqualified from the event.

In 2004, the UK Chess Challenge tournament had 71,000 children from over 2,000 schools participating, the largest chess tournament in the world.

In 2004, GM Peter Heine played ChessBrain, a networked chess computer consisting of 2,070 computers across 56 countries. The game ended in a draw after 34 moves.

In 2004, Narcisco Victoria and West Point Cadet David Jacobs tied for 1st in the 45th annual U.S. Armed Forces Championship. Victoria won on tiebreak. The Air Force and Navy tied for team championship.

In 2004, Bu Xiangzhi (1985- ) won the Chinese championship.

On January 1, 2004, the top FIDE-rated players were: Kasparov-2831; Kramnik-2777; Anand-2766; Svidler-2747.

On January 5, 2004, Rowson and Kotronias won the 79th Hastings tournament.

On January 15, 2004, Tunc Hamarat of Austria won the 16th world correspondence championship.

On January 25, 2004, Vishy Anand won the 66th Corus tournament in Wijk aan Zee.

On Jan 29, 2004, Honorary GM (1984) Stojan Puc (1921-2004) died in Kranj, Slovenia at the age of 82.

On March 5, 2004, Kramnik won at Linares. It was a Category 20 (2731 rating average) tournament.

In June 2004, Narcisco Victoria (2197) won the 2004 Interservice championship, held at Kelly AFB in San Antonio, Texas.

On June 8, 2004, Antoaneta Stefanova (1979- ) won the FIDE Women's Championship in Elista.

On June 20, 2004, Alex Yermolinsky (1958- ) won the US Open in Las Vegas.

On July 6, 2004, Varuzhan Akobian won the 32nd World Open, held in Philadelphia.

The 12th World Computer Chess Championship was held at Bar-llan University in Ramat-Gan, Israel from July 4 to July 12, 2004. It was won by Deep Junior with 7 wins and 4 draws (programmed by Amir Ban and Shay Bushinsky). Shredder took 2nd place, followed by Diep. Shredder won the 12th World Computer Speed Chess Championship. Crafty took 2nd place.

On July 13, 2004, the FIDE Knockout match was held in Tripoli, Libya and won by Rustam Kasimdzhanov (1979- ) after defeating Michael Adams in the final knockout match. Kasimdzhanov won $100,000.

On July 13, 2004, Bobby Fischer was arrested in Tokyo, Japan, accused of traveling on a revoked American passport. He was wanted by the U.S. government on charges of violating a ban to travel to Yugoslavia in 1992, where he went to play chess with Boris Spassky.

On July 20, 2004, Lev Milman won the US Junior Championship, held in Kansas.

In August 2004, the 15th NATO championship was held in The Hague, The Netherlands. Germany took 1st place, followed by Poland and Norway. The USA tied for 10th-12th. Top scorer was Lorenz Drabke of Germany.

On August 15, 2004, there was a 7 way tie in the US Open, held in Fort Lauderdale.

On Aug 22, 2004, GM (1992) Konstantin Aseev (1960-2004) died in Saint Petersburg at the age of 43, after a long illness.

On October 18, 2004, the Classical world championship match was held in Brissago, Switzerland between Kramnik and Leko. The match ended in a 7-7 tie and Kramnik retained his title.

On October 31, 2004, the 36th Chess Olympiad was held at Mallorca. 1st-Ukraine; 2nd-Russia; 3rd-Armenia. The Chinese women's team took 1st place at the 36th Chess Olympiad, held in Calvia, Spain. The USA took 2nd place. The Chinese men's team took 24th place. Prior to the closing ceremony, FIDE vice-president Zurab Azmaiparashvili was roughed up and arrested as he attempted to ascend the stage to give out the Nona Gaprindashvili Trophy.

In November 2004, the 40th American Open, held in Santa Monica, was won by Melikset Khachiyan.

On November 27, 2004, Garry Kasparov won the Russian Championship.

On December 1, 2004, Pentala Harikrishna won the World Jr Championship, held in India.

On December 5, 2004, Hikaru Nakamura won the US Championship in San Diego.




---
Return to Main Page

Please report broken or duplicate links to the Webmaster.

Official Website
Copyright 2016 by William D. Wall
All Rights Reserved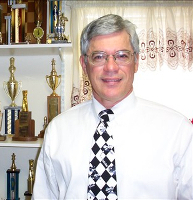 Bill Wall