In 2002, the International Computer Chess Association (ICCA) was renamed to the International Computer Games Association (ICGA).

In 2002, at the Lamperthein Open tournament, a player was suspected of cheating. He was found in the bathroom using a handheld computer which displayed a running chess program. When confronted by the tournament director, he claimed that he was only checking his email. When he was asked to show the computer to the T.D., he refused. He was then immediately disqualified from the tournament.

In 2002, Garry Kasparov told the Times of London that "chess is a mixture of sport, psychological warfare, science, and art. When you look at all these components, man dominates. Every single component of chess belongs to the areas of male domination." Later in the year, Kasparov lost to Judit Polgar in the Russia vs. the Rest of the World match.

In 2002, Zhang Pengxiang (1980- ) won the Chinese chess championship.

In 2002, Igor Novikov won the Marshall Chess Club championship.

In January 2002, the top FIDE-rated players were: Kasparov-2838; Kramnik-2809; Anand-2757; Adams-2742

On January 6, 2002, Harikrishna and Barsov won the 77th Hasting Congress.

On January 13, 2002, Nick De Firmian and Larry Christiansen won the US Championship, held in Seattle.

On January 26, 2002, the FIDE Knockout Match was held in Moscow and won by Ponomariov, knocking out Vassily Ivanchuk in the final round. Ruslan Ponomariov, born October 11, 1983, became the youngest world chess champion on January 23, 2002 at the age of 18 years, 104 days.

On January 27, 2002, Evgeny Bareev won at Corus, held in Wijk aan Zee, Netherlands.

On February 1, 2002, the Manhattan Chess Club closed. It existed for 124 years. Its last president was Jeff Kossak.

On February 13, 2002, GM GM (1980) Edmar Mednis (1937-2002) died at Woodside, Queens, New York, of complications from pneumonia and a heart attack at the age of 64.

On February 27, 2002, an episode (Season 3, Episode 58) called "Hartsfield's Landing" appeared on The West Wing. President Bartlet (Martin Sheen), an avid chess player, received some nice chess sets from the Indian Prime Minister. He plays two of his top advisors simultaneously in different rooms.

On March 11, 2002, Walter Browne, age 53, and Alex Yermolinsky, tied for 1st place at the National Open in Las Vegas. There were 197 players in the event.

On March 28, 2002, Alexander Morozevich won the Amber Tournament in Monaco.

On June 19, 2002, GM (1996) David Garcia Ilundain (1971-2002) died of a brain tumor in Spain at the age of 31.

On July 7, 2002, Kamil Milton won the 30th World Open in Philadelphia. During the tournament, a Russian player was caught going outside and getting advice from another player. His opponent followed the Russian player outside and caught him speaking in Russian to the same man intently watching the game. They had been discussing the last move of the game, which was heard by 30-40 onlookers. The Russian then said he would forfeit the game.

On July 11, 2002, the 10th World Computer chess championship was held in Maastrich, Netherlands; won by Deep Junior in playoff over Shredder (+7 =0 -1).

On August 4, 2002, Zaitshik and Najer won the US Open in Cherry Hill, NJ.

On August 10, 2002, R. B. Ramesh won the British Championship.

On August 20, 2002, Sergei Karjakin was awarded the GM title at 12 years, 7 months. He was the youngest GM ever (beating Bu Xiangxhi). He was born on Jan 12, 1990.

On September 2, 2002, Benjamin, Stripunsky, Rohde, and Pixton tied for 1st at the 124th NY Chess Championship.

On September 4, 2002, Alexander Lastin won the 55th Russian championship.

On September 8, 2002, Michel Roos, former French champ, died in Strasbourg. He was born on Aug 27, 1932.

On September 8, 2002, Humpy Koneru became a GM at 15 years, 1 month, 27 days. She was the youngest female GM.

On September 11, 2002, Rest of the World beat Russia in the Match of the New Century, held in Moscow.

In September 2002, Sgt Rudy Tia (2134) won the 43rd annual U.S. Armed Forces Championship, now renamed the Interservice championship. The event took place in San Diego. Army won the team championship.

On September 23, 2002, GM (1967) Eduard Gufeld (1936-2002) died of a heart attack at Cedars-Sinai Medical Center in Los Angeles at the age of 66. He is interred in the Hollywood Forever Cemetery in Hollywood, California.

On September 26, 2002, IM (1973) Ricardo Calvo died in Madrid. He was born on Oct 22, 1943.

In October 2002, the 13th NATO championship was held in Brest, France. Germnay took 1st place, followed by the USA. Norway, France, and the UK tied for 3rd-5th place. Top individual scorers were Mark Helbig of Germany and Andy Hammond of the UK. Rudy Tia and Narciso Victoria were the top USA scorers.

On October 22, 2002, Kramnik drew with DEEP FRITZ in Bahrain. 2 wins, 2 losses, 4 draws. Kramnik got $800,000 for playing Deep Fritz in the match.

On November 2, 2002, Jusefs Petkevich won the 12th World Senior Open.

On November 11, 2002, the 35th Chess Olympiad in Bled was won by: 1st-Russia; 2nd-Hungary; 3rd-Armenia. The Chinese women's team took 1st place on tiebreaks over Russia. The 2002 Bled Olympiad was the first to test for drugs through a urine sample. All 802 players passed. Grandmaster Jan Timman of Holland refused to play in protest to the plans of drug testing. World Champion Garry Kasparov participated with the highest Elo rating in the Olympiads. He was rated 2838 at the time and had a performance rating of 2933. A chess ballet opened this Chess Olympiad. The Australian men's and women's teams were sponsored by a pharmaceutical company called Ansell. Part of the deal was to help the company promote their brand of condoms called "checkmate." Two members of the same family played on different teams. International Master Levente Vajda played for Romania while his sister, Woman Grandmaster Szidonia Vajda, played for Hungary. Robert Gwaze of Zimbabwe became the second person (after Alekhine in 1930) to score 100% out of 9 games.

On December 1, 2002, the 38th American Open, held in Santa Monica, was won by Pavel Blatny and Yuri Shulman.

On December 21, 2002, Levon Aronian won the 41st World Junior Championship.

On December 22, 2002, Victor Baturnsky, head of Anatoly Karpov's team and former vice president of the USSR Chess Federation, died. He was born on June 27, 1914.




---
Return to Main Page

Please report broken or duplicate links to the Webmaster.

Official Website
Copyright 2016 by William D. Wall
All Rights Reserved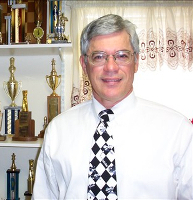 Bill Wall