In 2001, Sulennis Pina Vega of Cuba won the first American Continental Women's Chess Championship, held in Merida, Venezuela.

In 2001, Sergey Karjakin became an International Master at the age of 11, winning the world under-12 championship.

In 2001, Leonid Yudasin won the last Manhattan Chess Club championship.

In 2001, Yuri Lapshun won the Marshall Chess Club championship.

In 2001, A. Motylev won the Russian championship.

In 2001, I. V. Linder (father and son) wrote Kings of the Chess World. It is 972 pages, the most voluminous chess book.

In 2001, chess was allowed in Afghanistan after being banned by the Taliban in 1994.

In 2001, Garry Kasparov made a Pepsi-Cola commercial, shown at the 2001 Superbowl. It was nominated for a Cleo Award, the highest achievement in TV advertising.

In 2001, Christopher Newton, imprisoned for burglary, murdered his cellmate, Jason Brewer, 27, over a game of chess in a Ohio prison. Brewer would resign his chess game against Newton every time a pawn was lost or the position looked bad. Newton tried to tell him not to give up and play the game out, but Brewer refused. After a month of playing chess and Brewer always resigning early without playing out the game, Newton finally had enough and strangled Brewer. Newton was executed on May 24, 2007 by lethal injection on Ohio. He was the first murderer executed for killing someone over a chess game.

In 2001, the US Armed Forces Chess Championship (USAFCC) was renamed the U.S. Interservice Chess Championship (ISCC). The event was fully funded by the DoD.

In 2001, Sgt Rudy Tia (2126) and Joseph Kruml (2146) tied for 1st in the 42nd annual U.S. Armed Forces Championship, now renamed the Interservice championship, held at Fort Meyer, Virginia. Army won the team championship.

In 2001, Grandmaster Alexandru Crisan was accused of faking his Elo rating of 2635 (number 33 in the world) by fixing chess matches for his own benefit and falsifying chess tournament results.

On January 1, 2001, the top FIDE-rated players were: Kasparov-2849, Anand-2790, Kramnik-2772, Adams-2746

On January 7, 2001, Stuart Conquest and Sasikirin won the 76th Hastings Congress.

On January 28, 2001, Garry Kasparov won the Corus tournament at Wijk aan Zee.

On February 18, 2001, USCF Executive Director Dr. George De Feis was injured in an auto accident while attending the US Amateur Team East tournament in New Jersey. He was in intensive care in Morristown, New Jersey and suffered a brain injury.

On February 28, 2001, Anna-Maria Botsari played 1102 boards simultaneously in Greece.

On March 4, 2001, GM (1987) Gerardo Barbero (1961-2001) of Argentina died of cancer in Budapest, Hungary at the age of 39.

On March 7, 2001, Garry Kasparov won at Linares.

On March 11, 2001, Akopian and Zhang won the National Open.

On March 21, 2001, Topalov and Kramnik won the 10th Amber Championship

On April 1, 2001, Eugenio German died, age 70. He was the first Brazilian IM.

On July 8, 2001, Smirin, Onischuk, Yudasin, Goldin, Shulman, Benjamin, A Ivanov tied for 1st at the World Open in Philadelphia.

On August 4, 2001, Claude Bloodgood died in prison. He was born July 14, 1937.

On August 10, 2001, Joseph Gallagher won the British Championship.

On August 12, 2001, Wojtkiewicz, Benjamin, Doettling, Stripunsky tied for 1st at the US Open, held in Framington, MA.

On August 16, 2001, Carmine Nigro, Bobby Fischer's teacher, died at the age of 91.

On August 23, 2001, DEEP JUNIOR 7 won the 18th World Microcomputer Championship in Maastricht, Netherlands.

On August 29, 2001, Peter Acs won the World Junior Championship in Athens, Greece.

On September 3, 2001, Ibragimov won the 123rd NY State Championship.

On September 10, 2001, GM (1965) Alexei Suetin (1926-2001) died of a heart attack in Moscow at the age of 74. He had just returned home from the Russian Senior Chess Championship.

On Sep 25, 2001, five chess players died in a vehicle crash in India on their way to a chess tournament.

In October 2001, the 12th NATO championship was held in Sanremo, Italy. Germany took 1st place, followed by Italy and The Netherlands. USA took 6th place. Top individual was FM Piero Bontempi of Italy.

On October 28, 2001, GM (1997) Janis Klovans (1937-2010) won the World Senior Championship in Italy. He continued to play into his seventies and maintained a FIDE rating of over 2400, making him one of the strongest players in his age group.

On November 12, 2001, GM (1976) Tony Miles (1955-2001) died at his home in Harborne, Birmingham, from heart failure at the age of 46. He suffered from diabetes, which contributed to his death.

On November 25, 2001, the 37th American Open, held in Santa Monica, was won by Melikset Khachiyan.

On December 2, 2001, John Collins died at the age of 89. He was born in 1912.




---
Return to Main Page

Please report broken or duplicate links to the Webmaster.

Official Website
Copyright 2017 by William D. Wall
All Rights Reserved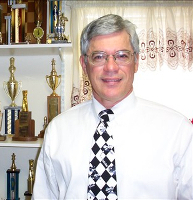 Bill Wall