In 1996, the Edward R. Murrow High School Chess Team won the New York City high school chess championship.

In 1996, Yoko Ono (1933- ) donated $2,500 to enable the Edward R. Murrow High School chess team in Brooklyn, New York, to attend the state and national championships. The school had been national champions in 1992, 1993, and 1994, but had no funds in 1995 and 1996.

In 1996 there were 39 GM titles awarded.

In 1996, a documentary called Chess Kids appeared on 125 PBS stations. It was about the World Youth Championship, held in Wisconsin in 1990.

In 1996, Vasily Smyslov, age 75, played Etienne Bacrot, age 13, for an age difference of 62 years.

In 1996, Army Captain David Hater won the 37th US Armed Forces championship. Army won the team championship.

In 1996, Alexander Kazantsev stepped down as the President of the Composition Committee of the USSR Chess Federation. He was its president for 70 years, from 1926 to 1996.

In 1996, Enrico Paoli (1908-2005) was awarded the honorary grandmaster title at the age of 88. His played his last official chess tournament at the age of 94.

In 1996, Ye Jiangchuan (1960- ) won the Chinese chess championship.

In 1996, John Fedorowicz and Alexander Wojtkiewiez tied for 1st in the Manhattan Chess Club championship.

In 1996, Josh Waitzkin won the Marshall Chess Club championship.

In 1996, Claude Bloodgood, at the age of 71, became the 9th highest ranked chess player in the United States, by playing 1,700 rated games against other inmates. He was an inmate in a Virginia prison and just strong enough to beat other inmates, but was not a strong master. He built up a high numerical rating by organizing chess tournaments and matches in prison, and consistently beat the other weaker players. His rating highlighted flaws in the U.S. Chess Federation (USCF) grading system. From 1993 to 1999, he played 3,174 rated games in prison, almost always winning.

In 1996, The Long Island Chess Nuts was established at the Old Country Road, Garden City, NY.

In January 1996, the top rated players were Kramnik at 2775, Kasparov at 2775, Karpov at 2770, Ivanchuk at 2735, Kamsky at 2735, and Anand at 2725.

On January 6, 1996, Ulf Andersson played 310 boards simultaneously in Alvsjo, Sweden and won 268, drew 40, lost 2 in 15 hours and 23 minutes.

On February 1, 1996, Garry Kasparov beat IBM's DEEP BLUE chess computer 4-2 in Philadelphia. Deep Blue won the first game, becoming the first computer ever to beat a world chess champion at tournament level under serious tournament conditions. Deep Blue was calculating 50 billion positions every 3 minutes. Kasparov was calculating 10 positions every 3 minutes. DEEP BLUE had 200 processors.

In February 1996, Susan Polgar defeated Xie Jun in Spain for the Women's World Chess Championship.

On March 25, 1996, Richard Rapport was born in Hungary. He became a grandmaster at the age of 13 years, 11 months, and 6 days.

On March 26, 1996, an episode (Season 3, Episode 18) called "Chess Pains" appeared on Frasier (TV series from 1993 to 2004). Dr. Frasier Crane (Kelsey Grammer) buys an elaborate antique chess set, but he can't beat his father, Martin Crane.

From April 10-17, 1996, the 11th AEGON Computer Chess Tournament (Mankind vs. Machine) was held in The Hague, Netherlands. There were 50 masters, International Masters, and Grandmasters and 50 computers (most playing on HP Pentium-166 machines with 16MB of RAM). Yasser Seirawan won the event with 6 straight wins and no losses. The best computer was QUEST, with 4.5/6 and a 2652 performance rating. The machines won with 162.5 points versus the humans with 137.5 points.

In June 1996, Kramnik and Topalov tied for first at Dos Hermanas, Spain (category 19).

In June 1996, Bobby Fischer gave a searing press conference in Buenos Aires. He denounced the Batsford edition of his My 60 Memorable Games as forged and unauthorized.

On June 28, 1996, GM (1977) Julio Bolbochan (1920-1996) died in Caracas, Venezuela at the age of 76.

On July 5, 1996, GM (1975) Predrag Ostojic (1938-1996) committed suicide in Mainz, Germany at the age of 58.

In July 1996, Anatoly Karpov defeated Kamsky in Elista, Russia to retain the FIDE World Chess Championship Title. The score was 10.5 to 7.5. During a Karpov-Kamsky match in Elista, Russia, Kata Kamsky and his father, Rustam, were fined $2,000 each over Rustam's claim that Vasyikov and another international master, Vasily Gagarin, were providing illegal extra help to Anatoly Karpov by feeding him game analysis. The Kamskys were ordered to write letters of apology to Karpov and the two observers after failing to back up the accusation. When they refused, the appeals committee fined them.

In July 1996, Vaselin Topolov won the 3rd Lord Novgorod category 19 tournament.

On July 7, 1996, Yermolinsky and Goldin tied for 1st at the World Open, held in Philadelphia.

On July 29, 1996, Yermolinsky won the US Championship, held in Parsippany, NJ.

On July 29, 1996, Anjelina Belakovskaya won the US Women's Championship.

On Aug 4, 1996, GM (1965) Vladimir Liberzon (1937-1996) died in Israel at the age of 59.

In August 1996, Chris Ward won the British Championship.

In August 1996, GM Gabriel Schwartzman, age 19, won the US Open.

On Aug 14, 1996, GM (1996) Karoly Honfi (1930-1996) died in Budapest, Hungary at the age of 65.

In September 1996, Russia won the Gold Medal at 32nd Chess Olympiad, Yerevan, Armenia. Ukraine won the Silver, and the USA team won the Bronze.

On October 15, 1996, the 14th world microcomputer chess championship was held in Jakarta, Indonesia. It was won by Shredder, followed by Ferret.

On October 19, 1996, NM David Lees died at age 53.

In November 1996, the 7th NATO championship was held in Viborg, Denmark. The Netherlands and Belgium tied for 1st-2nd, followed by the United Kingdom. USA took 6th place. Andy Hammond of the UK and Fabrice Wantiez of Belgium were the top two individual winners.

In November 1996, the 32nd American Open, held in Santa Monica, was won by Alex Yermolinsky.

On December 1, 1996, ex-world snooker champion Steve Davis was elected President of the British Chess Federation.

On December 15, 1996, Garry Kasparov won at Las Palmas, a category 21 (2757) event.

On Dec 29, 1996, GM (1965) Wolfgang Pietzsch (1930-1996) died in Leipzig at the age of 66.




---
Return to Main Page

Please report broken or duplicate links to the Webmaster.

Official Website
Copyright 2017 by William D. Wall
All Rights Reserved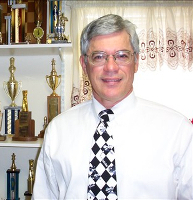 Bill Wall