In 1992, the Manhattan Chess Club moved to 353 West 46th Street between 8th and 9th Avenue on "Restaurant Row."

In 1992, Joel Benjamin won the Manhattan Chess Club championship.

In 1992, John Fedorowicz and Gennadi Sagalchik tied for 1st in the Marshall Chess Club championship.

In 1992, Susan Polgar won the women's world blitz championship and the women's rapid championship.

In 1992, Lin Weiguo (1970- ) won the China National Chess Championship.

In 1992, Robert Bryan of England shot Matthew Hay over a chess game. Bryan had 'had enough' after losing to Hay and was jailed for 10 years after admitting attempting to murder Mr. Hay by shooting him in the neck with a shotgun.

In 1992, Grandmaster and former world junior champion Pablo Zarnicki of Argentina was disqualified from a Dos Hermanas Internet Chess Club tournament, accused of cheating by using a computer, which he denied.

In 1992 Kasparov played Fritz 2 in a 5 minute game match in Cologne, Germany. Kasparov won the match with 6 wins, 1 draw, and 4 losses. This was the first time a program defeated a world champion at speed chess.

In 1992, Boris Alterman, Konstantin Aseev, Pia Cramling, Igor Efimov, Alex Fishbein, Gildardo Garcia, Alxander Graf, Mark Hebden, Andrei Kharlov, Igor Khenkin, Andrei Kovalev, Vladimir Kramnik, Aloyzas Kveinys, Zigurds Lanka, Christopher Lutz, Colin McNab, Artashes Minasian, Viktor Moskalenko, Paul Motwani, Konstantin Sakaev, Philipp Schlosser, Gregory Serper, Miron Sherm Marcel Sisniega Campbell, Maxim Sorokin, Igor Stohl, Rudolf Teschner, Veselin Toplov, Henry Urday Caceres, and Alex Yermolinsky became GMs.

In 1992, Elvin Wilson won the Texas Armed Forces championship in San Antonio, directed by Bill Wall.

In 1992, Elvin Wilson won the Air Force chess championship, held at Andrews AFB, MD.

In 1992, Donato Lacno (Navy) won the 33nd US Armed Forces championship. The Sea Services won the team championship.

In 1992, South Africa was allowed to play in FIDE tournaments for the first time since 1977, when it was banned because of its continued apartheid practices.

In January 1992, A. Ivanov won the 1991 Novag Grand Prix.

On January 1, 1992, the Soviet Union (USSR) officially ceased to exist. After the collapse of the Soviet Union, the Russian Championship was re-established as a national championship. In 1992, the 45th Russian Championship was won by Alexei Gavrikov.

On January 6, 1992, Vishy Anand won the Reggio Emilia Category 18 (2676) tourney.

On January 30, 1992 US master Sidney Bernstein (1911-1992) died in New York City. He played in eight US chess championships.

In April 1992, Nigel Short beat Karpov and Timman beat Yusupov in the Candidates' matches.

On April 4, 1992, GM (1950) Samuel Reshevsky (1911-1992) died in New York City at the age of 80. He is buried at Congregation Sons of Israel Cemetery in Spring Valley, New York.

On May 26, 1992, WGM Lara Stock was born in Croatia.

In June 1992, Grigory Sanakoev won the 12th World Correspondence Chess Championship.

On June 7, 1992, John Fedorowicz won the National Open, held in Las Vegas.

On June 14, 1992, Joe Kennedy won the US Blind Championship, held in San Antonio.

On June 25, 1992, the 30th Chess Olympiad began in Manila. There were 102 teams. Russia took 1st, Uzbekistan took 2nd, Armenia took 3rd, and the USA took 4th. On the women's side, Georgia took 1st, Ukraine took 2nd, and China took 3rd. There were 62 women teams. 12 of the 15 former Soviet republics had their own team for the first time. All finished in the top half (including Gold, Silver, and Bronze). An all-German team was present for the first time since 1939. Of the five Yugoslav republics, three had their own teams. This was the last appearance of Czechoslovakia and the re-appearance of South Africa.

On June 26, 1992, Vadim Tsemekhman won the US Junior Championship, held in Bloomington, Illinois.

On June 28, 1992, GM (1957) Mikhail Tal (1936-1992) died of a hemorrhage of the esophagus and renal failure at a hospital in Moscow at the age of 55. A month earlier, he left the hospital to play at the Moscow blitz tournament where he defeated Garry Kasparov. He is buried at the Jaunie ebreju Kapi cemetery in Riga, Latvia.

On July 5, 1992, Gregory Kaidanov won the World Open, held in Philadelphia. There were 200 players.

On July 12, 1992, Manion and Zlotnik won the US Junior Open, held in Bedford PA.

On July 23, 1992, Tal Shaked won the US Cadet Championship, held in New York.

In July of 1992, the top US players were Gata Kamsky at 2739, Gregory Kaidanov at 2694, Maxim Dlugy at 2684, and A. Ivanov at 2679.

On July 30, 1992, GM Fabiano Caruana was born.

In August 1992, Anatoly Karpov won at Biel; category 16 (2627).

In August 1992, Julian Hodgson won the British Championship.

On August 14, 1992, Gregory Kaidanov won the US Open, held in Dearborn, Michigan.

On August 30, 1992, Irina Levitina won the US Women's Championship, held in Waltham, MA.

On September 1, 1992, Neil Falconer won the US Senior Open, held in Alaska.

On September 8, 1992, police in New Rochelle, NY arrested a player who refused to put away a chess board and pieces at a library. Louis Taylor, 41, was reading a chess book and set up his own chess pieces and board in the library. A librarian told him to put his game away and pointed to the sign, "No Board Games." When he refused, the police were called who cuffed Taylor and charged him with trespassing.

On September 30, 1992, the Fischer-Spassky return match started in Yugoslavia.

On October 1, 1992, Gauri Shankar was born. He was British under-10 champion at the age of 7.

On October 28, 1992, Michael Adams won at Tilburg.

In November 1992, the 4th NATO championship (schachmeisterschaft) was held in the Lutzow barracks in Munster, Germany. Germany took 1st place, followed by The Netherlands. Norway and the USA tied for 3rd-4th. The individual winner was Carsten Lingnau of Germany. Top American was Bobby Moore.

In November 1992, Gelfand and Anand won a Category 18 tourney in Moscow.

On Nov 3, 1992, GM (1987) Vladas Mikenas (1910-1992) died in Vilnius, Lithuania at the age of 82.

On November 5, 1992, Arpad Elo died. He was the inventor of the Elo rating system.

On November 5, 1992, Bobby Fischer beat Boris Spassky (2560) in Sveti Stefan/Belgrade, Yugoslavia (10 wins, 5 losses, 15 draws) (17.5-12.5). Fischer won $3,650,000 and Spassky took home $1.35 million.

In 1992, Bobby Fischer was threatened with a fine and arrest for playing chess in Yugoslavia. Playing chess in Yugoslavia violated George W.W. Bush's Executive Order 12810 that implemented sanctions engaging in economic activities in Yugoslavia. Following the match, the US Department of Treasury obtained an arrest warrant against him. Fischer never returned to the United States. He died in Rekjavik, Iceland in 2008.

On November 15, 1992, Garry Kasparov won the Trophee Immopar in Paris.

On November 22, 1992, Efim Geller won the World Senior Championship, held in Bad Worishofen, Germany.

On November 24, 1992, the Women's Interzonal in Shanghai was won by Susan Polgar.

On November 26, 1992, Leopold Mitrofanov died. He was a Russian chess composer and International Judge of chess composition.

On November 27, 1992, the 7th world computer chess championship was held in Madrid, Spain. It was won by Chessmachine.

On November 29, 1992,Cris Ramayrat won the 28th American Open, held in Long Beach. He won on tiebreak over Jeremy Silman, David Strauss, and Anthony Saidy.

In December 1992, the top US players were Kamsky 2753, Kaidanov 2736, and Yermolinsky 2690.

On December 20, 1992, the US Championship was held in Durango, Colorado. It was won by Patrick Wolff.


---
Return to Main Page

Please report broken or duplicate links to the Webmaster.

Official Website
Copyright 2017 by William D. Wall
All Rights Reserved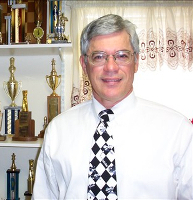 Bill Wall