In 1989, Air Force Staff Sergeant Emory Tate won the 30th US Armed Forces championship. Air Force won the team championship.

In 1989 IBM started working on 'Big Blue' and later Deep Blue.

In 1989, Michael Rohde won the Manhattan Chess Club championship.

In 1989, Robert Sulman won the Marshall Chess Club championship.

In 1989 HITECH won the ACM championship in Reno.

In 1989, Michael Adams, Evgeny Bareev, Branko Damljanovic, Alexey Dreev, Boris Gelfand, Alexander Goldin, Alon Greenfeld, Ferdinand Hellers, Daniel King, Bachar Kouatly, Zdenko Kozul, Michal Krasenkow, Stefan Mohr, David Norwood, Jeroen Piket, Miodrag Todorcevic, Evgeny Vladimirov, and Alexey Vyzmanavin became GMs.

Karen Grigorian (1947-1989), Armenian International Master, committed suicide by jumping from the highest bridge in Yerevan. He was only 42. He was Moscow champion in 1975 and 1979.

In 1989, Brian Yamin was an honor student and promising chess player. He was killed in an automobile accident in Indianapolis. A scholarship was created in his name.

In 1989, the police raided a chess tournament in Los Angeles. The L.A.P.D. vice officers raided a nightly chess tournament held at Dad's Donuts. They cited three men for gambling after finding $1.50 on the table. The police staged the raid after an undercover detective tried unsuccessfully to join a blitz chess game. The detective then pulled out his badge and said "all of you are under arrest," as the L.A.P.D. swooped in.

In 1989, during the French championship, IM Gilles Andruet and IM Jean-Luc Seret got into a violent fight over an argument whether Andruet resigned before Seret checkmated him. After the fight, Andruet needed 8 stitches and had to withdraw from the tournament, despite the fact that he was in the lead after 10 of 14 rounds.

In 1989, Jacobus Haring (1913-1989) died of cancer in the Netherlands. IJComp 1964; IMComp 1968.

In 1989, a documentary appeared on TV called American Gambit, featuring Kasparov giving a simultaneous exhibition.

In 1989, Patrick Wolff won the 3rd annual Samford stipend ($30,000)

In 1989, the Belgrade Grandmaster's Association (GMA) had 98 grandmasters participating, the most grandmasters in one tournament. It had a prize fund of $100,000, funded by Yugoslav Airlines. 98 grandmasters participated in this event, won by GM Krunoslav Hulak of Yugoslavia.

In 1989, Ivan Nikolic and Goran Arsovic made 269 moves in a game lasting 20 hours and 15 minutes. The game was played in Belgrade and ended in a draw. There are at least 11 games over 200 moves from tournament play. It is the longest chess game ever played.

In January 1989, the top players were Kasparov (2775), Karpov (2750), Short (2650), and Beliavsky (2640). For the women, it was Judit Polgar (2555), Chiburdanidze (2520), Susan Polgar (2510), and Pia Cramling (2480).

In January 1989, the top USCF ratings were: Seirawan (2725), Gulko (2697), deFirmian (2679)

On January 14, 1989, Nigel Short won at Hastings.

In February 1989 Sofia Polgar achieved the highest performance rating ever recorded by a female when she scored 8.5 out of 9 at an international tournament in Rome. Her performance rating was over 2900.

On February 4, 1989, Yusupov defeated Spraggett in the Candidates quarterfinals in Quebec.

In 1989 Carol Jarecki became the first woman to serve as chief arbiter for any world chess championship cycle match (Karpov-Hjartarson world championship quarterfinals in Seattle). She is a former anesthesiologist and avid aircraft pilot.

On February 5, 1989, Anatoly Karpov defeated Johann Hjartarson in the quarterfinals Candidates matches in Seattle. I assisted Robert Karch in the organization.

On February 5, 1989, Dimitri Gurevich won the 7th Bermuda international open.

On February 26, 1989, Joel Benjamin won the Cannes Open.

On March 8, 1989, Elizaveta Bikova died in Russia. She was World Women's champion in 1953-6 and 1958-62.

On March 27, 1989, an episode (Season 1, Episode 3) called "Blind Chess" appeared on B.L. Stryker (TV series from 1989 to 1990), starring Burt Reynolds (1936- ).

On March 28, 1989, John Fedorowicz won the 7th New York Open.

On April 4, 1989, Baruch Harold Wood (born in 1909) died in England. He founded the British chess magazine CHESS in 1935.

On April 18, 1989, Fred Cramer, past USCF president, died.

On April 20, 1989, Kasparov and Ljubojevic won the 4th world cup tourney, Barcelona.

On May 31, 1989, Deep Thought won the 6th world computer championship, held in Edmonton, Alberta. 2nd went to Bebe.

On June 11, 1989, Michael Rohde won the National Open, held in Las Vegas.

On June 24, 1989, Jan Timman won the 5th world cup tournament, held in Rotterdam.

In July 1989, FIDE was now comprised of 128 nations.

In July 1989, Vasil Spasov of Bulgaria won the World Junior Championship, held in Tunja, Colombia.

On July 5, 1989, Mikhail Gurevich won the World Open, held in Philadelphia.

On July 13, 1989, Lev Alburt won the 90th US Open, held in Chicago.

On July 16, 1989, Alexey Rudolph Root won the 1989 US Women's championship, held in Spartanburg.

On July 16, 1989, Sherzer and Finegold tied for 1st in the US Junior championship, held in Washington, D.C.

On July 21, 1989, Michael Adams (age 17) became the world's youngest GM.

On July 23, 1989, Arthur Bisguier won the 1989 Senior Open, held in New Jersey.

On August 10, 1989, Alexander Beliavsky won OHRA (cat 14), held in Amsterdam.

On August 15, 1989, the 1st computer Olympiad was held. The chess section was won by Rebel.

In September 1989, Michael Adams won the 76th British Championship (youngest ever to win).

On September 2, 1989, Karpov and Kasparov tied at Skelleftea, Sweden (last world cup event). Kasparov won the GMA World Cup 1988-89.

On September 16, 1989, the 9th World microcomputer chess championship was held in Portoroz, Slovenia. It was won by Mephisto X.

On September 23, 1989,GM (2010) Alex Lenderman was born.

On October 1989, Rafael Vaganian won the 56th Soviet Championship, held in Odessa. There were 16 players.

In October 1989, the 1st official NATO championship was held in Hammelburg, Germany. Germany took 1st place, followed by USA and Belgium. 11 NATO countries participated. The individual winner was FIDE master (FM) Niels Michaelsen of Germany. The top American participant was Emory Tate.

On October 2, 1989, Kasparov won the 13th Interpolis (cat 16), held in Tilburg, Netherlands. Kasparov achieved the highest rating in history: 2810.

On October 15, 1989, GM (1974) Anatoly Lutikov (1933-1989) died in Tiraspol, Moldova at the age of 56. He committed suicide. He finished 3rd in the 1968-69 USSR championship.

On October 17, 1989, Jan Timman beat Speelman in the semi-finals of the world championship (London).

On October 17, 1989, Karpov beat Yusupov in semi-finals of world championship (London).

Between October 20 and December 1, 1989, Dave Letterman and Garry Kasparov completed a 23 move game of telephone chess.

On October 22, 1989, Kasparov beat Deep Thought in a 2 game match in New York.

On November 8, 1989, the World team championship was held in Lucerne.

On November 26, 1989, the 25th American Open was held in Long Beach. Larry Christiansen won on tie-break over Gata Kamsky, Maxim Dlugy, Walter Browne, and Nick de Firmian.

On November 28, 1989, Ilivitsky died.

On December 3, 1989, the Soviet Union won the European National Team Championship (27 countries).

On December 3, 1989, the US Championship was held in Long Beach. Yasser Seirawan, Roman Dzindzihasvili, and Stuart Rachels tied for 1st.

On December 6, 1989, Boris Gelfand won at Palma de Mallorca.

On December 11, 1989, Deep Thought defeated David Levy in a match.




---
Return to Main Page

Please report broken or duplicate links to the Webmaster.

Official Website
Copyright 2017 by William D. Wall
All Rights Reserved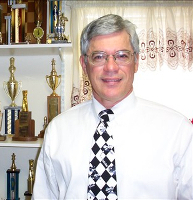 Bill Wall