In 1985, the World Open, held in Philadelphia, was the largest tournament largest (1,251) and richest tournament($150,000) up to that time.

In 1985, Yasser Seirawan (1960- ) became the first U.S. Candidate for the World Championship in chess since 1973.

In 1985, the first tournament of high school champions (Denker Champions) was held. It was won by Alexander Fishbein (1968- ).

In 1985, Mikhail Gurevich, Viktor Gavrikov, and Alexander Chernin tied for 1st at the 52nd Soviet Championship, held in Riga.

In 1985 HITECH, built under the supervision of Dr. Hans Berliner, achieved a performance rating of 2530. It was the first computer to have a rating over 2400.

In 1985 HITECH won the ACM computer championship in Denver.

In 1985, Xu Jun (1962- ) won the Chinese chess championship.

In 1985, Lev Alburt (1945- ) won the U.S. chess championship, held in Estes Park, Colorado.

In 1985, Walter Shipman (1929- ) won the Manhattan Chess Club championship.

In 1985, Leslie Braun (1936-1998) and Charles Weldon (1939-1993) tied for 1st at the Marshall Chess Club championship.

In 1985, Utut Adianto, Simen Agdestein, Miso Cebalo, Alexander Chernin, Nick de Firmian, Carlos Garcia Palermo, Kiril Georgiev, Harry Golombek, Curt Hansen, Johann Hjartarson, Mario Monticelli, Helgi Olafsson, James Plaskett, Ian Rogers, Jaroslav Sajtar, Kevin Spraggett, and Anatoly Viasser became GMs.

In 1985, Army SP4 Roberto Rodriquez and Air Force Sergeant Bobby G. Moore tied for 1st in the 26th US Armed Forces championship. Army won the team championship.

In 1985, Nick Down, a former British Junior Correspondence champion, entered the British Ladies Correspondence Championship as Miss Leigh Strange and won the event (and 15 British pounds along with the Lady Herbert trophy). He then signed up to represent Britain in the Ladies Postal Olympiad. He was later caught when one of his friends mouthed off about it and Nick confessed. The whole thing had been cooked up by Nick Down and a group of undergraduates at Cambridge, where Nick was a student. Nick returned the Lady Herbert trophy and was banned from the British Correspondence Chess Association for two years.

In 1985, the scholastic chess championships drew a record 1,572 players.

In 1985, Kangugi "K.K." Karanja (1973- ) won the National Elementary Championship in Charlotte, NC with a perfect score of 7-0. He is regarded as the first African-American chess prodigy.

In 1985, Mark Taimanov (1926-2016) took 1st place at Lisbon.

On January 26, 1985, Yakov (Jakob) Yukhtman died in New York. He was a Soviet-American chess master. In 1953, he won the Ukraine championship.

On February 15, 1985, the Kasparov-Karpov match was halted after 48 games. This was the longest world championship match ever held. It lasted 48 games and 159 days. At one point, there were 17 draws in a row. Karpov lost 22 pounds during the match. 1,647 moves were made in this match. The winner was the first to win 6 games, but the match was canceled after Karpov had won 5 games, lost 3 games, and drew 40 games. The match was first played at the House of the Unions (Pillar Hall) in Moscow, but the match was later moved away from Pillar Hall when Minister of Defense Dmitry Ustinov, then chief political leader Konstantin Chernenko died, and the building was used for their funerals.

On February 20, 1985, Issac Kashdan, (b. 1905), American grandmaster (1954), died of a stroke at his home in Los Angeles. He introduced me to the USCF and rated chess in 1969.

In March 1985, William Dunphy died in Hastings. He was Irish champion in 1957.

On March 27, 1985, GM (2002) David Navara was born in Czechoslovakia.

In the April 8, 1985 issue of Sports Illustrated, there is an article entitled 'In the World of Chess, Man Thinks Himself as King, Woman as Pawn,' written by Jim Kaplan. The author states that he has never met a woman who plays decent social chess.

On April 12, 1985, GM (2002) Shakhriyar Mamedyarov was born in Azerbaijan.

On April 19, 1985, Jozef Gromek died during a blitz game in Poland. He was 53. In 1955, he had won the Polish chess championship.

On May 20, 1985, GM (2004) Igor Kurnosov was born in Chektabinsk, Russia. He died in 2013 after being hit and killed by a car in his home town.

On June 6, 1985 Garry Kasparov played 32 of the top chess computers in Hamburg, Germany and won every game, with the score of 32-0.

In July 1985, Maxim Dlugy (1966- ) won the U.S. Junior Championship.

On September 3, 1985, the Karpov-Kasparov match resumed in Moscow.

On September 15, 1985, the 5th world microcomputer championship was held at Amsterdam. It was won by Mephisto Amsterdam 1.

On September 16, 1985, Eric Knoppert played 500 games of 10-minute chess in 68 hours.

On September 25, 1985, GM (2001) Arkadij Naiditsch was born in Azerbaijan.

On October 1, 1985, Vladimir Bron died in Sverdlovsk, Russia. IJComp 1956; IMComp 1966; GMComp 1975.

In October 1985, Walter Browne (1949-2015) tied for 1st place, along with Bent Larsen and Rafael Vaganian, in the Nimzovich Memorial Tournament in Naestved, Denmark. Browne only needed a draw to take solo first place in the final round, but overpressed and lost to Lubomir Ftacnik.

On October 11, 1985, the Montpellier Candidates tournament started.

On October 20, 1985, Frantisek Batik died in Jaromer, Czechoslovakia. He was awarded the IMC title in 1959.

On November 3, 1985, Jack Battell died. He was an American postal pioneer.

On November 3, 1985, Yusupov, Vaganian, and Sokolov tied for 1st at the Montpellier Candidates tournament.

On November 9, 1985, Garry Kasparov defeated Anatoly Karpov, scoring 13-11, to become the 13th world champion and the youngest world champion up to that time at the age of 22 years, 210 days. Prior to this match, Mikhail Tal was world champion at age 23. The prize fund was 72,000 rubles, with 5/8 for the winner and 3/8 for the loser.

On November 27, 1985, the first world team championship tournament was held, won by the USSR team in Lucerne.

In November 1985, the 21st American Open, held in Santa Monica, was won by Yasser Seirawan, Igor Ivanov, and David Strauss.

On December 5, 1985, Miguel Cuellar-Gacharna died in Colombia. He was awarded the IM title in 1957.

On December 10, 1985, Bu Xiangzhi was born in China.

On December 18, 1985, Ted Dunst (b. 1907), American player, died in Lambertville, NJ.


---
Return to Main Page

Please report broken or duplicate links to the Webmaster.

Official Website
Copyright 2017 by William D. Wall
All Rights Reserved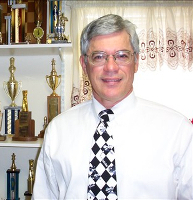 Bill Wall