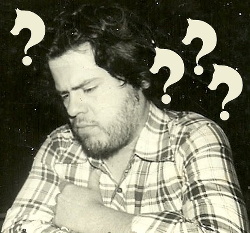 IM Francisco Trois


In 1980, International Master Francisco Trois took 2 hours and 20 minutes for his 7th move against Luis Santos at Vigo, Spain. He only had two possible moves to consider with his knight.
In 1980, the three top USCF-rated players were Lev Alburt (2623), Lubomir Kavalek (2606), and James Tarjan (2550).

In 1980, Florin Gheorghiu (1944- ) and John Fedorowicz (1957- ) tied for 1st in the US Open, held in Atlanta.

In 1980, China held its first international tournament.

The 1980 Italian Chess Championship was postponed until 1981 because of an earthquake. The 1980 Irpinia earthquake took place in the Irpina region in southern Italy on November 23, 1980, measuring 6.89 on the Richter Scale.

In 1980, John Jarecki (1069- ) won the National Elementary and National Junior High Chess Championship in the same year.

In 1980, USCF Life Master Jeffrey Kastner (1950- ) won the Manhattan Chess Club championship.

In 1980, Leslie Braun (1936-1998) won the Marshall Chess Club championship.

In 1980, Anatoly Karpov (1951- ) won the Chess Oscar for the 7th time. He won at Bad Kissingen, Bogojno, Amsterdam, and Tilburg.

In 1980, MIT computer science professor Edward Fredkin (1934- ) offered $10,000 to the first program with an established rating of 2450, and $100,000 prize fund to go to the first program to defeat the world chess champion. The computer BELLE was awarded the prize of $5,000 for becoming the first program to achieve a master's rating.

In 1980, GM Igor Ivanov (1947-2005) went to Cuba with the rest of his Soviet team to play in the Capablanca Memorial. On the way back to the USSR, during a refueling stop in Newfoundland, Ivanov left the aircraft and defected to Canada, and later, to America.

In 1980, Liu Wenzhe (1940-2011) won the Chinese chess championship.

In 1980, Janos Flesch, Lubomir Ftacnik, Yehuda Gruenfeld, Garry Kasparov, Adam Kuligowski, Viktor Kupreichik, Edmar Mednis, Alexander Panchenko, Nukhim Rashovsky, Hans Ree, Yasser Seirawan, Andy Soltis, Jon Speelman, Gennadij Timoscenko, and Artur Yusupov became GMs.

In 1980, a chess computer was used for the first time to clandestinely help a human player during a game. It occurred in Hamburg, Germany. German grandmaster Helmut Pfleger was giving a simultaneous exhibition at the Hamburg chess festival. One of the players who was playing in the simul hid a radio receiver on himself while he received moves from BELLE. As soon as Pfleger made a move, the move was immediately relayed by phone to Ken Thompson, who entered it into the computer BELLE. When Pfleger approached the board again, a move was dictated by radio transmission to the player's earphone. The computer won in 68 moves. It was Pfleger's only loss. The game was not strictly an example of cheating. It was an experiment in which the deception was immediately revealed. Immediately after the game, Pfleger was asked if he noticed anything unusual in the games. He had not. He was then told that one of the games was played by a machine, surprising Pfleger. He was amazed to hear that it was the game he lost.

In 1980, David Lawson (1886-1980), author of Paul Morphy: The Pride and Sorrow of Chess, died.

In 1980, Army SP4 Michael Fletcher won the 21st US Armed Forces championship. Army won the team championship.

In 1980, the longest chess game in terms of time, the game Stepak-Mashian, Israel 1980, was 193 moves and lasted 24 hours and 30 minutes.

In 1980, International Master Francisco Trois took 2 hours and 20 minutes for his 7th move against Luis Santos at Vigo, Spain. He only had two possible moves to consider with his knight.

In 1980, Roman Dzindzichashvili (1944- ) won the USCF Grand Prix.

In 1980, the USCF had over 12,000 postal chess players, but only 226 were women.

In 1980, the first world cadet championship (under-17) was held at Le Havre, France. It was won by Valery Salov of the USSR. Joel Benjamin of the USA took 3rd place.

In 1980, John Grefe (1947-2013) won the California State Championship.

In 1980, Joel Benjamin (1964- ) won the US Junior Championship, held in Hollywood, CA.

In 1980, Luu Duc Hai won the first Vietnamese Chess Championship.

In 1980, the Laura Aspis Prize was first awarded to the number one ranked American chess player under the age of 13. The first winner was John Litvinchuk (1967- ).

In January 1980, Mikhail Tal (1936-1992) had his highest Elo rating of 2705.

In January 1980, Walter Browne tied for 1st with Yasser Seirawan at the 42nd Hoogoven Tournament in Wijk aan Zee (now known as Tata Steel tournament).

On February 2, 1980, GM Eugene Perelshteyn was born in Zhytomyr, USSR. He was awarded the GM title in 2006. His father, Mikhail, was a FIDE master and professional chess coach in Russia. Eugene learned how to play chess at the age of 7. He moved to the USA in 1994. Perelshteyn has a degree in computer science from the University of Maryland, Baltimore County. He currently works as a Tech Support Engineer at Symantec.

In February 1980, Garry Kasparov was part of the Soviet Union team that played in the 7th European Team Championship in Skara, Sweden. Kasparov had the best record of any Soviet player, with 5 wins and 1 draw. He scored better than Karpov, Tal, Petrosian, Polugaevaky, Geller, and Yusupov.

On February 21, 1980 Lebanon issued 5 chess stamps to commemorate 50 years of FIDE.

In March 1980, Viktor Korchnoi (1931-2016) won the 9th Reykjavik International in Iceland.

On March 12, 1980, GM Eduard Andreev was born in the Ukraine. He was awarded the GM title in 2005.

On March 15, 1980, Gerald Abrahams (1907-1980), British master, died in Liverpool. He was an author, a barrister and a very strong amateur who in the 1930's was playing master-class chess. At the Nottingham Major Open 1936 he finished 3rd= with Karel Opocensky and in the 1946 Anglo-Soviet radio match he scored (+1, =1) against Viacheslav Ragozin. He also invented a variation of the Queen's Gambit Declined Semi-Slav Defense, known as the Abrahams-Noteboom variation. As an author his main chess works are "Teach Yourself Chess," "The Chess Mind," "Test Your Chess," "Pan Book of Chess," "Handbook of Chess," "Not Only Chess," "Brilliancies in Chess," and "Technique in Chess."

In March 1980, Roman Dzindzichashvili won the 10th Lone Pine International.

On April 25, 1980, Tony Miles, Viktor Korchnoi, and Ulf Andersson tied for 1st at the first Phillips & Drew Kings tournament in London.

On May 4, 1980, Jennie Frenklakh was born in Belarus, near Chernobl. She won the US Junior Championship for players under 13 in 1993. She was a USCF master at 16.

On May 13, 1980, Eric Zepler, German chess composer, died. He was born in 1898.

On May 23, 1980, Jens Enevoldsen died in Denmark. He was Danish chess champion in 1940, 1943, 1947, 1948,and 1960. He was awarded the IM title in 1950 and was Denmark's first International Master.

On May 28, 1980, Guy Chandler died in Surrey, England. He was founder of the British Chess Problem Society.

On June 2, 1980, GM (1953) Vasja Pirc (1907-1980) died in Ljubljana, Yugoslavia at the age of 72.

On June 5, 1980, Axel Akerblom (1904-1980) died in Odakra, Sweden. He was a Swedish chess composer and International Master. He became an International Judge as soon as the title was created in 1956. He composed more than 5,000 problems in 2 or 3 moves and was known as "the Swedish Bohemian". He was the editor of the problem column of the Swedish magazine "Schackvärlden" (1928-1945).

On June 9, 1980 Djibouti issued two chess stamps to celebrate the founding of FIDE. One stamp showed an illustration of Saemisch and Romanovsky. Another stamp showed a 15th century illustration of chess.

On June 29, 1980, Walter Browne, Larry Christiansen, and Larry Evans tied for 1st in the 27th US Championship, held in Pasadena.

In September 1980, Bill Wall was elected president of the Ohio Chess Assoication while still serving as president of the North Carolina Chess Association. It was the only time that the same person has been president of two state chess associations simultaneously.

From September 4 to 9, 1980, the 1st world microcomputer chess championship was held in London. It was won by CHAMPION SENSORY CHALLENGER.

On September 8, 1980, Rusudan Goletiani was born in Sukhumo, Georgia. She won the 2005 U.S. Women's Championship. She is a Woman Grandmaster. At age 9, she won the Soviet Junior Championship for Girls Under-12 in 1990. She was the winner of the 19th annual Frank P. Samford chess fellowship in 2004.

On September 12, 1980, Janos Balogh (1892-1980) died in Budapest, Hungary. He was Romanian champion in 1930 and awarded the International Master in Composition (IMC) title in 1953. The system 1.e4 d6 2.d4 f5 is known as Balogh's Defense.

On September 12, 1980, Andre Cheron died in Leysin, Switzerland. He won the French championship 3 times.

On September 18, 1980, Frank Ross Anderson died in San Diego, CA. He was awarded the IM title in 1954.

On September 29, 1980, the 3rd world computer championship was held in Linz, Austria. It was won by Belle in a playoff over Chaos.

On October 1, 1980 Romania issued 4 chess stamps to commemorate the 24th Chess Olympiad in Malta.

On October 3, 1980, GM (1956) Alberic O'Kelly de Galway (1911-1980) died of leukemia in Brussels, Belgium at the age of 69.

In October 1980, Kasparov, age 17, won the World Junior Chess Championship at Dortmund, West Germany, and was awarded the title of International Grandmaster. He scored 10.5-2.

On October 28, 1980, BELLE won the 11th ACM computer championship, held in Nashville.

On November 9, 1980, Milan Vidmar, Jr. died. He was a Yugoslav IM (1950) and son of Milan Vidmar.

On November 18, 1980 Brazil issued a chess stamp commemorating postal chess.

On November 20, 1980 Malta issued three chess stamps to commemorate the 1980 FIDE Congress and the 24th Chess Olympiad in Valletta, Malta.

From November 20 to December 6, 1980, the 24th Chess Olympiad was held in Valletta, Malta. The Soviet Union took the gold, followed by Hungary with the silver and Yugoslavia with the bronze. The USA took 4th place. John Jarecki played for the British Virgin Islands at the age of 11. He played on Board 2. Anatoly Karpov refused to shake hands with Lev Alburt because Alburt had defected to the USA in 1978. The Soviet team (Karpov, Polugaevsky, Tal, Geller, Balashov, Kasparov) won the event (on tiebreak over Hungary). Both the Soviet men's and women's team came from behind to take the gold in this Olympiad.

In November 1980, the 16th American Open, held in Santa Monica, was won by Walter Browne, John Grefe, and David Strauss.

On December 8, 1980, GM (1953) Petar Trifunovic (1910-1980) died in Belgrade, Yugoslavia at the age of 70. He was Yugoslav Champion in 1945, 1946, 1947 (jointly), 1952 and 1961.

On December 15, 1980 Paraguay issued 9 chess stamps commemorating the World Chess Championship. The stamps are illustrated with miniatures from the Alfonso manuscript. The 3g (guaranis) stamp depicts "The Great Chess Game." The 4g stamp depicts King Alfonso presiding over the game of Squares. The 5g stamp depicts chess being played according to the four seasons. The 6g stamp depicts King Alfonso dictating the Books of Chess. The 7g stamp depicts a man and a Moorish woman playing chess. The 8g stamp depicts two Moorish women playing chess. The 10g stamp depicts two knights playing chess. The 20g stamp depicts a nun showing a novice how to play chess. The 25g stamp depicts players and a board with Arabic chess symbols.

On December 17, 1980, Harold Lommer, a British-Spanish chess composer, died. He was born in 1904.

On December 28, 1980 North Korea issued two chess stamps to commemorate the World Chess Championship between Karpov and Korchnoi in Merano and the World Chess Championship between Fischer and Spassky in Reykjavik.

On December 31, 1980, Jennifer Shahade was born. She is a Woman International Master and a two-time U.S. Women's Champion (2002 and 2004). She is the author of Chess Bitch. In 1998, she became the first and only female to win the U.S. Junior Open.

In 1980-81, Beliavsky and Psakhis won the 48th Soviet Championship, held in Vilnius.


---
Return to Main Page

Please report broken or duplicate links to the Webmaster.

Official Website
Copyright 2017 by William D. Wall
All Rights Reserved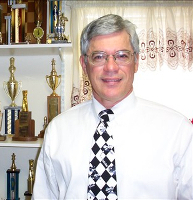 Bill Wall