In 1841, Howard Staunton edited the first chess periodical, The Chess Player's Chronicle. It lasted until 1854.

In 1841, the dues at the London Chess Club were three guineas per year.

In 1841, a chess piece was found at Mote Hill, Warrington. Another chess piece was discovered 10 years later at the site. The pieces were made of jet and dated from the 12th century.

In 1841, a correspondence chess match was held between chess clubs in Cincinnati, Ohio and Columbus, Ohio There was also a correspondence chess match between New York and Norfolk, Virginia.

In 1841, John William Schulten (1821-1875) defeated Eugene Rousseau (1810-1870) in a match with 11 wins, 10 losses, and no draws. In their second match that year, Rousseau beat Schulten with 7 wins, 4 losses and no draws. Both matches were held in New Orleans. Eugene Rousseau was a distant relative of Jean-Jacques Rousseau, the French philosopher.

In 1841, Jean-Louis Ernest Meissonier (1815-1891) painted "Partie d'echecs" (Game of Chess). It depicts two players playing chess and a third watching.

In 1841, Mary Anna Hartley wrote a book called The Chaturanga or, Game of Chess. It is probably the earliest chess book written by a woman.

In 1841, George Walker's A New Treatise on Chess is the first popular chess book sold at a low price. He wrote of Philidor and called him "our Chess-grandmaster."

In 1841, "tournament" was first used as a chess term by a group of Yorkshire players in Leeds.

On January 18, 1841, the first chess association was formed, the Yorkshire Chess Association. It led to the formation of the British Chess Association

On January 30, 1841,Sam Loyd was born in Philadelphia. He is the most famous American composer.

On February 18, 1841, Jacob Ascher was born in Plymouth, England. He was a British-Canadian chess master.

In April 1841, Edgar Allen Poe wrote the short story, The Murders in the Rue Morgue. It was first published in Graham's Magazine in 1841. It is considered the first detective story, making Poe the only American to ever invent a form of literature. Chess is mentioned several times in the story. Poe writes:
A chess-player, for example, does the one without effort at the other. It follows that the game of chess, in its effects upon mental character, is greatly misunderstood. I am not now writing a treatise, but simply prefacing a somewhat peculiar narrative by observations very much at random; I will, therefore, take occasion to assert that the higher powers of the reflective intellect are more decidedly and more usefully tasked by the unostentatious game of draughts than by all the elaborate frivolity of chess. In this latter, where the pieces have different and bizarre motions, with various and variable values, what is only complex is mistaken (a not unusual error) for what is profound. The attention is here called powerfully into play. If it flag for an instant, an oversight is committed, resulting in injury or defeat. The possible moves being not only manifold but involute, the chances of such oversights are multiplied; and in nine cases out of ten it is the more concentrative rather than the more acute player who conquers.
In April 1841 Howard Staunton played a match with Adolf Zytogorski (1806-1882), a Pole who fled to England after the 1830 Polish revolution. Staunton also played matches against J. Brown and Charles Stanley (1819-1901). In late 1841 Staunton met and played John Cochrane (1798-1878).

On April 28, 1841, Carl Theodor Goering was born in Brueheim, Germany. He was a German professor, philosopher, and chess master.

In May 1841, a weekly series called British Miscellany, and the Chess Player's Chronicle appeared in London. It was published under the auspices of the principal chess clubs in Great Britain. (source: The London Times, May 1, 1841)

On May 8, 1841, Ernest Morphy, Secrtetary of the New Orleans Chess Club, announced a meeting of the club at the Merchants' Exchange in New Orleans. (source: New Orleans Times-Picayune, May 8, 1841)

On May 8, 1841, von der Lasa played his last game with Bledow.

On September 12, 1841, Eugene Delmar was born in New York City. He was one of the leading US chess masters of the 19th century. He won the New York State championship in 1890, 1891, 1895, and 1897.

On November 26, 1841 James A. Leonard was born in Ireland. He was an American chess master. He played as many as 10 games blindfolded.

In December 1841, St Amant revived Le Palamede, the world's first chess periodical and the only chess periodical in Europe at the time. It had been edited by La Bourdonnais from 1836 to 1840. Saint-Amant was the editor until the end of 1847. He lived at rue Saint-Thomas-du-Louvre in Paris at the time.

In December 1841, Charles Henry Stanley beat Staunton in a match at the odds of a pawn and two moves.

On December 6, 1841, George H. D. Gossip was born in New York. He was a minor American-English chess master and chess writer.

On December 10, 1841, Joseph Blackburne was born in Manchester. He was British champion in 1868 and 1914. He dominated British chess during the latter part of the 19th century. He died in 1924.


---
Return to Main Page

Please report broken or duplicate links to the Webmaster.

Official Website
Copyright 2017, 2018 by William D. Wall
All Rights Reserved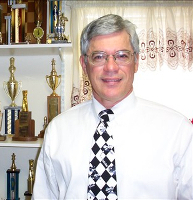 Bill Wall