In 1840, the Garrick Chess Divan was opened by John Henry Huttmann. He published every week a leaf containing a chess problem.

In 1840, Fox Talbot photographed two chess players playing chess. This may be the first instance of chess being in a photograph.

In 1840, the penny postcard for chess led to a boom in postal chess.

In 1840, Howard Staunton was secretary of the Westminster Chess Club.

In 1840, Howard Staunton bought a magazine and converted into the Chess Player's Chronicle. It was the first successful chess magazine in the English language.

In 1840, the Orthodox chess problem developed as an art form we know today.

In 1840, Howard Staunton beat Popert in London match.

In 1840, the Handbuch was completed by der Lasa.

In 1840, the New York Chess Club played the Norfolk, VA chess club in a postal chess game. (source: Chess Life, June 5, 1951)

In 1840, the top chess players in the world were Louis de la Bourdonnais, Alexandre Deschapelles, Howard Staunton, Pierre Saint-Amant, Wilhelm Hanstein, Tassilo von der Lasa, Alexander Petrov, William Popert, Ludwig Bledow, George Walker, John Cochrane, Lionel Kieseritzky, Jozsef Szen, Jacques Chamouillet, and Carl Mayet.

On January 4, 1840, James Moore Hanham was born in Woodville, MS. He introduced the Hanham variation in 1889. He was an army major.

On March 23, 1840, Hyacinthe Henri Boncourt (born in 1765) died. He was one of the leading chess players in France in the early 19th century.

In May 1840, Howard Staunton began writing a chess column in the New Court Gazette. His last column was in December, 1840.

On August 27, 1840, William Potter was born. He was a leading English player of the 1870s.

On September 16, 1840, Paul Rudolf von Bilguer died at the age of 27 in Berlin. He was a German chess master and a Lieutenant in the Prussian Army.

In November 1840, The Turk was given to the Chinese Museum in Philadelphia.

On December 13, 1840, Louis Charles de la Bourdonnais died in London of dropsy at the age 43. He was buried in Kensall Green Cemetery.


---
Return to Main Page

Please report broken or duplicate links to the Webmaster.

Official Website
Copyright 2017, 2018 by William D. Wall
All Rights Reserved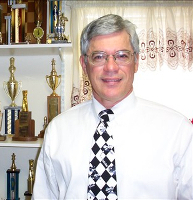 Bill Wall