In 1827, the first chess club in Philadelphia was formed after the Turk (Maelzel's Automaton) visited the city. Over 100 members enrolled themselves in the chess club in the first week of formation. A few years later, the club was disbanded due to lack of members.

In 1827, the Berliner Schachgesellschaft chess club was founded.

In 1827, another chess automaton, the Walker Chess-player, made its appearance. It was created by the Walker Brothers of Baltimore, Maryland.

In February 1827, the Turk was exhibited in Philadelphia. A lady (Mrs. F) beat The Turk, and according to John Maezel, the owner of the Turk, it was only the 3rd time The Turk had lost since coming to America in early 1826. (source: Western Carolinian, Feb 27, 1827) Maezel later said, "The only antagonist his Turkish majesty finds absolutely irresistible, is a pretty woman."

On April 8, 1827, John Owen ('Alter') was born in Marchington, England. He was a strong amateur ches player and an English vicar.

In April 1827, The Turk was exhibited in Baltimore.

In May, 1827, two youths observed the operator emerge from the Turk.

In May 1827, Daniel Walker built a chess automaton called The American Chessplayer.

On May 30, 1827, John Brown was born in Bridport, England. He was a chess composer and problemist.

In June 1827, another chess automaton, built by Phineas Bennet and Joseph Burit from Ithaca, New York, which went on display in New York City. It played chess, but not as well as The Turk. (source: Fayetteville Weekly Observer, June 7, 1827 and Newbern Sentinel (NC), July 14, 1827) Maezel later challenged to have his Turk play this new automaton for $200 a game. (source: Long Island Star, June 14, 1827)

On June 1, 1827, the Baltimore Gazette revealed how the Turk operated with a hidden operator. The newspaper later reported that two individuals came out of the Turk, one age 15 and one age 19. (source: Wilmingtonian Advertiser, June 21, 1827)

On June 1, 1827, Charles Carroll (1737-1832), age 89, played The Turk (Schlumberger) in Baltimore and won. He was the only living survivor of all the signers of the Declaration of Independence. (source: Elizabeth City Intelligencer (NC), June 2, 1827)

On August 3, 1827, Sergei Urusov was born. He was a chess-playing Russian prince and one of the strongest Russian players of the mid-19th century. He died in 1897, at the age of 70.

On August 22, 1827, Antonin Novotny was born. He was a Czech chess composer and lawyer in Brno. The Novotny theme is named after him. A white piece is sacrificed on a square where it could be taken by two different black pieces - whichever black piece makes the capture, it interferes with the other.


---
Return to Main Page

Please report broken or duplicate links to the Webmaster.

Official Website
Copyright 2017, 2018 by William D. Wall
All Rights Reserved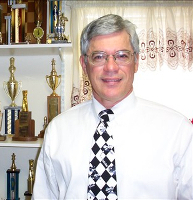 Bill Wall