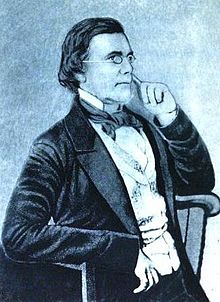 Alexander Beaufort Meek
1814-1865
In 1814, Julius Mendheim (1788-1836) published a chess book in Berlin, Taschenbuch fur schachfreunde (Chess Problems). He was one of the strongest players in Berlin.

In 1814, Carl Hamppe was born in Switzerland. He was a senior government official in Vienna and a chess master.

In 1814, Tiruvenkata (Trevangadacharya) Acharya Sastri (Shastri, Shastru)) wrote Essays on Chess, published in Bombay. It was the first source of Indian chess problems. It was originally written in Sanskrit.

In 1814, Louis-Charles Mahe de La Bourdonnais (1795-1840) learned chess. He was a French master and possibly the strongest chess player in the early 19th century.

In 1814, George Cruikshank (1792-1878) etched a drawing called "A Game of Chess," It is now on the Brooklyn museum.

On March 20, 1814, the London Chess Club hosted their anniversary dinner at the City of London Tavern.

On July 17, 1814, Alexander Beaufort Meek was born in Columbia, South Carolina. He was a chess amateur. He served as Alabama's Attorney General in 1836. In 1857, he became president of the 1st American Chess Congress. He died in 1865 at the age of 51.


---
Return to Main Page

Please report broken or duplicate links to the Webmaster.

Official Website
Copyright 2017 by William D. Wall
All Rights Reserved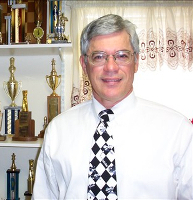 Bill Wall